YASHOTETU
by Lew White
"they-will-go-here-and-there" - Dan.12:4
We all seek to learn more. As we "push" to do so, we sometimes find ourselves outside the traditional mould (form). What we learn sometimes disorients our fellow believers. They feel we're getting 'out on a limb', because some of the things we talk about are beyond the bubble that most stay safely within - we're outside of the box to them. Most of the time it's simply the words we use, but there are also some departures from error that we become divided over. The word we see above, YASHOTETU, is found in the Hebraic original of Daniel 12:4, and it is translated in the Kohlenberger Interlinear Hebrew-English O.T. into the phrase "they-will-go-here-and-there", or "to and fro". As we each develop into the likeness of Yahusha through His Spirit, we grow in CHABOD 2 Cor. 3:18 (the Hebrew word is commonly translated "glory"). This word primarily means abundance, and includes the concepts of splendor, honor, esteem, wealth, and richness. We know our abundance is not what we possess of this world, but rather that which is stored in the non-material realm. The Hebrew letters which spell CHABOD are, CH, B, D -- traditionally represent what is known as an acronym:
The CH (K) stands for chokmah (wisdom, skill).
The B stands for binah (understanding, discernment).
The D stands for daath (knowledge, what you know).
Wisdom, understanding, and knowledge are our "treasure", and they cannot be stolen or moth-eaten. This "possession" is not controlled by us, but rather it controls us, because it is the Torah, or Word of Yahuah! The TORAH is the only thing you'll take with you. Shaul (Paul) recorded for us at 1 Cor 13 that above our knowledge, prophecy, skills, even our faith -- comes love The Hebrew word for love, AHEB, means to love, endear, and help others without holding back due to grudges, personal judgements or opinions about them. To live for others - sacrificing oneself completely - is another way of "laying down your life," and there is no greater love than this.
As Daniel was told by a man with a face like lightning (Chaps. 10-12, see also Rev. 1:16), near the "time of the end" many will go here and there and knowledge will increase. Even Shaul stated that "now we see but a poor reflection as in a mirror . . " and he acknowledged that he only knew "in part." If you were taught to believe that Yahuah is a "trinity", or a duality, these things will become clearly known in the world to come. These are not the issues which the Writings compel us to discover, and confusion over controversies like these have no bearing on a person's salvation. Yahuah looks upon our hearts, and He forgives who He forgives. If you believe that Yahuah is one, you do well. "I am the way, the truth and the life. No one comes to the Father except through me. If you really knew me, you would know my Father as well. From now on, you do know him and have seen him." - Philip said. "Rabbi, show us the Father and that will be enough for us" - Yahusha answered, "Don't you know Me, Philip, even after have been among you such a long time? Anyone who has seen me has seen the Father How can you say 'Show us the Father'? Don't you believe that I am in the Father, and that the Father is in me? The words I say to you are not just my own. Rather, it is the Father, Living in me, who is doing his work . . you may ask me for anything in my name, and I will do it" John 14. The Israelite Sect, the Natsarim, is re-appearing now all over the Earth. It was founded by a Yahudi Rabbi that was executed for sedition by Pontius Pilate. This is not a new "religion", but rather the fulfillment of what was started with Abraham, also known as the father of all who are faithful. It's much more than a religion; it's a government (kingdom). This sect I am a part of, as was Shaul who wrote about this Rabbi: "He is the image of the visible Elohim, the firstborn of creation. For by Him were all things created . . . And He is the head of the body . . . He is the beginning and the firstborn" (Col. 1:15-18). The Prophet Micah spoke of our Teacher: "But you Bethlehem Ephrathah, though you are small among the clans of Yahudah, out of you will come for me one who will be ruler over Yisrael whose origins are from of old, even from eternity" (5:2). (This was the prophecy that alerted Herod when the boy was about 2 years old) We are called Nazarenes (better, Natsarim), and are being sent out into the world in these last days -- to set a "mark" in the foreheads of those whose hearts have been found worthy. This mark is the Name of our Rabbi, the High Priest of Yisrael: Yahusha, (Yah is our salvation). He wears the Father's Name on His forehead, the Name Yahuah. (See Rev. 3:12. 14:1. 22:4). According to Rev. 3:12.13, Rabbi Yahusha will write the name of the New Yerushaliyim (Yahuah Shammah - Ezek 48:35), the Name of His Elohim (Yahuah). and His New Name (Yahuah Tsideke - Jer. 23:6) on our foreheads (meaning we will know these things).
THE CHILDREN -- Keep them from stumbling! Parenting is the greatest responsibility we can have in this world, and most people are not equipped to parent because they don't know what resource to turn to. Courses on parenting are not to be found in the realm of humanistic education: instead, we find everything else. What the Writings (Scripture, Tanakh, Torah) record for us is not only the way to eternal life, but also they are the ultimate guidebook to parenting. Abraham was blessed because Yahuah KNEW he would teach his children His ways (Gen 18:18,19). There are two 'ways' -- the way of life (light, Torah), and the way of death (darkness, without Torah). Rabbi Yahusha is the Torah become flesh, the way, the truth, and the life. The Word of Elohim is not only the Torah but the Name of Yahuah. Let's use these Writings to teach our children, and see that what we sow, we will reap. In a world where children are raised on Torah, there will be peace. In a world where children are not raised on Torah, there will be no peace, only violence. Spend your Shabbat teaching your children Torah, and discover the parenting resource that will cause knowledge to increase. "So that you, your children and their children after them may fear Yahuah your Elohim as long as you live by guarding all His decrees and commands that I give you, and so that you may enjoy long life. Hear, O Yisrael. and be careful to obey .... Hear, O Yisrael: Yahuah is your Elohim, Yahuah is One. Love Yahuah your Elohim with all your heart and with all your strength; These commandments that I give you today are to be upon your hearts. Impress them on your children. Talk about them when you sit at home, and when you walk along the road, and when you lie down, and when you rise up. Tie them as symbols on your hands, and bind them on your foreheads. Write them on the door frames (mezuzot) of your houses and your gates. " - Dt.6
May the Earth be full of the knowledge of Yahuah as the waters cover the sea. (see Yesha Yahu / Isaiah 11:9).
Shalom Aliechem,
Lew White

HEBREW CALENDARS: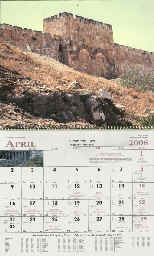 MUGS, MENORAHS: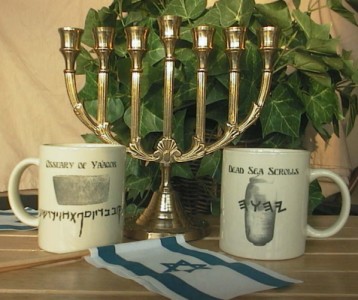 Ten Commandments Lithograph, w/Dead Sea Scroll in background: