TEN COMMANDMENTS
Ten Words, or even better, "Ten Declarations" (Hebrew aseret ha dabarim)
Los Lunas Stone Covenant 10" X 21.5" Lithograph: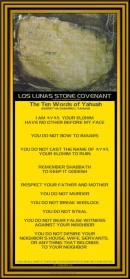 CLICK FOR LARGER IMAGE & DETAILS
Put them up on your doorposts like we're commanded to do at Dt. 6:4-9. Order the big one and post it, or frame it, and maybe give one to your pastor to put in the meeting room. Memorize these words, and speak of them when you rise up, come in, go out, or walk along the road. Receive a love for them, by asking Yahusha to write them on your heart. That's the re-newed Covenant! (see Hebrews chapters 8 & 10).
"The Ten Commandments display was removed from the Alabama Supreme Court building. There was a good reason for the move: You can't post Thou Shalt Not Steal, Thou Shalt Not Commit Adultery and Thou Shall Not Lie, in a building full of politicians and lawyers without creating a hostile work environment." ---- from anonymous Email
POST ON DOORPOSTS
Ten Commandments: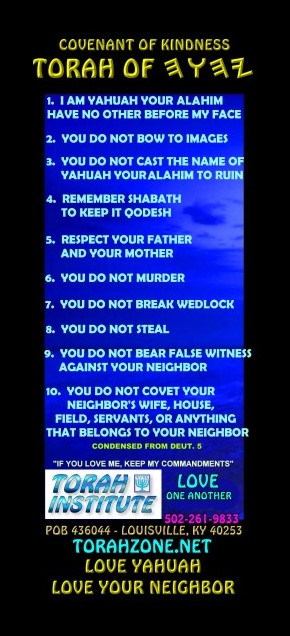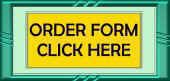 Strawberry Islands Messianic Publishing
Q: Where did we get the form "JESUS" from?
Da Vinci Code; What's true, and what's not Myths of Knights Templar retold
WHAT ABOUT THAT DOME - KIPA or YARMULKE
Is the author of Revelation still alive?
Strawberry Islands Messianic Publishing, Louisville KY
The Torah is out there. I want to obey.
TORAH ZONE: FOSSILIZED CUSTOMS ARTICLES
PAGAN CHRISTIANITY THE ORIGINS OF OUR MODERN CHURCH PRACTICES Nazarene Israel
CHRISTIAN ~ IS THIS WORD A GOOD LABEL, CONSIDERING IT HAD A PREVIOUSLY PAGAN USAGE?
WHO IS LEW WHITE?
www.fossilizedcustoms.com/Lew_White.html