(LINKS AT LEFT ARE TO MAIN WEB SITE)

COMMERCIAL PROPERTY rent or purchase

Rental space available

RETAIL / RESTAURANT / OFFICE / MEDICAL FACILITY

Louisville, KY 40299 - 502-261-9833

Buy whole building & property for $999,000 (new price)

DESCRIPTION OF PROPERTY FOR SALE OR LEASE: Total building SF: 9400 (only $106 per SF to own)

retail and/or office building (total SF: 9400)

1st floor prime retail space (2640SF)

:

Front lot parking spaces, air-lock entry, M/W restrooms, shared high-efficiency HVAC (2 units), 14' ceiling

Basement level (finished) 2640SF

Front lot parking spaces, stairs entry/exit, 2 restrooms, shared high-efficiency HVAC (2 units), 8.5' ceiling

1st level: AVAILABLE FOR RENT: $1800 PER MONTH + utilities - 2640SF

2nd & 3rd levels

:

AVAILABLE FOR RENT NOW FOR $1500 PER MONTH

+ utilities -

3440SF

Rear lot parking spaces, electric-gated driveway, skywalk entry, 3 full baths, laundry, kitchen, 3 balconies areas, OPEN FLOOR PLAN at entry area, 4 lofts, high-efficiency HVAC, large office/living/bedroom space in upper level with a small Florida room that opens to upper outdoor patio area; live-in office potential - spacious & unique! Suitable for a boutique, catering, dentistry, day-care, attorney/sales offices, art gallery, live-in residence/business, or a wide variety of other uses.

PURCHASE OPTIONS:

Whole building and land: $999<![if !supportEmptyParas]>,000 <![endif]>

LEASE OPTIONS

Contact owner: 502-261-9833 ask for Lew or Phyllis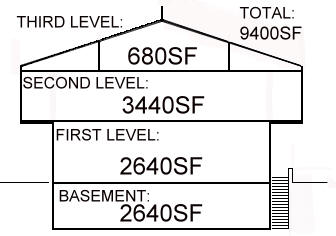 <![if !supportEmptyParas]> <![endif]>MORE PHOTOS OF FRONT AND REAR: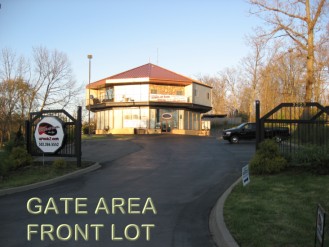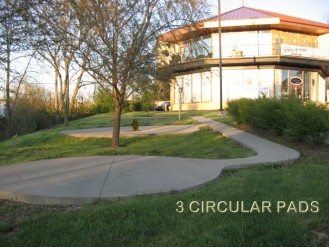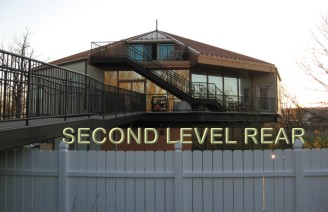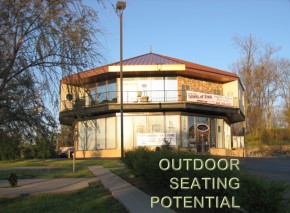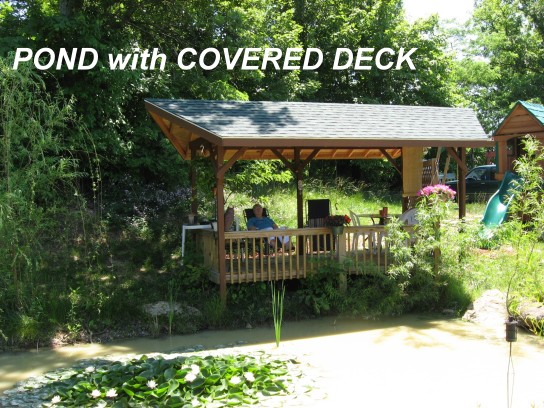 Relaxing observation deck overlooking pond, playground set
For inquiries, contact owner/seller:
Strawberry Islands Franchises Inc
2303 WATTERSON TRAIL
LOUISVILLE, KY 40299
502-261-9833
E-mail: phyllis@torahzone.net
View more pictures of this site at www.fossilizedcustoms.com/realestate.html
*The price per square foot is the most vital indicator when evaluating any real estate purchase. The building location and age are also important. If you were to buy commercial land, build a building with parking lots, pipe-in the electric, phone, water, sewer, and gas - try to imagine what all this would cost you; then divide this cost by the number of square feet in that building! The highest prices per square foot are often reflecting the "luxury" features, meaning the finishing decor choices which are merely "cosmetic". Such things as carpeting, paint, trim, and so on should not be chosen by anyone but YOU, yet these are commonly the reason a square foot cost is so high.
As you compare this property with other options available, evaluate the cost per square foot. This is a steel-framed building, and can withstand higher winds than a conventional wood-framed building. It is also safer in an earthquake than a concrete-block building.
Read Psalm 80, and you will see that we are something completely new that Yahuah is doing, that He planned long ago.
MESSIANIC CHAPLAINCY civilian endorser for the Messianic faith group
See more about them at: www.fossilizedcustoms.com/nazarene_israel.htm

Now available: large print edition of Fossilized Customs, limited quantity.
YOU CAN BLOG ABOUT LOUISVILLE REAL ESTATE HERE:
http://www.real-estate-blogs.com/houseinlouisville/author/houseinlouisville/
http://activerain.com/michael_lewis_white
CONDO - BUSINESS RETAIL / OFFICE 40299 for sale Louisville KY