THE ORIGINAL BLACK ELDERBERRY EXTRACT
DOES SAMBUCUS HELP COMBAT VIRAL ATTACK?
FIND OUT FOR YOURSELF
Lozenges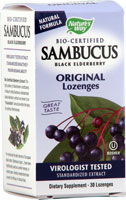 CLICK IMAGES TO NAVIGATE FOR MORE INFO
Like many families, ours keeps a bottle or two in the pantry, especially during the winter months, for that extra-fast response to those family cold or flu eruptions. We believe (FDA can't criticize a belief) this black elderberry product seems to directly attack viruses, and not "mask" the symptoms of disease while your body fights what's wrong -- as so many products do. If it really does accomplish what the FDA wants more proof of before endorsing it, what do you save? TIME, PAIN, AND LOST EFFICIENCY. Because the FDA still has the "jury out" on this product and others like it, we can't make blanket claims as yet; but the White family has experienced the benefits. Numerous times, we have seen recovery in two days, not a week. The elderly and children are at greater risk to viral attack, perhaps because their immune systems are not operating at optimum capacity. Let's face it; the plants of the Earth have been the natural source mankind has turned to for thousands of years to cure diseases -- and modern science does the same thing today, but wants to "control" the use of these plants by making them fall under their terminology and approval. If we are careful how we present our information, we can do something without their involvement -- the natural way. The following article was published shortly after Sambucol became available. Pay close attention to the use of the words "possibly", "seem to", and "if" -- we don't want to offend any bureaucrats by making direct "claims":
Dr. Madeleine Mumcuoglu, doing research at Hebrew University ~ Hadassah Medical Center in Jerusalem, has quite possibly found the answer to the influenza virus, and the common cold. It is a syrup made into lozenges, derived from the plant Sambucus Nigra, better known as the black elderberry (she calls it SAMBUCOL, and now it has been reformulated with the new name, SAMBUCUS).
The man who discovered interferon, Dr. Jean Lindenman, was the supervisor at the virology lab when Madeleine was looking for a topic for her doctorial research. He suggested elderberries. "They have possibilities", he said, "In any case, I've got 10 kilos of them in my deep-freeze."
As viruses cannot replicate themselves outside of living cells, they have to invade cells to survive. "If you can stop them from invading cells, you've defeated the disease", says Dr. Mumcuoglu. She tested the black elderberry proteins against the Influenza B virus first, and discovered that "they actually prevent the virus from invading the cell". The influenza virus invades cells by puncturing the cell wall with the tiny spikes of hemaglutinin that cover its surface. The active ingredient in the elderberry DISARMS the spikes, binds to them, thus stopping them from piercing the cell membrane. "This was the first discovery", says Dr. Mumcuoglu. "Next, we found evidence that elderberry proteins fight the influenza virus in another way, too. The viral spikes are covered with the enzyme, neuraminidase, which helps break down the cell wall. The elderberry inhibits the action of the enzyme. My guess is, that we'll find that elderberry acts against viruses in other ways as well."
Clinical trials seem to have proven that this "health-food product" works, and requires no medical approval because it is not a drug! For example, in a study of patients with influenza, half were given four does daily of Sambucol (the name given to the product), and half were given a placebo. Within 24 hours, the symptoms of 20% of the Sambucol patients had significantly improved (fever, cough, muscle pain). After the second day, 735 declared themselves cured. (Too bad it wasn't the FDA conducting this study!) Among the placebo group, 16% were improved after 2 days, and it took most of them six more days to feel well again. In Hadassah's virology lab, Sambucol has been seen to inhibit the AIDS virus, and encouraging results are being seen now against the herpes and Epstein-Barr viruses. These claims are not to be taken as proof of anything, and we have to acknowledge the well-intentioned guidelines of the FDA. What great harm would there be for the entire staff of the FDA to take a bottle home to their sick children, and watch it help them? Probably no harm at all. We are all waiting for the FDA to test it, and make their testimonial. I admit I'm a skeptic to their testimonials, since they approved a drug (Premarin-- search at www.google.com) which caused breast cancer in my wife, over which a number of class-action suits have been attempted.
Testimonial from Rockledge, Florida
Sambucus LOZENGES 30 per bottle - Dosage is 2 tablets every 4 hours, and can be used after opening bottle at your discretion, until expiration date on bottle.
PLEASE, NO ORDERS ON SHABATH (SATUR-DAY)
VOICE ORDER BY TELEPHONE:
Call 502-261-9833 anytime between 9am and 6pm EST (USA) with bankcard details.
office phone for orders: 502-261-9833
Sambucol -- Black Elderberry -- Sambucus -- Black Elderberry -- Sambucol -- Black Elderberry -- Sambucus
other amazing products:
PAGAN CHRISTIANITY THE ORIGINS OF OUR MODERN CHURCH PRACTICES Nazarene Israel

Torah Zone
Q: Where did we get the form "JESUS" from?
WHAT ABOUT THAT DOME - KIPA or YARMULKE
TORAH INSTITUTE
PO BOX 436044
Louisville, KY 40253-6044
phone: 502-261-9833
google: BYNV