CHASID (HASIDIM STEMS FROM THIS WORD, meaning "pious ones")
This is the fruit or goal of the Torah. In English, we call it LOVE.
Chesed - as a noun: lovingkindness, love, mercy, devotion, favor, gracious.
Chesed - as an adjective: devout, pious.
Spelled with 3 Hebrew letters: HETH-SAMEK-DALET HETH="FENCE, WALL", SAMEK="PROP", DALET="DOOR"
CHASID may be the goal Yahuah has for us throughout history - it certainly seems to
be the intended "fruit" of Torah. To say that "Yahuah is CHASID" is a wonderful
way to understand the meaning of the phrase at 1Yahuchanon 4:8, and 1 Cor. 13:13.
The word CHASID is used often at Psalm 136.
It seems that Paul intended that we understand the true meaning of "love" at 1 Cor. 13:13.
The word Paul was describing here was most likely CHASID,
although initially most may prefer to think it may have been "AHABA",
another word that is translated "love", but is more related to "helping". Ahaba is also used for
friend, caring, or beloved, so it fits the idea of "love your neighbor as yourself" better than CHASID would.
What is love? Obeying Yahuah's Commandments:
2Jn 1:6 And2532 this3778 is2076 love,26 that2443 we walk4043 after2596 His848 Commandments.1785 This3778 is2076 the3588 Commandment,1785 that,(2443) as2531 you have heard191 from575 the beginning,746 you should walk4043 in1722 it.846
Note: Often, "modern" Hebrew will transliterate "AHABA" as "AHAVA". While there's no letter "V"
in Hebrew until recent times (400 years or so), the common spelling "AHAVA" is the name of the river in Babylon
the Yahudim assembled at under Ezra, just before their return to Yerushaliyim (Ezra 8:21). It's a completely
different Hebrew word than "AHABA" - the letter "beth" is absent, and in its place is the letter "waw".
CHASID is a much richer word than AHABA.
Paul says that there remains faith (ENUMAH), hope (TIQUAH), and love (CHASID),
but the greatest of these is CHASID. For this text, we have inherited the Greek translation;
and the word used here is AGAPE - a higher, richer word than PHILEO (love, kiss).
It may be appropriate to consider "AGAPE" to best mean "CHASID", and
"PHILEO" to more closely relate to "AHABA".
So, rather than speaking Greek at Yahuchanon 21:15-17, Rabbi Yahushua most likely
used the Hebrew word "AHABA" twice to Kepha, and the third time used the word "CHASID".
Da Vinci Code; What's true, and what's not Myths of Knights Templar retold
WOULD THE CREATOR'S RELIGION HAVE A GREEK NAME?
WHAT IS THE "GOSPEL"? The true message is a SECRET
Q: Where did we get the form "JESUS" from?
www.fossilizedcustoms.com/kipa.html
Is the author of Revelation still alive?
WHAT ABOUT THAT DOME - KIPA or YARMULKE
LUNAR SABBATH SYSTEM Appointed times and the Sabbath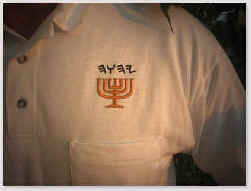 BACK TO WWW.FOSSILIZED CUSTOMS.COM HOMEPAGE
Strawberry Islands Messianic Publishing, Louisville KY
PAGAN CHRISTIANITY THE ORIGINS OF OUR MODERN CHURCH PRACTICES Nazarene Israel
ISRAEL YAHWEH YHWH 144,000 WEBINAR
Mr. Electricity Alan White Louisville KY
Commercial Real Estate Louisville KY for sale 402
CONDO - BUSINESS RETAIL / OFFICE 40299 for sale Louisville KY