Prayers, blessings, instrumentals and songs of dance arranged in a user friendly worship service format.
These CD's use the Name in song as many of us have been yearning to hear. The four above by Jerusalem Rivers are each $12.95, and playable in any CD player for enjoying anywhere. Write your selection(s) into any order you send, and we'll make sure you receive the item(s).
* The rock CD is reminiscent of late 60's - 70's rock style. Some of the songs remind the listener of It's A Beautiful Day, Cream, Captain Beyond, Moody Blues, Klaatu, early Genesis, and Jefferson Airplane; only better, because these groups couldn't sound like each other . . . the words are great too. Below are some links on youtube from their hard-rock days, around 1986:
Never Go Back to Egypt
Judgment Day
Nehushtan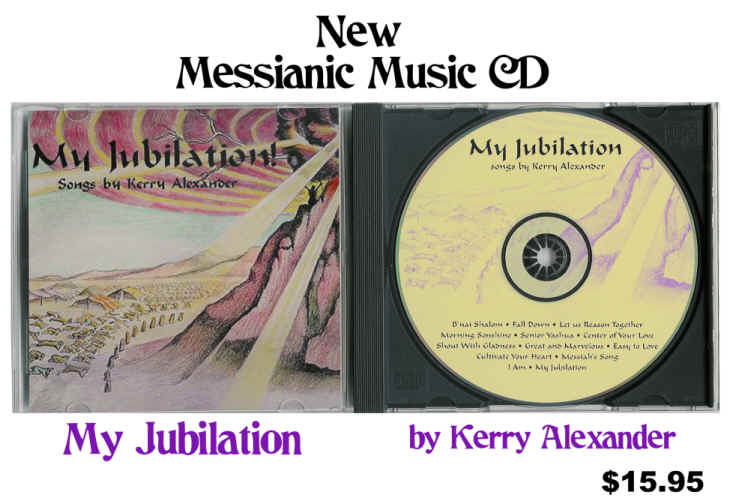 This new selection, "My Jubilation", is a music CD with 13 songs performed by Kerry Alexander. His powerful, clear voice and style are his own, with a light suggestion of John Denver's vocal range, and the power of Gordon Lightfoot. This one will grow on you and may even become somewhat "addictive". The songs are not only performed well, but they are marvelous compositions in themselves. People who hear it for the very first time take to it immediately. Yes, Kerry uses the Name as it was meant to hear in every song. We have to hear it every chance we get. OK, we love it; and you will too, as soon as you hear it. Ordering name for CD: My Jubilation ($15.95 each). Kerry's LIVE CONCERTS are announced at myjubilation.org (see more at www.torahzone.net)
ALSO: "YOUR NAME IS FOREVER YaHUaH" By Love Shalom Ministry
You will thrill to hear the songs written and performed by the family of Monty Love!
Monty, with his wife Pam, and children Sue, Stephen, Sarah, Joanna, and Michael perform these
songs of praise to the Name of YHWH with a popular modern style. The production is very high quality,
and is comparable to The Carpenters in musical styling. 12 songs (audio), plus computer features (music & lyrics).
When I heard the 11th track, "Take Me As Your Bride", I was overtaken with the power and simplicity the lyrics possessed, along with the beauty of the voices and arrangement. This song has some sound elements of "Enya" which you will surely appreciate!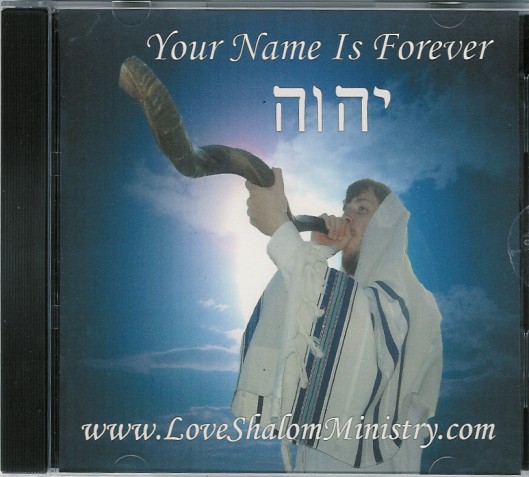 ($15.95 each)
MUSICAL CD: ANDY RISING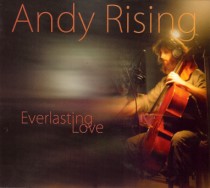 VOCALS, CELLO, 10 STRING HARP, 23 STRING HARP

True Name restored!

CHAMBER MUSIC WITH AUTHENTIC NAME Vocals with harp and cello played by Andy Rising, accompanied by female vocalist Rosebud Heun, and vocalist and musician Stephen Cline. Beautiful string tones frame the vocals; thrill to the joy of Psalm 23, Psalm 8, Psalm 117, and many other songs rejoicing in righteousness.
14 tracks $18.95 -- order by clicking on photo above.
MESSIANIC SONGBOOKS by Todd Effren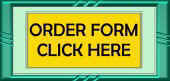 Anyone with a bank card can use PAYPAL, CLICK HERE AND SEND PAYMENT SECURELYO order@fossilizedcustoms.com - detail your order using the paypal payment notes
or, you can call 502-261-9833 for a voice order
Enter into this work by supporting it
Is the author of Revelation still alive?
Q: Where did we get the form "JESUS" from?
RULERS OF EVIL A NEW BOOK WE'RE DISTRIBUTING . . .
JESUITS'S EXTREME OATH OF INDUCTION
BACK TO FOSSILIZED CUSTOMS HOMEPAGE