A new world government is coming soon . . . but few expect it: This is our banner: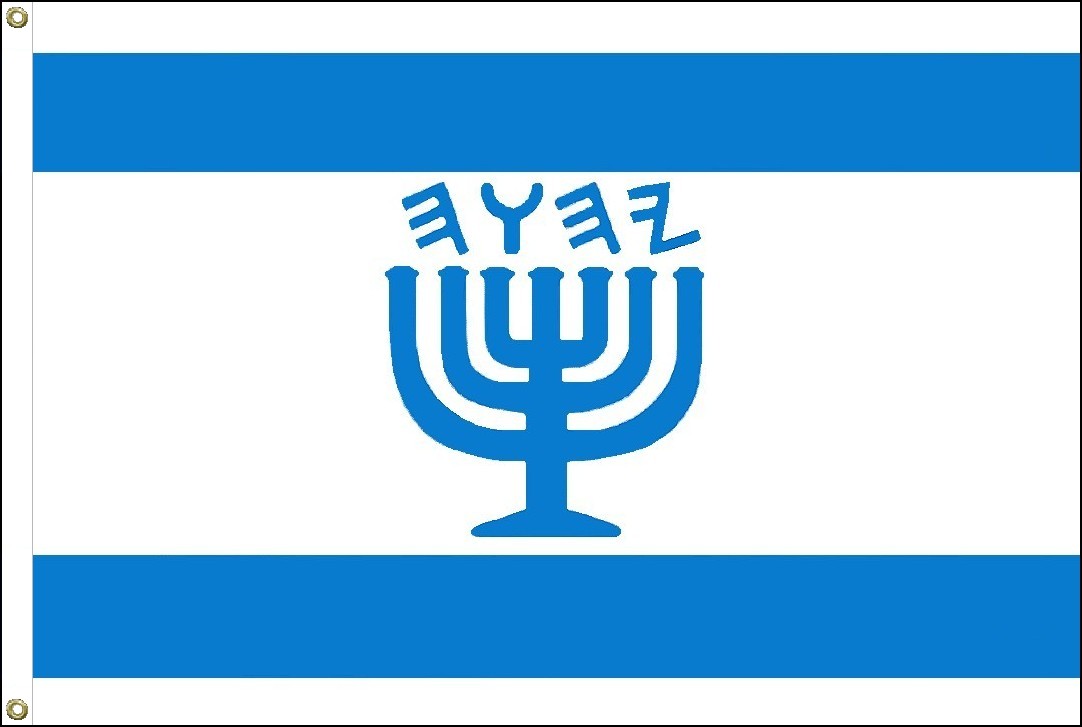 3' x 5' banner with grommets along one side for flying; $24.95 each
These are in stock, so you can add one to any order now.
Torah Institute is not a 501c3 organization
TORAH INSTITUTE
119 Evergreen Road BOX 436044
Middletown, KY 40253-6044
phone: 502-261-9833
Does this "flag" look a little familiar?
Sure it does. The significant thing to notice is there is a Name on this banner, with a "menorah" (lamp stand) associated with that Name. The menorah is an emblem/symbol depicting the TORAH, what Yisharal struggled to obey until the Brith Kadasha (Jer. 31:31). It is also a "tree"; in fact the "Tree of Life" (Pr. 3:18). The seven (sheba) lamps (ner) represent perfection. Yahusha told us that He would remove our "menorah" unless we repent and do the first works (Rev. 2:5). If we understand that the "seven assemblies" described in the message to the assemblies in Revelation chapter 2 are time periods of Yahusha's Natsarim, a remarkable discovery is possible. The message to the first assembly involved this removal of our menorah -- and it actually happened because they did not repent; the first assembly fell into apostasy. But, Yahusha is faithful, and He has given us the menorah back, because we of the final assembly -- a small, weak flock -- have repented and returned to those "first works", His Torah.
A precious woman serving as a postal clerk saw this Name and menorah on a return-address sticker on some parcels I took to ship recently. She said, "Is that a Jewish symbol?" I then told her that the Mashiak designed the menorah, and He showed Mosheh how He wanted him to make it. She hadn't thought before that Yahusha was the Being speaking to Mosheh at Sinai, but then the realization hit her, and she lifted up on her tip-toes in delight at the thought. It was Yahusha Who designed the menorah, not any mortal human.
The two horizontal blue lines are significant also. Blue depicts the sapphire-blue firmament beneath the Throne of Yahuah, also represented in our tsitsith, reminding us of Yahuah's Torah. There's no "lawlessness" allowed in His presence, and never will be. Even law enforcement officers in many places wear blue, and have blue markings on their vehicles, since blue is a color that is intended to remind us of law, or legality. The two lines of blue can represent the first and second coming of Yahusha; and they can also represent the two houses of Yisrael, Beit Yahudah and Beit Yisrael. Another favorite metaphor I like to think of for the two lines of blue is how Yahuah separated the waters from the waters on the 2nd day (Bereshith/Gen. 1:7). The expanse between them He called "heaven" (Hebrew, Shamayim). So this banner displays the "government of Heaven", and names the Name of its Ruler; and the menorah invites all who would be that government's citizens (Yisrael) to eat from the "Tree of Life", Yahuah's Torah.
The Scriptures which we distribute are bound in the color blue. All this blue-talk is making you feel like being "legal" isn't it? I know just how you feel.
Hallelu Yah for giving His menorah back to us, and calling His Name upon us. His Name and His Torah are inseparable. If this banner with His Name and the menorah (being mindful that the menorah is a symbol for His Torah) is happening because it is SUPPOSED to happen, then it should be prophetically announced somewhere in Scripture. He reveals things to us before they happen. So, is there a banner with His Name on it mentioned?
(Try to recall when there has ever been a banner with His Name on it anywhere in the history of this Earth)
Let's read this recent Email, and see if there is anything mentioned in Scripture regarding our lifting up a banner with the Name of our Alahim on it:
Shalom Lew,
Then immediately after I received your flag in the mail the Spirit led me to this verse....
Jer 51:12: "Set up the standard (nes...flag) upon the walls of Babylon, make the watch strong, set up the watchmen, prepare the ambushes: for Yahuah hath both devised and done that which he spake against the inhabitants of Babylon."
Ps 60:4: "You have given a banner to them that fear you, that it may be displayed because of the truth. Selah."
Exo 17:15: "And Mosheh built an altar and called its name, Yahuah Nissi"
Now, here's the kicker:
Ps 20:5 "We will rejoice in thy salvation (yod-shin-uau-ayin), and in the name of our Alahim we will set up our banners." Once again a mention of the banner, with a mention of THE NAME and a mention of our salvation in Yahusha. HalleluYah!
I've always said that Yahuah, Yahusha as our banner or flag was merely spiritual; but it seems to me that in Jer. 51 (and especially Ps. 20:5) it speaks of a physical banner being raised up by the watchmen to warn the inhabitants of their destruction. I also believe that this "flag" could perhaps be a warning to repent and believe in the King of Kings to whom sends the destruction. Maybe this is why this flag you have designed hasn't been revealed until this time in history....then again maybe I am reading too much into the situation.
Anyways, I thank you for the beautiful flag.
May Yahuah Bless you and keep you
Levi