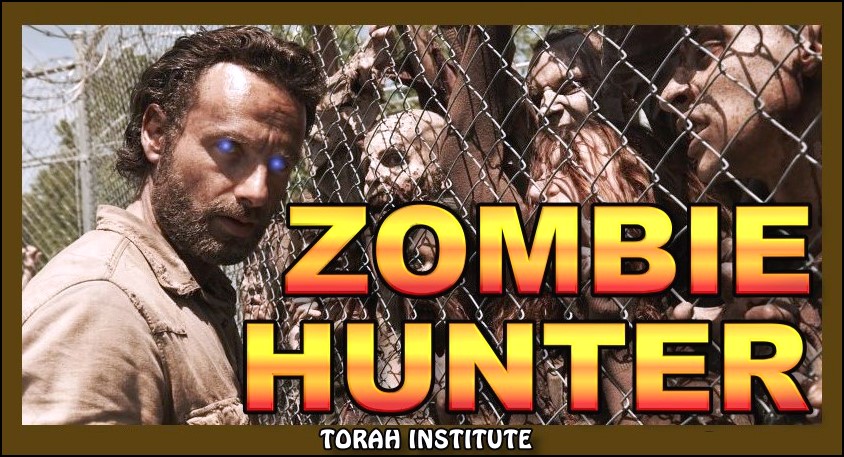 ZOMBIE HUNTER
ALL WHO HATE ME LOVE DEATH
AT LEAST ONE PERSON WAS SENT TO YOU EVEN WHILE YOU WERE A ZOMBIE
"And now, listen to me, you children,
for blessed are they
who guard my
ways. Listen to discipline and become wise,
a

nd do not refuse it.
Blessed is the man who listens to me,
watching daily at my
gates*,
w
aiting

at the

posts

of my

doors*.
For whoever finds me shall find life,
and obtain favor from
Yahuah.
But he who sins against me injures himself.
All who hate me love death!"
- Proverbs 8:32-36
*The Ten Commandments are written on the doorposts and gates
.
If you stop to think carefully about it, you will recall how there were several people Yahusha used to pursue you.
What condition would your life be in if you had not had someone sent to tell you that you were dead in sin, and convicted you of it?
Eventually you turned from sinning, and began to feel alive for the first time. Yahusha had come into you, and you continued to grow stronger each day. The more you allow Him to clean your vessel, the more purified your heart becomes and you become like Him.
We see the world as filled with zombies, as we were once one of them. We are awakened among them, and feel very alone. When we encounter another follower of Yahusha, we prefer to be with them rather than go back out into the world among the zombies.
Yahusha came into a world of zombies to seek and to save.
We are His ambassadors, envoys bringing light into the darkness.
There are movements arising now among the Natsarim seeking to compel like-minded believers to move together so they will be close to others who they can fellowship with all the time.
The last days are here, and our time must be spent primarily seeking the people in need of life, rather than spending the little time we have left fine-tuning how we perceive those who are teaching us. We are hearing more talk from teachers that want their congregations to grow in attendance, and they are asking people to move closer to their locations so everyone can live in communities with believers where there are few zombies.
Who, then, will go to be among the zombies? The zombies need us to be speaking to them, and we are already living among them.
ACTS 20 - DISTORTED TEACHINGS TO DRAW YOU AWAY
"
Also from among yourselves men shall arise, speaking
distorted
teachings
to draw away talmidim
after themselves.
"
Teaching
apocalypticism
in the sense that Yahusha's return is imminent is Scripturally correct. The tendency to run away from the lost people of the world is not. If we are cowardly as the day of Yahuah approaches, and more concerned for ourselves than the lost, we serve our own purpose, not Yahusha's.
Many are being lured into thinking they can best serve Yahusha if they run away from their mission and be set-apart from the world.
This thinking is behind other faith communities of the past:
Jim Jones' Peoples Temple, David Koresh's Branch Davidians, and Heavens Gate are among several notorious examples of large groups who were told to move together by their leader, and wasted their lives for no reason. Ravenous wolves taught them false teachings as Paul warned us about at Acts 20:30.
WHAT DID YAHUSHA TELL US TO DO?
How should we feel about the idea that all of us move close to one another so we can be together and away from the lawless unbelievers? Is this what Yahusha did, and what He told us to do? Some want to move to the
land
in advance of the regathering at the coming of Yahusha. Others are induced to move to other places just to be around other Torah-observant believers.
There is a time coming when we will all live with other Torah
people:
when Yahusha returns to those who belong to Him.
For now, we are salted among the lost. If we leave from where Yahusha awakened us, those who are lost around us will perish and we will have abandoned our post. Don't be lured away from where you were planted, stay at your post.
If we are drawn away from where Yahusha planted us in order to be around one another, we would be bunched-up together and going on with our own happy goals, and be of no use to the lost.
We are not sent to the well, we are sent to the sick.
For 37 years I labored among New Agers, Hindus, witches, murderers, thieves, drug addicts, and lost Christians.
Yahusha used that to draw many from their way to follow Torah to become fellow laborers in the harvest.
Many times I've been invited to move to a community of other Torah-observant folks, sometimes out of my native country.
If I had done so, those Yahusha intended for me to find would have been abandoned.
Don't put the Light under a basket.
Be Yahusha's Light right where you are by allowing Yahusha to use you to sow His seeds of love, the Ten Commandments.
He is the Sower, and He uses us to plant because we are His laborers in His wheat field.
Remain a faithful servant, and wait for the day He will allow us to all be together in one place - the
Marriage Supper of the Lamb
- to
celebrate our marriage
to the Sovereign of the Universe.
Sow the Word, teaching the
Word
and the
Name
to all nations.
"This is written for a generation to come, so that a people to be created praise Yah. For He looked down from the
height of His set-apart place; from heaven Yahuah viewed
the arets, to hear the groaning of the prisoner, to release
those appointed to death, to declare the Name of Yahuah in
Tsiyon, and His praise in Yerushalayim, when peoples
gather together, and reigns, to serve Yahuah."
-
Psalm 102:18-22
YAHUSHA IS THE ZOMBIE HUNTER WORKING IN HIS NATSARIM
<![if !vml]>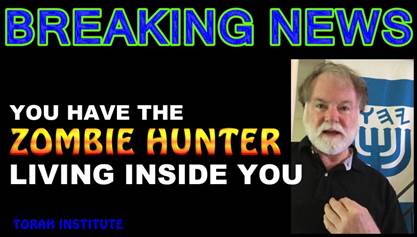 <![endif]>
HE SOWS & WATERS THROUGH US.
WE MUST BE PATIENT AND TRUST HE WILL COMPLETE HIS WORK IN THEM.
DON'T EXPECT THE FRUIT TO APPEAR TOO SOON.
THE USEFUL IDIOCY OF THE KJV
WITH A JABBERING LIP AND A FOREIGN TONGUE HE SPEAKS TO THIS PEOPLE
The colonies of the British Empire brought the English language to the whole world, and today it's the language of all business.
The KJV helped kick-start the process of teaching English all around the world, yet the
famine
(
Amus 8:11)
of His Word
remained because the
Name
was removed and the

Covenant

resisted by the teachers of the Word. The famine is lifting and many are now hearing His calling

"through a jabbering lip and a foreign tongue."
- Isaiah / YashaYahu 28:11
In English, the Besorah (message) is going forth into the world:
"
For
'everyone who calls on the Name of
Yahuah
shall be
saved.' How then shall they call on Him in whom they have
not believed? And how shall they believe in Him of whom
they have not heard? And how shall they hear without one
proclaiming? And how shall they proclaim if they are not sent? As it has been written, 'How pleasant are the feet of
those who bring the Besorah of peace, who bring the
Besorah of the good!'"
- Romans 10:13-15
<![if !vml]>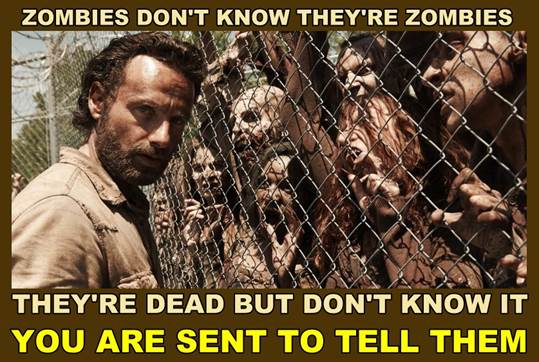 <![endif]>
Above article written by Lew White
Hebrew Roots Research
PRAYING LIKE A HINDU?
"He who turns away his ear from hearing the Torah,
even his prayer is an abomination."
Proverbs 28:9 See also 15:29, Isa. 59:1-2, John 9:31, 1 Jn 3:22.
We can see the bold confidence in Yahusha's half-brother "James" (properly YaAqob):
Jas 5:16: "Confess your trespasses to one another, and pray for one another, so that you are healed.
The earnest prayer of a righteous one accomplishes much."
HOW ABOUT SOME NAMASTE?
Is Yahuah impressed with us when we fold our hands like a Hindu?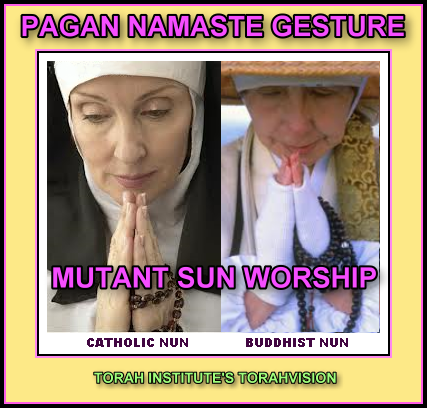 This gesture from the east became adopted from Sun worshippers. It is called "namaste," and is a gesture of humility. Learning the practices of pagans, and serving Yahuah in their way, is forbidden. The word namaste basically means "the spirit within me bows to the spirit within you." We are not to bow to anything in the heavens (zodiac / mazzaroth), the Earth, or the waters under the Earth. This would include people or objects inhabited by forces, which are spiritual beings who are not Yahuah. Because Yahusha's Spirit is in us, what we do we also make Him do. We do not want to do anything to make His Face turn away from us.
HOW ABOUT A PRAYER BOOK?
The prayer-book idea involves prepared prayers that don't come from our hearts when we communicate with Yahuah, because someone else wrote them down.
When Yahusha told us how to pray (the model), He was directing our minds to the key ideas that our sincere communication should embody.
He expressed His feelings about repetitive prayer.
We are to pray fervently, not repetitively.
If we pray repetitively, it reminds Yahuah of how the Pagans pray.
They even use prayer wheels, spinning them as fast as they can to send a prayer heavenward again and again, and again . . .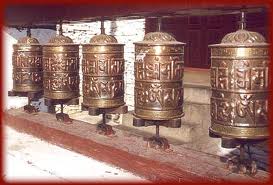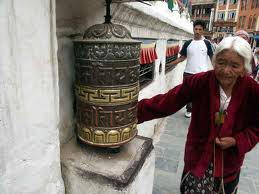 HOW DOES YAHUAH LIKE ROSARIES?
Try to picture Yahusha whipping-out a rosary in response to the request, "Teach us to pray."
That's not going to work, is it? Try to guess where the tradition of prayer beads came from.
Bead praying originated about 800 BC with the "tears of Shiva." The practice reached the Middle East about 200 BC via the Silk Road, influencing the Arabs. Catholicism picked it up from the Muslim city of Fatima. Necromancy (praying to the dead) and repetition in praying is not how Yahusha taught us to pray.
Do the research, and stop the Hindu behavior.
Shiva is the destroyer, the Hindu deity of death.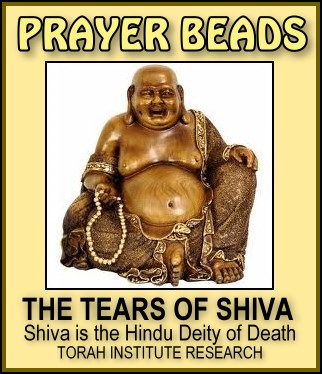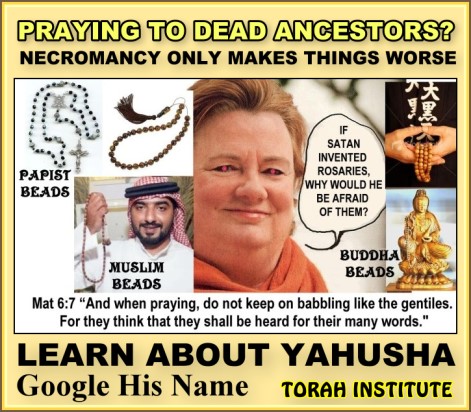 If beads aren't going to work, how about praying to wood or precious metals, maybe with some candles?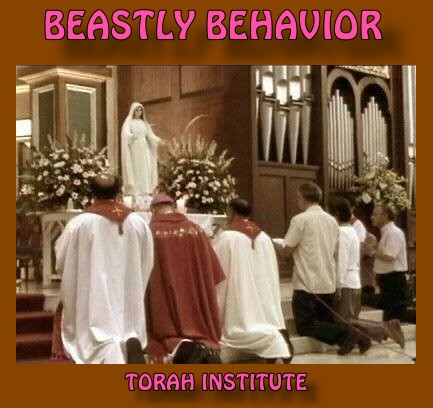 Did Yahusha teach us this?
HOLY WATER ISN'T HELPING EITHER . . .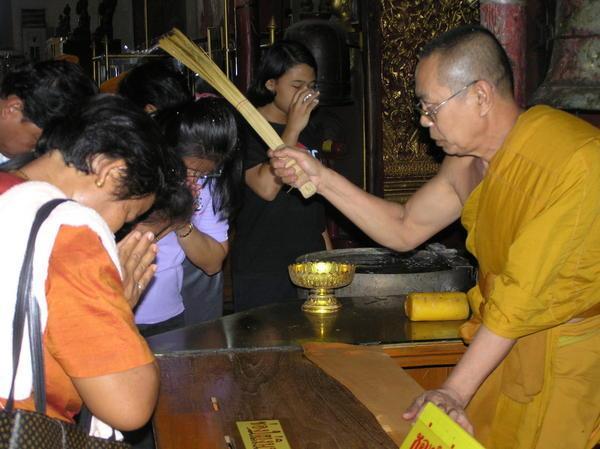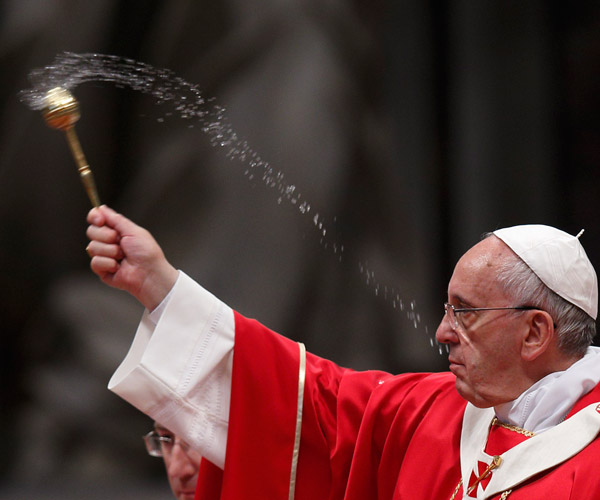 Our communication with Yahuah ought to be spontaneous, self-composed, and filled with the same intimacy that we would have if we were with our very best friend as we speak and listen to them. If we follow human traditions, eventually we will find ourselves doing all sorts of imitative, empty behavior. The wearing of "prayer shawls" is never mentioned in Scripture, yet it is seen in Hinduism, Wicca, Islam, and the garments of the pagan nuns (temple prostitutes) who watched over the sacred fires in Sun worship. The Komarim (dark-robed priests) wore similar costumes.
We are clay vessels, and yet we are indwelled by the most set-apart Being in the universe. We are His Hekal, or Mishkan (dwelling-place). We have Yahusha within us, and He prefers we speak simply from our hearts, without ceasing. Contrived prayer is no different than taking a letter that someone else wrote and giving it to our best friend. Consider Yahuah's point-of-view, and you'll see how insulting and cold a prepared prayer really is.
We are Yahuah's WITNESSES that He is Alahim, and there is no other deliverer but Him:
Isa/YashaYahu 43:10-12: "You are My witnesses," declares Yahuah, "And My servant whom I have chosen, so that you know and believe Me, and understand that I am He. Before Me there was no Al formed, nor after Me there is none.

"I, I am Yahuah, and besides Me there is no deliverer.

I, I have declared and saved, and made known, and there was no foreign mighty one among you.

And you are My witnesses,' declares Yahuah, 'that I am Al.'"
Is this word linked to the Egyptian "Amon Ra"?
Truth:

AMEN
A Hebrew Word related to the Marine slogan "Semper Fi," AMAN is a more accurate Hebrew transliteration.
Teachers use casuistry and a straw man (a sham argument set up to be defeated) to make people believe the word aman is pagan.
AMAN has nothing to do with an Egyptian deity, Amon.
The Hebrew words AMANAH and AMAN are closely related.
AMANAH is the feminine form of AMAN, and means "faithful."
The Hebrew meaning of the term relates to fidelity, truth, truly, true, veracity, or perfecting.

Hebrews chapter 11 describes men of faithfulness, and obedience to the Word of Truth is the hallmark of AMANAH found in these people. Faithfulness is also active obedience, as the prophet said:

"See, he whose being is not upright in him is puffed up. But the righteous one lives by his
steadfastness
(AMANAH)
." - Hab. 2:4
The word AMAN can express affirmation to a statement, as we see it is commonly defined, "so be it."
It declares affirmation, confirmation, and agreement.
In modern vernacular, a hippie or beatnik might say,

"groovy," or "aye-man."
Arabic Hebrew uses the word AMIN.
Please share this understanding with Christians; without a firm foundation one's house can be blown away very easily.
"AMAN" is well translated in the Marine slogan, Semper Fi - meaning "always faithful," from the Latin
semper fidelis.
Verily, verily, or truly, truly, is spoken in Hebrew:
aman, aman
.
Here's a citation I pulled from the internet on the Hebrew word AMAN:
(We should not assume Yahusha was speaking Greek).
The Greek word AMHN (amen) comes from a similar sounding Hebrew word and means something along the lines of "let it be so" and "truly."
The word "amen" in Hebrew is derived from the verb AMAN, meaning to strengthen or confirm.
In Greek the letter H is the uncial form of e.
Yahusha uses AMHN in a similar way to the TaNaK when he says "Verily, Verily, I say..."
Note Numbers 5:22, Psalms 41:14 and 72:19.
We could probably say "verily" or "truly" as an English way of expressing the idea - but you know how people are; they

are prone to imitating others, and imbue certain words with exclusive feelings.
The word "aman" is fine,
but some people link it with the Pagan deity, Amon Ra.
The Egyptian word amon means "hidden."
In Hebrew, aman can also mean faithful, confirmed.
"Amon Ra" could mean "hidden evil."
Aman to that . . . , verily, truly, and

absolutely

too!
If we say "A-MAN" we are in agreement with someone: Aye-man, or absolutely dude.
End-Time Ministry Builder:
Take It To The World Ambassador CD
Your purpose is to hunt and fish. This is a way to jump-start that work and make up for lost time.
http://www.torahzone.net/Take-It-To-The-World-Ambassador-CD-R.html