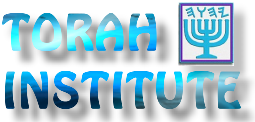 HEBREW ROOTS RESEARCH BY LEW WHITE
Arguments over words cause divisions.
New strongholds (false reasoning, equivocation, casuistry) are arising among the Natsarim.
VERBAL BATTLES
"Remind them of this, earnestly witnessing before the Master, not to wage verbal battles – which is useless – to the overthrowing of the hearers. Do your utmost to present yourself approved to Yahuah, a worker who does not need to be ashamed, rightly handling the Word of Truth. But keep away from profane, empty babblings, for they go on to more wickedness, and their word shall eat its way like gangrene. Humenaios and Philetos are of this sort, who have missed the goal concerning the Truth, saying that the resurrection has already taken place, and overthrow the belief of some." - 2 Timothy 2:14-18
WINE - Did Noak get drunk on grape juice?
Barashith / Genesis 9:20-21 shows that Noak planted a karem (vineyard, cultivation for producing grapes), made yayin from them, and became drunk. This is the alcoholic kind of grape wine, or vino, that Proverbs 20 warns us about taking too much of. Yahusha was offered strong drink as He was suffering greatly, and refused it, even though Proverbs 20 mentions we should give strong drink to him that is perishing. Yahusha wanted to be fully conscious, without impairment. Paul advised Timothy to take a little vino / yayin as a medical treatment for his nerves. The kohenim were not allowed to be intoxicated while serving in the Mishkan, which implies that other times they might have a little hooch. At celebrations like the marriage attended by Yahusha, it was alcoholic. The wine we will drink with Yahusha at our marriage festival - which He said He would not drink of until that time with us - will be alcoholic.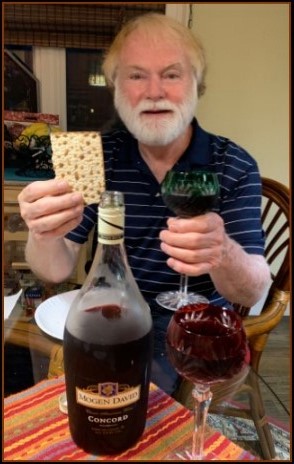 Yahusha's followers have corrected many things our fathers had corrupted. Our lips are being purified (ZefanYah 3:9). Some teachings only strain to condemn the use of everyday words, without edification or love.
A new trend has arisen promoting the idea that words like bless, blessed, and blessing are evil words because pagans use them, and that the word is based on the word blood. Does this also imply that we should not use the word blood? We must not stand by idly and watch others shoot themselves in the foot. Yahuah does not want us to take the names of foreign deities on our lips (Ex. 23:13, Ps. 16:4). How does this apply to words that are not such names? Videos with scary music and images are popping up on the Internet telling people to avoid the use of words deemed inappropriate.
The Truth will set us free from such false reasoning.
"BLESSED" AS A TRANSLATION
The Hebrew word BARUK (H1263, BETH-RESH-UAU-KAF) means delightful, joyful, favorable, blissful, and happy. Some are afraid to use the word "HAPPY" because they have been told it is the proper noun for an Egyptian deity, HAPI. Even the Hebrew words BAAL (lord, owner), ADON (sovereign), and AL (strong one) have been called into question, but these only become problematic if used to refer to pagan deities – as names – not clean, useful pronouns.
The etymology for bliss is Old Saxon, BLIZZA.
The word BLIZZA informs the later Old English word BLOD, as the sound of the letter combination DZ evolved to the ending D.
BLOD is the etymology of the English word BLOOD.
Many are very concerned that "BLESS" is a tainted word because it is associated with the word BLOD. Pagans use the same word, so this automatically means it must be completely avoided, right?
This word BLESS is not a pagan deity's name, but a word used by pagans. Exodus / Shemoth 23:13 orders us to never take the names of foreign alahim on our lips. It does not tell us to avoid the language – written or spoken - of unbelievers, pagans, scoundrels, idolaters, or people named "George" based on the fact it's Greek for "earth-worker."
If we don't want to use the word BLESS because it is used by pagans, then taking the reasoning to its logical conclusion we would have to also avoid the use of the word BLOOD.
Our hearts (minds, thoughts) are sprinkled with the precious blood of Yahusha (Heb. 9:19, 10:22). In an abstract way, we can also apply the word "blessed" in this context with the same meaning of the Hebrew word BARUK.
Pagans may use thousands of words to communicate, and some of them for their ritual expressions, such as kill, sacrifice, giving, offering, Sun, Moon, or the word "drink."
Psalm 1 begins with the word ASHER, meaning happy, blessed, joyful, blissful. If we use the word BLESSED as a translation, there is no blood expressed in the meaning. When a word is used, the context it is used in informs how we apply meaning to it.
It doesn't mean we apply every meaning a word may have listed in the dictionary; we have to discern the meaning from the context in which the word is used.
At Malaki 4:2, we see translations such as the KJV or NIV read:
"the Sun of righteousness," as the Hebrew word SHAMASH (H8121) can mean "Sun." Primarily the word means SERVANT, and the Sun is "called" SHAMASH because it is a servant.
Pagans later worshipped the Sun, and named it SHAMMASH.
The phrase at Malaki 4:2 should be translated: "Servant of righteousness" because the Sun is not what the context is referring to.
In the same way, the meaning of a word like BLESS is based upon how it is used in the specific context. If we apply all possible meanings to every word we use, confusion will increase dramatically. Where a word is from is not the problem. The problem is our attitude about where the word is from.
"But keep away from foolish questions, and genealogies, and
strife and quarrels about the Torah, for they are unprofitable and
useless." – Titus 3:9 (See also 1Tim 6:4 & 2Tim 2:14)
<![if !vml]>

<![endif]>
Is this word linked to the Egyptian "Amon Ra"?
Truth:

AMEN
A Hebrew Word related to the Marine slogan "Semper Fi," AMAN is a more accurate Hebrew transliteration.
Teachers use casuistry and a straw man (a sham argument set up to be defeated) to make people believe the word aman is pagan.
AMAN has nothing to do with an Egyptian deity, Amon.
The Hebrew words AMANAH and AMAN are closely related.
AMANAH is the feminine form of AMAN, and means "faithful."
The Hebrew meaning of the term relates to fidelity, truth, truly, true, veracity, or perfecting.

Hebrews chapter 11 describes men of faithfulness, and obedience to the Word of Truth is the hallmark of AMANAH found in these people. Faithfulness is also active obedience, as the prophet said:
"See, he whose being is not upright in him is puffed up. But the righteous one lives by his steadfastness(AMANAH)." - Hab. 2:4
The word AMAN can express affirmation to a statement, as we see it is commonly defined, "so be it."

It declares affirmation, confirmation, and agreement.
In modern vernacular, a hippie or beatnik might say, "groovy," or "aye-man."

Arabic Hebrew uses the word AMIN.
Please share this understanding with Christians; without a firm foundation one's house can be blown away very easily.
"AMAN" is well translated in the Marine slogan, Semper Fi - meaning "always faithful," from the Latin

semper fidelis. Verily, verily, or truly, truly, is spoken in Hebrew:

aman, aman

.





Here's a citation I pulled from the internet on the Hebrew word AMAN:
(We should not assume Yahusha was speaking Greek).
The Greek word

AMHN

(amen) comes from a similar sounding Hebrew word and means something along the lines of "let it be so" and "truly."


The word "amen" in Hebrew is derived from the verb AMAN, meaning to strengthen or confirm.
In Greek the letter H is the uncial form of e.
Yahusha uses AMHN in a similar way to the TaNaK when he says "Verily, Verily, I say..."
Note Numbers 5:22, Psalms 41:14 and 72:19.
We could probably say "verily" or "truly" as an English way of expressing the idea - but you know how people are; they
are prone to imitating others, and imbue certain words with exclusive feelings.


The word "aman" is fine,
but some people link it with the Pagan deity, Amon Ra.


The Egyptian word amon means "hidden."


In Hebrew, aman can also mean
faithful, confirmed.
"Amon Ra" could mean "hidden evil."


Aman to that . . . , verily, truly, and
absolutely
too!
GIVING THANKS -
TODAH RABAH TO YAHUAH
You may want to print this page and place it near to your family dining area.


BLESSING FOR LEKEM
(BREAD):
BARUCH ATAH YAHUAH, ALAHEINU MELEK HA OLAM, HA MOTSI LECHEM MIN HA ARETS.
BLESSED ARE YOU YAHUAH, OUR ALUAH SOVEREIGN OF THE UNIVERSE, WHO BRINGS FORTH BREAD FROM THE LAND.
beh-ROOK ah-TAH yah-HOO-ah, ah-lah-HAY-noo MEH-lehk hah-oh-LAHM, hah-moh-TSEE LEH-Kehm meen hah-ah-REHTS.
BLESSING FOR YAYIN (WINE):
BARUCH ATAH YAHUAH, ALAHEINU MELEK HA OLAM, BOREI PRI HA GAPHEN.
BLESSED ARE YOU YAHUAH, OUR ALUAH SOVEREIGN OF THE UNIVERSE, WHO CREATES THE FRUIT OF THE VINE.
beh-ROOK ah-TAH yah-HOO-ah, ah-lah-HAY-noo MEH-lehk hah-oh-LAHM, boh-RAY pree hah-gah-PHEHN.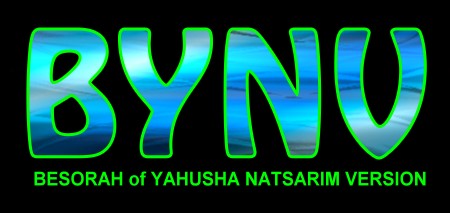 Order BYNV at: http://www.torahzone.net/ TAKE TIME TO VISIT THE BLOG, YOUR COMMENTS WELCOME
Amazon Kindle, BYNV:
You can review the text without purchasing it.
To review, or download the BYNV Kindle (and save shipping):
http://www.amazon.com/Besorah-Yahusha-Natsarim-Version-ebook/dp/B00EAB3U9I/ref=sr_1_1?ie=UTF8&qid=1381765397&sr=8-1&keywords=bynv
Visit the Torah Institute YouTube Channel:
http://www.youtube.com/user/TorahInstitute?ob=0&feature=results_main
Da Vinci Code; What's true, and what's not Myths of Knights Templar retold
CONDO - BUSINESS RETAIL / OFFICE 40299 for sale Louisville KY