We offer this book to document the activities of the Vatican and its involvement in world politics and the fomenting of wars throughout history. Through assassination and infiltration, the papal militia known as the Society of Jesus is exposed by the documentation of the secular world, and confirmed by ex-priests. This is an amazing and shocking book.
Inigo de Loyola founded the Allumbrados, the early order; it developed into the illuminati, a secret society / order.
206 pages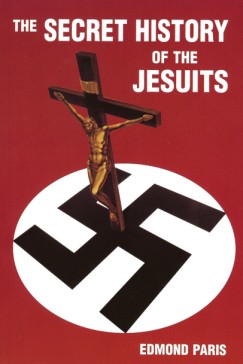 Photo of book cover
You will be absolutely riveted by the information provided. We have to warn future generations of this sleeping monster in our midst . . . when it is strong it crushes civilization under the worst tyranny imaginable.
Remember: "fascism" is modeled after the Roman Empire's Order, and the Jesuit Order is the planned New World Order.
The "secret societies" are all ruled over by an unknown leader, and that leader is the General of the Jesuits.
The Protocols of the Learned Elders of Zion was composed by the Jesuits, and in fact represents the Protocols of the Jesuits - they wear their Protocols in a small book around their neck. This document is a notorious anti-Semitic hoax and forgery. The Jesuits are at the top of the pyramid of the Illuminati, and are slowly hatching their plan for the New World Order.
In the Protocols, the Jesuits have put their own globalist agenda clearly in view of the world, hidden in plain sight.
The cipher to understanding the Protocols:
Substitute the following:
"Zion" = NWO, world system of political & economic control, with 10 divisions or sections. The goal is a manageable, sustainable, and equitable society using the planet's resources rationally (such as oil). Severe depopulation of the Earth is essential to these goals. (see Agenda, and "Georgia Guidestones")
"Jews" = illuminati, Jesuits, Adepts
"Goyim" = cattle (the people)
OCCULT HISTORY OF THE THIRD REICH DVD (CLICK AT LEFT)