ANDREW'S NIGHTMARE
an excerpt from the book by the former title, IN THE TWINKLING OF AN EYE - THE END OF DAYS
NOW NEWLY RELEASED AS: THE RETURN OF YAHUSHA (144 pages)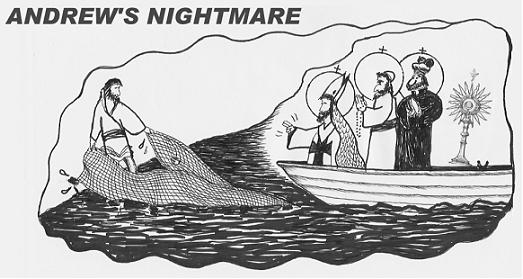 One night, Kepha's (Peter's) brother Andrew had a dream. In his dream, He was fishing by the side of the lake, and his brother Kepha, and friends Ya'aqob (James) , and Yahuchanon (John), drifted up in a little boat.
"Shalom Kepha! It's been quite a night," Andrew called to them.
"What's with the bubbles and all the gear? It's not Purim already is it?" he asked.
Kepha replied in a scornful tone of voice, "That's Reverend Kepha to you, brother Andrew. I'll not have you addressing me in such a profane manner."
Ya'aqob, Yahusha's brother, piped in, "And I'll be Rabbi* Ya'aqob from now on, and this is Pastor Yahuchanon; dig? Otherwise, you can call us 'Father' if you wish." *( "Rabbi": "my exalted one" from Hebrew root "RAB", lifted-up, exalted )
Andrew was stunned at the change in these formerly humble men. It made him feel very low, unimportant, and unloved. He said in a faint, hesitant voice, "Where have you been for the last several months, I've missed you all."
Kepha said, "We've been studying in Rome, and now we have the whole rank-and-file worked out. We've adopted the patterns of the Caesar's religious council, due to its efficiency and absolute control. We're pig-eating Sun-day worshippers now, calling ourselves 'Christians'. Help us with this monstrance!"
Lew White
Would the Creator's Religion have a Greek name?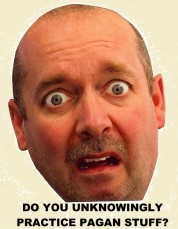 Contact Information Click Here
YOUTUBE VIDEO LINKS
( YOUR HELP IS NEEDED TO FLOOD THE AIRWAVES WITH YAHUSHA'S BESORAH )
OVERVIEW OF ALL UPLOADED VIDEOS:
http://www.youtube.com/user/TorahInstitute#g/p
Production by Mark & Amy Davidson, Australia
in service to Yahusha's body for:
the restoring of all lost tribes of Yisrael to the Torah of Yahuah,
and the uniting of the House of Yahudah and the House of Yisrael,
and the teaching of Torah to all the nations, that we may serve Yahuah shoulder-to-shoulder.
IF YOU ARE CONSIDERING BEING IMMERSED INTO YAHUSHUA'S NAME, SEE THIS LINK: CIRCUMCISION and IMMERSION
THE WORD "CHRISTIAN" What were they REALLY called?
LUNAR SABBATH SYSTEM Appointed times and the Sabbath
HAPPY ANNIVERSARY, YAHUAH! A wedding anniversary Christians miss
WHAT IS THE "GOSPEL"? The true message is a SECRET
Q: Where did we get the form "JESUS" from?
Is the author of Revelation still alive?
RULERS OF EVIL A NEW BOOK WE'RE DISTRIBUTING . . .
WHAT ABOUT THAT DOME - KIPA or YARMULKE
CHRISTIANITY & NATSARIM COMPARED SYNAGOGUE OF SATAN
SHORT ARTICLES: CLICK HERE TO VIEW TITLES
www.fossilizedcustoms.com/kipa.html
Messianic Marriage Seekers Contact Page:
BACK TO FOSSILIZED CUSTOMS HOMEPAGE

MESSIANIC CHAPLAINCY civilian endorser for the Messianic faith group
Strawberry Islands Messianic Publishing, Louisville KY
The Torah is out there. I want to obey.
TORAH ZONE: FOSSILIZED CUSTOMS ARTICLES
PAGAN CHRISTIANITY THE ORIGINS OF OUR MODERN CHURCH PRACTICES
CHRISTIAN ~ IS THIS WORD A GOOD LABEL, CONSIDERING IT HAD A PREVIOUSLY PAGAN USAGE?
ISRAEL YAHWEH YHWH 144,000 YHWH WEBINAR
PAGAN CHRISTIANITY THE ORIGINS OF OUR MODERN CHURCH PRACTICES Nazarene Israel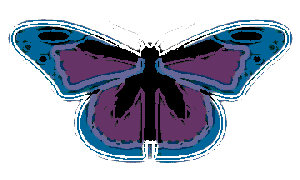 STEWARDS OF PLANET EARTH
Mr. Electricity Alan White Louisville KY
CONDO - BUSINESS RETAIL / OFFICE Louisville, KY 40299