Unidentified Flying Hanukkiah (U.F.H.)
Isn't this just amazing? I'd like to share the mystery with you. There's a synagogue
in Israel that had this Hanukkiah menorah on the roof, and I fiddled with the picture just
enough to make it look like it's flying through the air in the distance between the trees.
Check out that shadow of the Hanukkiah -- it makes you almost believe it's silently
floating-along up there. It was just such a bizarre looking object, I thought it would be
the best of all possibilities to use for this lithograph.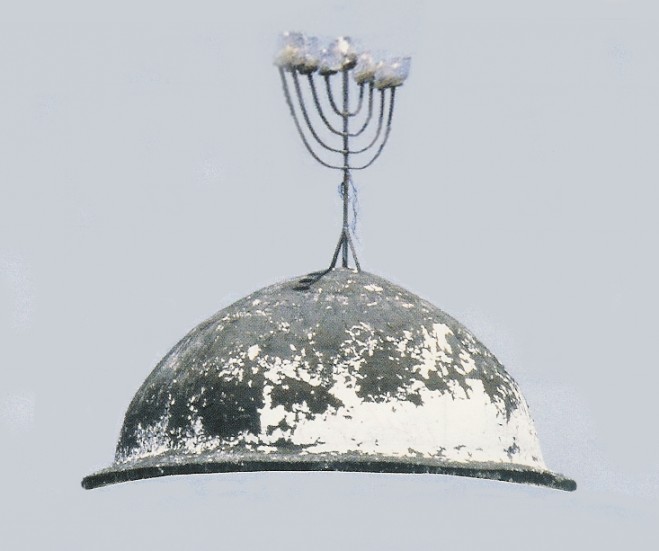 The photo credit belongs to Rabbi Bradley Bleefeld, and his photo stimulated Lew's mind to adapt it to
a useful way of portraying our love for the TORAH in a unique, eye-grabbing way. Any similarity to actual
living persons, inanimate objects, or the X-files is purely coincidental, of course. None of Lew's family
has ever experienced being abducted, or witnessed anything like the picture shows. This is only meant
to be a fun, clever abstraction to make people think about the RE-NEWED COVENANT. After all, as
John Belushi and Dan Akroyd once attempted to say, we are on a mission from YAHUSHUA.
Q: WOULD THE CREATOR'S RELIGION HAVE A GREEK NAME FOR ITSELF?
Da Vinci Code; What's true, and what's not Myths of Knights Templar retold
A FEW COMMENTS ON THE WORD "CHRISTIAN" What were they REALLY called?
Strawberry Islands Messianic Publishing, Louisville KY
The Torah is out there. I want to obey.
TORAH ZONE: FOSSILIZED CUSTOMS ARTICLES
PAGAN CHRISTIANITY THE ORIGINS OF OUR MODERN CHURCH PRACTICES Nazarene Israel
CHRISTIAN ~ IS THIS WORD A GOOD LABEL, CONSIDERING IT HAD A PREVIOUSLY PAGAN USAGE?