Welcome!
Hebrew Roots research by Lew White
TODAY'S SEMINAR:
THE APPOINTMENTS
The 7 Shadows of Yisharal's Redemption
Yahuah's Moedim

SEMINAR TERMINOLOGY:
COMMON TERM ORIGINAL TERM
(WITH HEBREW ROOT MEANING)
GOD: ALAHIM (MIGHTY ONE, LOFTY ONE, STRENGTHS)
JESUS
:

YAHUSHA

(YAH IS OUR DELIVERANCE)
THE LORD
:

YAHUAH

(I WAS, I AM, I WILL BE)
TRUTH:

Sets us free from what would
bind
us
AMATH (Hebrew for truth)
ALETHEIA (Greek for truth)
VERITAS (Latin for truth, as in "verify")
When we have the
Truth

, we can be "bound" (taught) with false teachings (ropes),

but they will not hold us.

The

Truth

is our strength, and its source is Yahusha.

QUESTION: What about people who hear the Truth, but don't accept (receive) it?
2Th 2:9

-11:

"The coming of the lawless one is according to the working of Satan, with all power and signs and wonders of falsehood,

and with all deceit of unrighteousness in those perishing, because they did not receive the love of the Truth, in order for them to be saved.

And for this reason Alahim sends them a working of delusion, for them to believe the falsehood, in order that all should be judged who did not believe the Truth, but have delighted in unrighteousness." (G93, ADIKIA, moral wrongfulness, iniquity)
THE TRUTH: THE SOURCE OF SAMSON'S STRENGTH

Jdg 16:6,7: "And Delilah said to Shimshon, "Please reveal to me where your great strength lies, and by what you might be bound, to humble you."

And Shimshon said to her, "If they bind me with seven fresh cords, not yet dried, then I shall be weak, and be like any other man."

New ropes (strongholds) to bind mankind have been made to replace the 7 annual appointments of Yahuah: Sunday, Christmas, Easter, Halloween, Valentines Day, New Year's Day, the false name, sacraments, etc.,.

(THE TIES THAT BIND):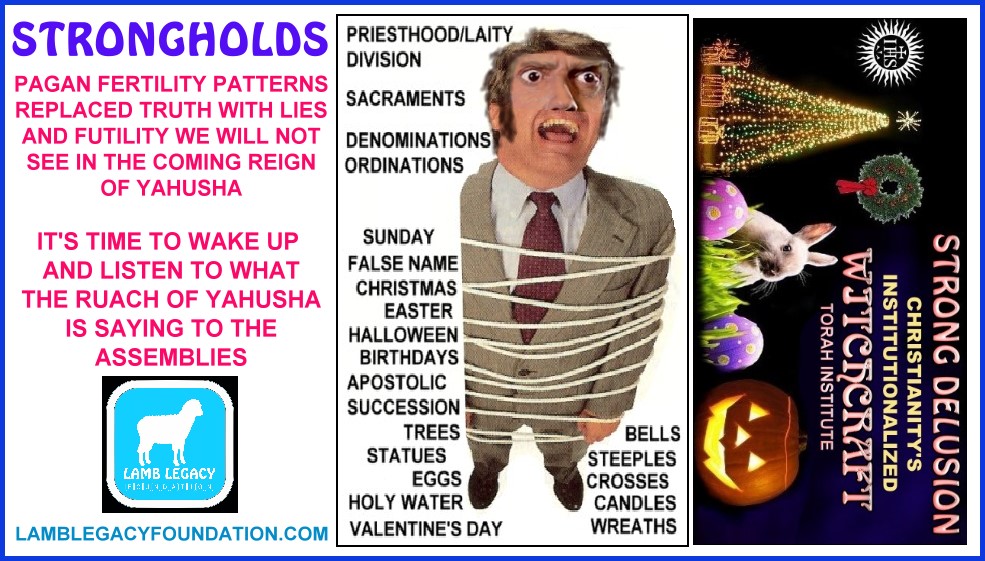 MODERN SAMSON?
THESE KEEP US BOUND, AND AWAY FROM THE TRUTH,
UNTIL THE TRUTH COMES AND SETS US FREE:
Joh 8:31, 32 "So Yahusha said to those Yahudim who believed Him,
'If you stay (LIVE) in My Word, you are truly My taught ones, and you shall know the Truth, and the Truth shall make you free.'"
THE TRUTH IS: YAHUAH'S WORD, LIGHT: TORAH
TEACHINGS CAN BE FROM 2 SOURCES:
LIGHT OR DARKNESS
WHO ARE WE THE STUDENTS OF?
IF WE LIVE IN THE INSTRUCTION OF YAHUAH,
THEN WE KNOW:
Luk 11:34-36: "The lamp of the body is the eye. Therefore, when your eye is good, all your body (HOW YOU LIVE) also is enlightened. But when your eye is evil, your body (HOW YOU LIVE) also is darkened.
"See to it therefore that the light (TEACHING, TORAH) which is in you is not darkness.
"If then all your body is enlightened, having no part dark, all shall be enlightened, as when the bright shining of a lamp gives you light."
WHEN WE HEAR OR READ THE WORD OF YAHUAH,
AND OUR DESIRE IS TO "DO" WHAT WE HEAR,
WE HAVE: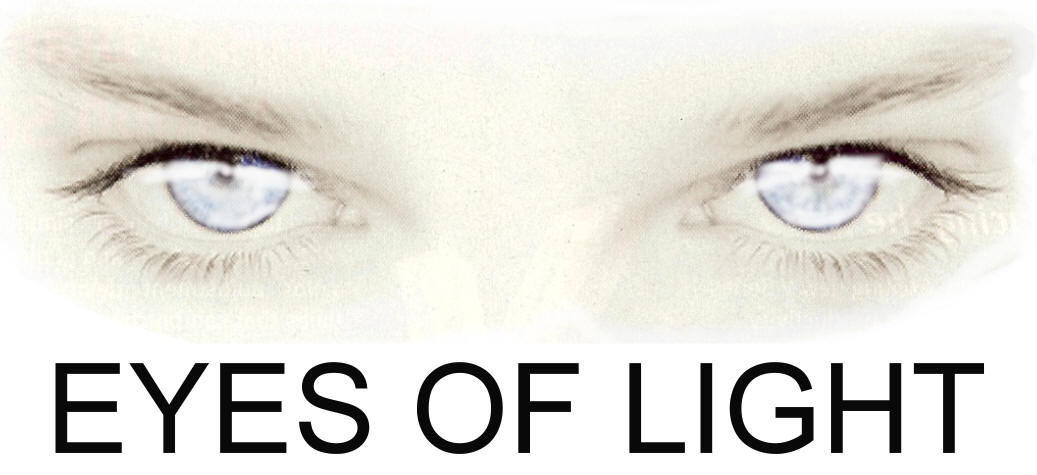 WHEN WE HEAR OR READ THE WORD OF YAHUAH,
AND OUR DESIRE IS TO "NOT DO" WHAT WE HEAR OR READ,
WE HAVE: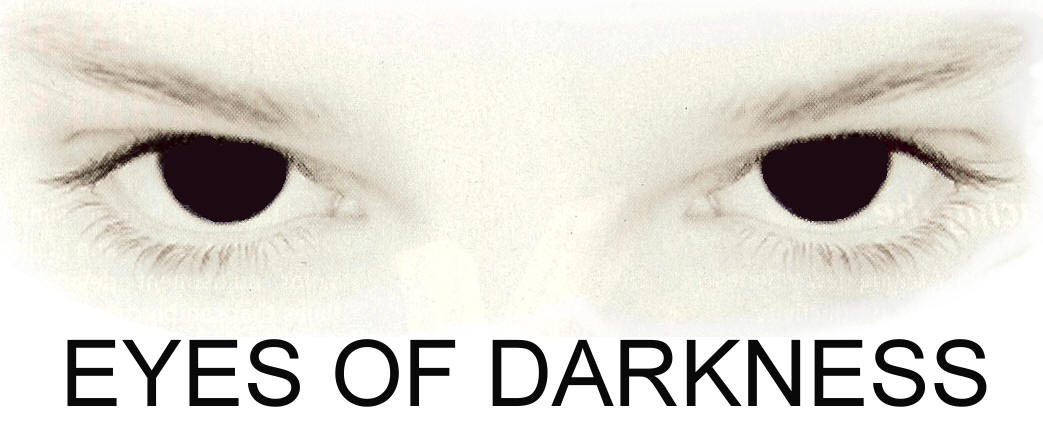 A "DARK" EYE IS A POINT-OF-VIEW THAT
WE MAY IGNORE CERTAIN TEACHINGS.
A PHRASE OFTEN EMPLOYED:
"THAT WAS BEFORE THE CROSS."
THE REASON FOR THE "SEASON"
SEASON: from MOED (Hebrew), "appointed time"
Gen 1:14-19, with concordance numbers:
"And Alahim430 said,559 Let there be1961 (HAYAH, BECOME) lights3974 in the firmament7549 of the heaven8064 to divide914, 996 the day3117 from996 the night;3915 and let them be1961 for signs,226 (OTH, TOKEN, BEACON) and for seasons,4150 (MOEDIM, SET TIMES FOR FESTIVALS) and for days,3117 and years:8141
And let them be1961 for lights3974 in the firmament7549 of the heaven8064 to give light215 upon5921 the earth:776 and it was1961 so.3651
And Alahim 430 made6213 (853) two8147 great1419 lights;3974 (853) the greater1419 light3974 to rule4475 the day,3117 and the lesser6996 light3974 to rule4475 the night:3915 he made the stars3556 also.
Gen 1:17 And Alahim 430 set5414 them in the firmament7549 of the heaven8064 to give light215 upon5921 the earth,776
Gen 1:18 And to rule4910 over the day3117 and over the night,3915 and to divide914, 996 the light216 from996 the darkness:2822 and Alahim 430 saw7200 that3588 it was good.2896
Gen 1:19 And the evening6153 and the morning1242 were1961 the fourth7243 day.3117
The Appointments:
A Shadow Of Things To Come
For The Body Of Mashiak.
These outline or shadow the redemption performed by Yahusha; those concerning the 7th moon are yet future, and involve the last days, specifically the Great Tribulation and return of Yahusha, when He re-gathers the two houses of Yisharal into one again.
Mat 24:42-51: "Watch therefore, for you do not know what hour your Master is coming.
"And know this, that if the master of the house had known what hour the thief would come, he would have watched and not allowed his house to be broken into.
"Because of this, be ready too, for the Son of Adam is coming at an hour when you do not expect Him.
"Who then is a trustworthy and wise servant, whom his master set over his household, to give them food in season?
"Blessed is that servant whom his master, having come, shall find so doing.
"Truly, I say to you that he shall set him over all his possessions.
"But if that evil servant says in his heart, 'My master is delaying his coming,'
and begins to beat his fellow servants, and to eat and drink with the drunkards,
the master of that servant shall come on a day when he does not expect it, and at an hour he does not know,
and shall cut him in two and appoint him his portion with the hypocrites – there shall be weeping and gnashing of teeth."
These "appointments" are the very thing that the Master of the household of saints expects His trustworthy servant to be found observing, watching, and teaching at His return (See Jer/YirmeYahu 3:14-25, Ez/Yehezqel 37).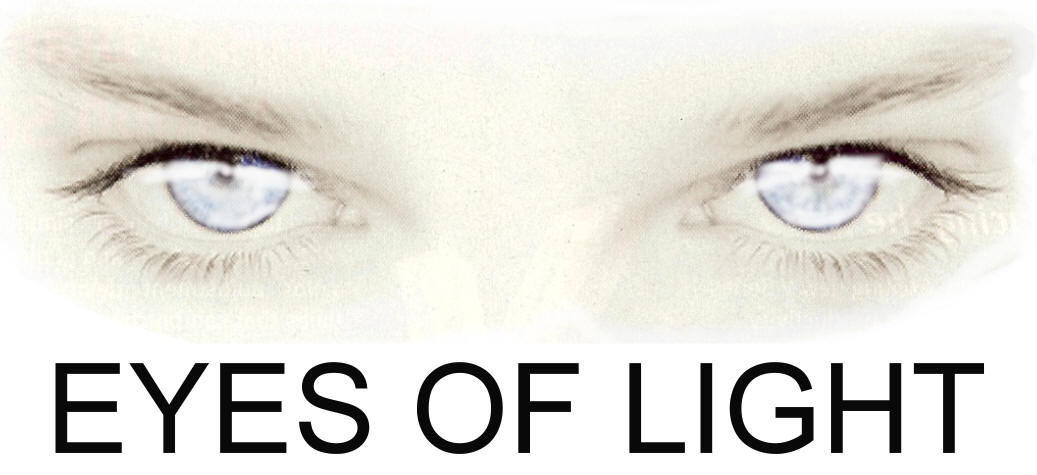 Kol 2:16-17: "Let no one therefore judge (G2919, KRINO: CONDEMN, PUNISH, AVENGE, ACCUSE OF A CRIME) you in eating or in drinking, or in respect of a festival (G1859 HEORTE: SAME AS HEBREW MOED, APPOINTED TIME) or a new moon or Sabbaths – which are a shadow of what is to come
for the Body of the Mashiak."
IN THIS CONTEXT, "FOR" IS CLEARER FROM THE GREEK PRIMARY PARTICLE, "DE".
THIS IS TELLING US THE "MOEDIM" (ANNUAL SABBATHS) ARE SHADOWS OF WHAT IS TO COME. WHAT IS TO COME IS OUR REDEMPTION, SO THEY SHADOW OUR REDEMPTION.
THEY SHOW US THE REDEMPTION PLAN, AND WHAT YAHUSHA IS DOING TO REDEEM HIS BRIDE (WIFE), Yisharal.
Notice the handling of this same text by the NIV translators, and be careful to notice the "dark eye" in their comprehension: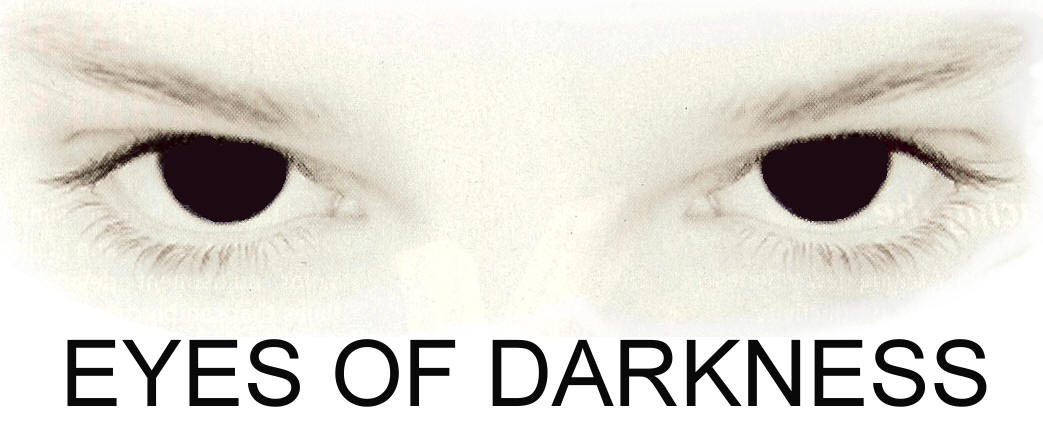 Col 2:16-17, NIV: "Therefore do not let anyone judge you by what you eat or drink, or with regard to a religious festival, a New Moon celebration or a Sabbath day. These are a shadow of the things that were [ADDED WORDS] to come; the reality, however, is found in Christ."
The word judge (G2919, "KRINO": CONDEMN, PUNISH, AVENGE, ACCUSE OF A CRIME) can be translated with a modern word/concept:
Col 2:16-17: "Let no one therefore CRIMINALIZE (G2919, KRINO: CONDEMN, PUNISH, AVENGE, ACCUSE OF A CRIME) you in eating or in drinking, or in respect of a festival (G1859 "HEORTE": SAME AS HEBREW "MOED", APPOINTED TIME) or a new moon or Sabbaths – which are a shadow of what is to come for the Body of the Mashiak."
Mark 7:18,19, NIV: "'Are you so dull?' He asked; 'Don't you see that nothing that enters a man from the outside can make him unclean? For it doesn't go into his heart but into his stomach, and then out of his body.' (In saying this, Jesus declared all foods "clean")."
This last statement is added, not being found in the Greek.
What qualifies as "food" is only what is declared "clean" to eat in Scripture. What was not given as "food" cannot be called "food" - Scripture interprets Scripture.
Pork, shrimp, or oysters is not "food" to begin with.
The topic being debated by the Pharisees in this area of Mark 7 was the custom of hand-washing, not the eating of forbidden, detestable animal flesh.
YeshaYahu/Isaiah 66:17 informs us that those who eat pig flesh, rats, and other abominable things will be destroyed by Yahuah.
Stumbling-blocks from translators, theologians, and false teachers lead Yisharal into darkness.
Kol 2:8: "See to it that no one makes a prey of you through philosophy and empty deceit, according to the tradition of men, according to the elementary matters of the world, and not according to Mashiak."
Rom 11:25: "For I do not wish you to be ignorant of this secret, brothers, lest you should be wise in your own estimation, that hardening in part has come over Yisharal, until the completeness of the Gentiles has come in."
Alternately, "fullness of the Gentiles".
(Completeness, fullness: Greek, pleroma meaning completion, fill)
"Come in" to what? The Covenant, of course.
Moedim: This Hebrew word means "appointed times." Many of them are "festivals" or feasts, and commemorate or "shadow" how Mashiach Yahusha redeems His wife, Yisharal.
They are given at Lev. 23, and again at Dt. 16.
HERE IS A BETTER TRANSLATION OF A FAMILIAR TEXT THAT APPLIES TO THIS SUBJECT:
"Let no man therefore judge you in meat, or in drink, or in respect of a festival, or of the new moon, or of the Sabbath days which are a shadow of things to come for the body of Mashiach." Kolossians 2:16-17
APPOINTED TIMES:
ABIB (Hebrew word for grain) (ripe grain harvest) 1st moon of year
This is not a day of rest, but only the 1st day of the 1st moon, in SPRING of the new year. it's past the equinox, and not in winter.
PESACH (Hebrew word for "pass-over") - Memorial of Yahusha's death(Passover Lamb)
14th day at evening of 1st moon:
PREPARATION DAY FOR THE ANNUAL SABBATH ON THE 15TH OF THE FIRST MOON.
Yahusha was impaled during the "day" part of the 14th of the first moon, but He observed Pesach with His talmidim the evening before, at the arrival of the 14th.
Matsah Unleavened Bread - REST DAY ON 1ST & 7TH DAY
THIS SHADOW-PICTURE DEPICTS CLEANING OUT THE "LEAVEN" FROM OUR HEARTS, PREPARING US TO RECEIVE THE "GOOD SEED" OF TORAH 50 DAYS LATER AT SHABUOTH. COMMEMORATES Yisharal BEING DELIVERED FROM EGYPTIAN SLAVERY AFTER JUDGMENT OF ALL FIRST-BORN MALES IN LAND.
15th day of 1st moon (full moon)
For 7 days, all Yisharal is to abstain from leavened bread. This applies to all believers.
The Wave-sheaf (omer, bundle) offering is traditionally thought of as being Abib 16, however Yahusha IS the omer, and ascended to perform this on the morrow after the weekly Sabbath. The count to Shabuoth (7 x 7 complete weeks) is determined by getting this correct. This offering, called the first-fruits, was fulfilled by Yahusha when He resurrected. During the festival of Matsah (Unleavened Bread), the High Priest would "wave" the first-fruits of the barley harvest on the "morrow after the Sabbath". Yahusha became the "wave-sheaf" offering because the resurrection was the object, and the wave sheaf was the "shadow."
7th day of Matsah:
Matsah 7th day of Matsah: 21st day of 1st moon;
(REST DAY) LAST DAY OF MATSAH COMMEMORATES THE PASSING THROUGH WATER OF Yisharal (IMMERSION INTO MOSHEH), AND DROWNING OF THE ARMIES OF PHARAOH.
Shabuoth (Hebrew, "weeks") 50th day (REST DAY)
Calculated from the weekly Sabbath during Matsah, counting 49 days to the morrow after the 7th Sabbath, being the 50th day. The Yahudim wrongly calculate from Abib 16 every year in their count to Shabuoth.
Shabuoth commemorates the giving of Torah at Sinai, the wedding anniversary of Yahuah and Yisharal.
Torah means "instruction".
The "Covenant" is a marriage. TRADITIONALLY CALLED "PENTECOST", GREEK FOR "COUNT 50". FULFILLED AS RECORDED AT ACTS 2, WHEN TORAH WAS WRITTEN ON HEARTS OF NATSARIM, RENEWING THE COVENANT, RESTORING Yisharal TO YAHUAH THROUGH INDWELLING OF YAHUSHA'S SPIRIT.
Yom Teruah (REST DAY) 1st day of 7th moon:
YOM TERUAH (DAY OF SHOUT) - WE HEAR A SHOFAR BLOWN, REMINDING US OF THE COMING DAY OF THE RESURRECTION OF THE DEAD WHEN THE VOICE OF A GREAT MESSENGER WILL "SHOUT" LIKE A TRUMPET—THE "LAST TRUMP"
STILL UNFULLFILLED, A FORE-SHADOW OF THINGS TO COME.
Yom Kaphar (REST DAY) 10th day of 7th moon:
YOM KAPHAR, DAY OF COVERING; REMINDS US OF SCROLL OF LIFE, AND THE REDEMPTION OF THE LIVING FOLLOWING THE RAISING OF THE DEAD. THE FIRST-FRUITS GROUP WHO ARE ALIVE WILL BE CHANGED IN THE WINK OF AN EYE, CLOTHED WITH IMMORTALITY.
Sukkoth (REST DAY) 15th day of 7th moon:
TENTS OR BOOTHS - REMINDS US OF Yisharal LIVING IN TENTS 40 YEARS, BUT LOOKS FORWARD (SHADOW OF) TO THE WEDDING FEAST, AND RETURN OF YAHUSHA HA'MASHIACH ON THE DAY OF YAHUAH, FOLLOWING THE GREAT TRIBULATION AND JUDGMENT OF THE UNRIGHTEOUS.
Sukkoth Closing day of festival (REST DAY)
22nd day of 7th moon: (Last Great Day)
PLAN OVERVIEW
PASSOVER: FALL, BLOODY LAMBSKINS; LAMB OF YAH
DEATH OF THE FIRST-BORN
1ST DAY OF MATSAH: LEFT GAN EDEN; LEFT MITSRAYIM
7TH DAY OF MATSAH: DROWNED WORLD; DROWNED ARMY
SHABUOTH: COVENANT AT SINAI IN STONE; HUMAN HEARTS
SOON TO BE FULFILLED:
YOM TERUAH: BESORAH ANNOUNCED
YOM KIPPUR: FINAL SEALING
SUKKOTH: RETURN OF YAHUSHA
Chanukah: An 8-day national (secular) commemoration of deliverance from the Greek ruler Antiochus Epiphanes in 168 BCE, mentioned at John/Yahuchanon 10:22
Isa 14:1 "Because Yahuah has compassion on Yaʽaqoḇ, and shall again choose Yisharal, and give them rest in their own land. And the strangers shall join them, and they shall cling to the house of Ya'aqob."
"To the Torah and the Testimony! If they do not speak according to this Word, it is because there is no light in them." YeshaYahu (Is.) 8:20
TORAH is the relationship with Yahuah,
not a religion about Him.
The Covenant /Marriage Contract (BRITH) Ex 20:1-17
ASERETH HA'DABARIM (10 WORDS) Yahuah's Covenant, our wedding vows:
LITERAL TRANSLATION:
"And Alahim spoke all these Words:
1. 'I am Yahuah your Alahim, who brought you out of Egypt, out of the land of slavery.
You shall have no other Alahim before My face.
2. You shall not make for yourself an idol in the form of anything in heaven above or on the Earth beneath or in the waters below. You shall not bow down to them or worship them; for I, Yahuah your Alahim, am a jealous Alahim, punishing the children for the sin of the fathers to the third and fourth generation of those who hate me, but showing love to a thousand [ generations] of those who love Me and keep My Commandments.
3. You shall not cast (NASA, send) the Name of Yahuah your Alahim to ruin (SHOAH, destruction), for Yahuah will not hold anyone guiltless who casts His Name to ruin.
4. Remember the Sabbath day by keeping it qodesh.
Six days you shall labor and do all your work, but the seventh day is a Sabbath to Yahuah your Alahim.
On it you shall not do any work, neither you, nor your son or daughter, nor your manservant or maidservant, nor your animals, nor the alien within your gates. For in six days Yahuah made the heavens and the earth, the sea, and all that is in them, and He rested on the seventh day.
Therefore Yahuah blessed the Sabbath day and made it qodesh.
5. Honor your father and your mother, so that you may live long in the land Yahuah your Alahim is giving you.
6. You shall not murder.
(Two words: LO RATSACH, NO KILL)
7. You shall not adulterate
(Two words: LO NA'APH, NO BREAK WEDLOCK)
8. You shall not steal.
(Two words: LO GANAB, NO STEAL)
9. You shall not give false testimony against your neighbor.
10. You shall not covet your neighbor's house. You shall not covet your neighbor's wife, or his manservant or maidservant, his ox or donkey, or anything that belongs to your neighbor."
"The secret of Yahuah is with those who fear Him, And He makes His Covenant known to them." Psa 25:14
TEACHING THE COVENANT TO THE NATIONS
"Therefore, go and make taught ones of all the nations, immersing them in the Name of the Father and of the Son and of the Set-apart Spirit,
teaching them to guard all that I have commanded you. And see, I am with you always, until the end of the age." MattithYahu 28:19,20
The lost tribes of the House of Yisharal
SCATTERED AMONG THE NATIONS
End the captivity, hear the Shepherd's Voice,
Return to the Covenant.
Jer/YermeYahu 3:12-23: "Go and proclaim these words toward the north, and say, 'Return, O backsliding Yisharal,' declares Yahuah, 'I shall not look on you in displeasure, for I am kind,' declares Yahuah, 'and I do not bear a grudge forever.
'Only, acknowledge your crookedness, because you have transgressed against Yahuah your Alahim, and have scattered your ways to strangers under every green tree, and you have not obeyed My voice,' declares Yahuah.
"Return, O backsliding children," declares Yahuah, "for I shall rule over you (Yisharal), and shall take you, one from a city and two from a clan, and shall bring you to Tsiyon.
"And I shall give you shepherds according to My heart, and they shall feed you with knowledge and understanding.
"At that time Yerushalayim shall be called the Throne of Yahuah, and all the nations shall be gathered to it, to the Name of Yahuah, to Yerushalayim, and no longer walk after the stubbornness of their evil heart.
"In those days the house of Yahudah shall go to the house of Yisharal, and they shall come together out of the land of the north to the land that I have given as an inheritance to your fathers.
"But I said, 'How would I put you among the children and give you a pleasant land, a splendid inheritance of the hosts of nations?' "And I said, 'Call Me, 'My Father' and do not turn away from Me.'
"But indeed as a wife betrays her husband, so have you betrayed Me, O house of Yisharal," declares Yahuah.
A voice was heard on the bare heights, weeping supplications of the children of Yisharal, because they have perverted their way, they have forgotten Yahuah their Alahim.
"Return, O backsliding children, I shall make your backslidings cease." "See, we have come to You, for You are Yahuah our Alahim.
"Truly, delusion comes from the high hills, the noisy throng on the mountains. Truly, in Yahuah our Alahim is the deliverance of Yisharal."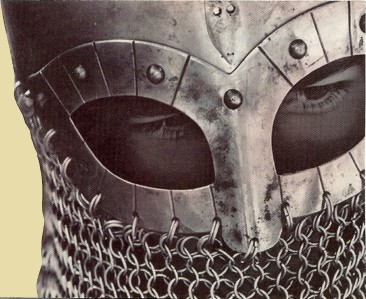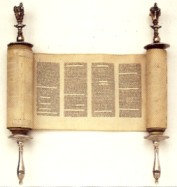 Eph 6:11-20: "Put on the complete armor of Alahim, for you to have power to stand against the schemes (METHODEIA) of the devil.
Because we do not wrestle against flesh and blood, but against principalities, against authorities, against the world-rulers of the darkness of this age, against spiritual matters of wickedness in the heavenlies.
Because of this, take up the complete armor of Alahim, so that you have power to withstand in the wicked day, and having done all, to stand.
Stand, then, having girded your waist with truth, and having put on the breastplate of righteousness,
and having fitted your feet with the preparation of the Good News (BESORAH, message, report) of peace;
above all, having taken up the shield of belief with which you shall have power to quench all the burning arrows of the wicked one.
Take also the helmet of deliverance, and the sword of the Spirit, which is the Word of Alahim,
praying at all times, with all prayer and supplication in the Spirit, watching in all perseverance and supplication for all the set-apart ones;
also for me, that a word might be given to me in the opening of my mouth, to be bold in making known the secret of the Good News, for which I am an envoy in chains, that in it I might speak boldly, as I should speak."
END OF SEMINAR – THE APPOINTMENTS
WHAT IS THE RELEVANCE OF THE "SIGN OF YONAH"?
Every year when the buds begin to indicate that Kayits (Summer) is near, there are 10 more new calendars for every division caused from the previous year. They all turned to their own course, like a horse rushing into battle. YirmeYahu 8:7-12 shows us: "Even a stork in the shamayim knows her appointed times. And a turtledove, and a swallow, and a thrush observe the time of their coming. But My people do not know the right-ruling of Yahuah. How do you say, 'We are wise, and the Turah of Yahuah is with us'? But look, the false pen of the scribe has worked falsehood. The wise shall be put to shame, they shall be broken down and caught. See, they have rejected the Word of Yahuah, so what wisdom do they have? Therefore I give their wives to others, and their fields to possessing ones. For from the least even to the greatest, they are all greedy for gain. From the prophet to the priest, all act falsely. And they heal the break of the daughter of My people slightly, saying, 'Peace, peace!' when there is no peace. Were they ashamed when they had done abomination? No! They were not at all ashamed, nor did they know how to blush. So they shall fall among those who fall. They shall stumble in the time of their visitation,' said Yahuah."

Yahuah's moedim is modeled for all to see in His Torah, and here's a beginning peek at it: MOED (Hebrew), "appointed time."

Barashith / Gen 1:14-19, with concordance numbers:
"And Alahim430 said,559 Let there be1961 (HAYAH, BECOME) lights3974 in the firmament7549 of the heaven8064 to divide914, 996 the day3117 from996 the night;3915 and let them be1961 for signs,226 (OTH, TOKEN, BEACON) and for seasons,4150 (MOEDIM, SET TIMES FOR FESTIVALS) and for days,3117 and years:8141
And let them be1961 for lights3974 in the firmament7549 of the heaven8064 to give light215 upon5921 the earth:776 and it was1961 so.3651
And Alahim 430 made6213 (853) two8147 great1419 lights;3974 (853) the greater1419 light3974 to rule4475 the day,3117 and the lesser6996 light3974 to rule4475 the night:3915 he made the stars3556 also.
Gen 1:17 And Alahim 430 set5414 them in the firmament7549 of the heaven8064 to give light215 upon5921 the earth,776
Gen 1:18 And to rule4910 over the day3117 and over the night,3915 and to divide914, 996 the light216 from996 the darkness:2822 and Alahim 430 saw7200 that3588 it was good.2896
Gen 1:19 And the evening6153 and the morning1242 were1961 the fourth7243 day.3117 . . . I post these numbers not to allow the reader the ability to select what they want the words to mean, but to allow study using the context the words are in, to help those who are truly allowing Yahusha to teach them, and not men who only seek to have others share in their delusions of what they mean. For more details: www.fossilizedcustoms.com/appointments.html