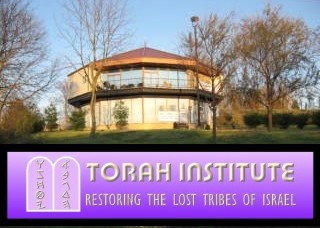 TORAH INSTITUTE NOW OPERATING:
A HEBREW ROOTS MESSIANIC WORLD-WIDE COMMUNITY
site location: 2303 Watterson Trail, Louisville, KY 40299
We've installed a sign for the street, 8 ft. wide, 32 in. high:

The purpose of this endeavor will always appear right beneath the name: restoring the lost tribes of Israel (to Yahuah's Covenant). This should keep us from ever losing sight of the primary objective.
A kind contribution has been made to buy more chairs for seminars, and other needs for the new location above. From this launching pad, video recordings of seminars may be uploaded to the web in order for anyone to view them at any time. Also, your financial support to maintain the bookstore and study areas is needed very much. This is the Torah Institute project, and Yahuah-willing, it will bear much fruit by making the Truth accessible and understandable to all. It is located only about a mile (south) from a "Mega-ch-rch", Southeast Christian.
For this worthy cause, make your support payable to LEW WHITE (this way taxation is avoided, it is a gift).
"And those from among you shall build the old waste places. You shall raise up the foundations of many generations. And you would be called the Repairer of the Breach, the Restorer of Streets to Dwell In." Isa/YeshaYahu 58:12
Driven to seek that which was lost, we endeavor to raise up the tribes of Israel to the Torah in these last days, even while in our captivity among the Gentiles. Our Deliverer will reach to the ends of the Earth to hunt down those who are lost:
"and He says, 'Shall it be a small matter for you to be My servant to raise up the tribes of Ya'aqoḇ, and to bring back the preserved ones of Yisrael? And I shall give you as a light to the Gentiles, to be My deliverance to the ends of the Earth!'" Isa/YeshaYahu 49:6
Concerning Further Torah Institute funding:
As we developed in this ministry of Yahusha about 12 years ago, we realized a physical facility would enable people to learn in a number of ways. So, we used our savings, the equity in our home, and all of my surplus income to build the facility. The total property and building cost was 1.5 million dollars, and the debt balance currently owed is less than one-third of the original building cost. The facility of any ministry is typically the largest expense, as is a house for an individual family.
As we began to struggle to meet the monthly costs to keep going (since the economic disaster of 9-11-2001), we appealed to patrons that believed in the work we are doing for Yahusha, to help lift the monthly expenses with us. A few people have selflessly helped each month since we made this need known. The only person that receives pay is Shelby; Phyllis and I receive no payment, but rather I commit my own secular income toward the monthly fixed and variable expenses - which is often not enough to cover things. Without outside help, we couldn't possibly manage. I'm turning 62 in a couple of months, and I have no delusions concerning money. I don't love money, but it is a tool, like my twelve-year-old truck. We cannot effectively do this work from the middle of a forest of trees, but we would if that is what Yahusha wants us to do. Some are sent to speak from stairways and sidewalks at university campuses, parks, or subways. We were given the task of using all the assets given to us (physical resources & talents) to bring about a Messianic community that could also reach to the ends of the Earth through books and the Internet. This has happened, but the work needs help; and that help needs to come from Yahusha's people. I'm sorry there is a debt, but if we had waited until we had the money to build, we would still be waiting to get started. What has been accomplished in the last 12 years is amazing, but we need the push of many more people to keep going.
A Comparison:
The Answers In Genesis project "Creation Museum" is one of my favorite Christian ministries, although they don't yet realize that all "Ten" of the Ten Commandments are involved in the Covenant with Yahuah, and the restoration of Yisrael. They have built a museum filled with dinosaurs near Cincinnati, Ohio that cost over 100 million dollars, and they sell admission to Christians who visit from far and wide. Their work is focused on dispelling the myth of "evolution". They are now planning to build a new adjoining facility, NOAH'S ARK. The work we have been given by Yahusha is focused on reaching people with the Covenant, so they will engraft into the commonwealth of Yisrael, and worship Yahuah without the spots and wrinkles of Paganism (Sun-day, Ash Wednesday, Easter, Christmas, Halloween, sacraments, steeples, holy water, and all the divination/necromancy of praying to the dead, etc.,). The cost of our mortgage is the greatest element of our debt, but this is not a circumstance that is unique to us.
A mortgage is the greatest single expense of most ministries. The Creation Museum is almost completely paid for from funds donated by thousands of Christians. Our debt is miniscule compared with theirs, but Yahusha is working within both of our organizations, as well as many others around the world.
Ken Ham (Creation Museum) was called to build a house of dinosaurs, and we were called to teach the nations the Torah of Yahuah.
Our objective is to be used to restore the lost tribes of Israel to the Covenant of Yahuah here in the last days.
Please participate in this work of Yahusha with us!
brother Lew
Contributions to the building fund may be made by first visiting www.fossilizedcustoms.com/generalfund.html