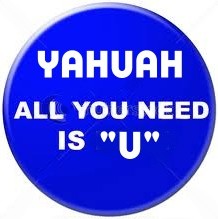 Music is such a wonderful teaching method, I wanted to pass this idea along as a possible way to get a simple message across to the average person. Although many "religious" people including some Natsarim absolutely loathe the Beatles (a judgmental attitude indeed), their song "All You Need Is Love" might help form a basis for a better understanding of the Hebrew alef-beth's sixth letter, UAU.
Most times, people spell "ESAU" as it is spelled in Hebrew (ALEF-SHIN-UAU), but they sometimes prefer to spell it "ESAW".
There's no change in sound, but then we see them promoting the "W" unnecessarily in other words and still use the letter "U" as well, as in "YAHUWAH". All that is needed is the letter "U", so we best spell this word "YAHUAH".
Ockham's razor will help reduce problems if we only use it.
This forms the basis for the lyrical alterations made below, "All You Need Is U":
All You Need Is U
G D/F# Em
There's no double-U that can't be "U" . . .
G D/F# Em
There's nothing wrong with "U" -- but double-U ; . . .
D7/A G D/F# D7/A
Nothing more to say, but you can learn to say the Name . . .
D7/A D7 (bass drops from D, C, B, . . .)
With "U" . . .
CHORUS:
G A7 D7
All you need is "U"
G A7 D7
All you need is "U"
G B7 Em G/D (G6, D bass)
All you need is "U" . . . "U"
C D7 G
"U" is all you need
Love always wins; . . . and the "U" will win over the "W" every time also,
brother Lew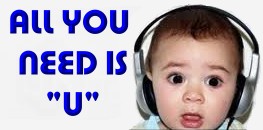 (CLICK PICTURE FOR A MUSICAL PRESENTATION ON YOUTUBE)
Mal 3:16

"Then shall those who fear Yahuah

speak to one another, and Yahuah listen and hear, and a book of remembrance be written before Him, of those who fear Yahuah, and those who think upon His Name.

Mal 3:17

"And they shall be Mine," said Yahuah of hosts, "on the day that I prepare a treasured possession. And I shall spare them as a man spares his own son who serves him.

Mal 3:18

"Then you shall again see the difference between the righteous and the wrong, between one who serves Elohim and one who does not serve Him."
YOUTUBE VIDEO LINKS
( YOUR HELP IS NEEDED TO FLOOD THE AIRWAVES WITH YAHUSHA'S BESORAH )
OVERVIEW OF ALL UPLOADED VIDEOS:
http://www.youtube.com/user/TorahInstitute#g/p
Production by Mark & Amy Davidson, Australia
in service to Yahusha's body for:
the restoring of all lost tribes of Yisrael to the Torah of Yahuah,
and the uniting of the House of Yahudah and the House of Yisrael,
and the teaching of Torah to all the nations, that we may serve Yahuah shoulder-to-shoulder.

THE NATSARIM DOCUMENTARY