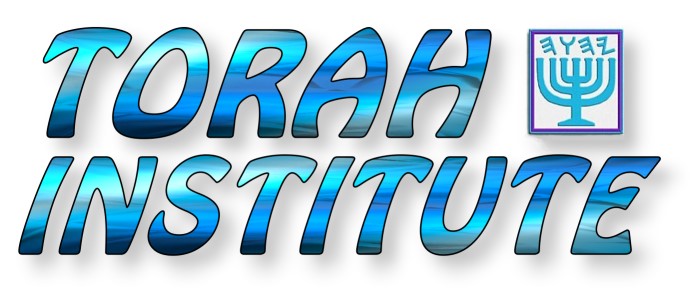 HAPPY ANNIVERSARY, YAHUAH!
SEND THIS PAGE TO YOUR PENTECOSTAL FRIENDS - GO TO "FILE", SEND PAGE
SHABUOTH (a plural Hebrew word, meaning "weeks". SHABUA means "week")
This annual feast day commemorates the giving of the Covenant (Torah) at Sinai. For many centuries, Christians have referred to it as "Pentecost", which is Greek, and means "count 50". "Pentecostals" should be very interested in this feast day of Israel and Yahuah ~ it's just a little sad they use a Greek word to describe themselves.
Once each year, this anniversary celebration occurs that most people don't know much about. It's a wedding anniversary of a marriage between Yahuah and Israel which occurred at this time of year at a mountain called Sinai (or Horeb), 50 days after being delivered from slavery in "Egypt". In fact, this day is a "High Sabbath", one of seven High Sabbaths, that have traditionally been ignored by Constantine's hybrid religion, Christianity. They've been told they're the "bride of Christ", yet don't actually remember the marriage; they have a "Passover Lamb", but no Passover; and so it goes, on and on. Few even know the NAME of their Bridegroom, Yahusha, and so they remain "unwise virgins", having no oil (His Name is as oil poured forth). When they knock to enter the marriage feast, He claims to not know them. Like Passover was turned into a "Sun-day" morning "last supper" every week, so Shabuoth has become a memorial to "speaking in tongues", rather than about the renewal of the Covenant between Yahuah and Israel. You can begin your personal study of this feast at Lev. 23, and see how the "new grain offering to Yahuah" relates to how Israel becomes united to Yahuah through this renewal of the marriage Covenant. Yahuah's redemption plan for Israel has seven parts to it; not the seven "sacraments", but the seven High Sabbaths! When you carefully read the text at Lev. 23, you'll see that this observance is to occur on "the morrow after the seventh Sabbath", so it will always be on the first day of the week. The Yahudim today observe it differently because they count "50 days" from a different beginning point; they use the movable High Sabbath during Unleavened Bread instead of the weekly Sabbath. But, they don't know what the "first fruits" is all about yet - it's about Yahusha, our Bridegroom. Acts 2 shows us this festival is not a Christian one at all, but rather ALL ISRAEL was gathered together as one man before Yahuah.
COMMITMENT is the defining aspect of any marriage, and our promise to obey Yahuah occurs at our immersion into the Name of Yahusha. We become ISRAEL, joined in a permanent relationship with the Maker of heaven and Earth through the Covenant. The Mediator of this Covenant is Yahusha, Yahuah in human form, now the Bridegroom of ISRAEL (not Christianity). Christians don't understand what Shabuoth really is, nor does most of ISRAEL; but through the workers sent forth into the harvest they are learning. Commitment to the Covenant means commitment to the marriage.
WHAT IF YOU GAINED THE WHOLE WORLD, YET MISSED A FREE ETERNAL GIFT YOU HAD THE OPPORTUNITY TO DISCOVER?
NOT A BIRTHDAY
Often, we hear that "Pentecost" as recorded in Acts 2 is the "birthday of the Church". Birthdays originate from witchcraft (horoscopic zodiac mystery religion, Astrology).
The Christians realize something very important happened, but their "Hebrew roots" to what that is have never been connected properly. It's not a birthday, but rather an anniversary. It's true that the Spirit of Yahusha was first given to the 120 Natsarim gathered together for this annual feast day at Yerushaliyim. A "renewal" of the marriage Covenant came to the early Natsarim with "power" because Yahusha took up His dwelling-place in His people for the first time, and circumcised our hearts with a LOVE for the marriage, the Covenant. This was the first fulfillment of the prophecy of the "NEW" Covenant, given at Jer./YermeYahu 31, quoted at Hebrews chapters 8 & 10. Our Creator literally inscribes His Torah on our hearts! What a wedding gift He has given to His bride, Israel! We love to obey Him when we have entered the Covenant through immersion into His Name. We take our Husband's Name upon us at our immersion, and become ONE with Him when He enters into us. We become His TEMPLE, living stones that together make up this dwelling-place. These were the "first fruits" of many to come; they are the early harvest. We Natsarim work the fields so that the great harvest will be overflowing. Acts 2 informs us that 3000 were immersed into the Covenant, renewing their vows to obey the Covenant with their Husband, and called on Him: Yahusha!
The Bridegroom says, "Love Me, and keep My Commandments!"
We say, "All that you command, we will do and obey!" ("We" means ISRAEL, or Yisharal)
What do we obey? The TORAH of YAHUAH - that is our "way", where we "walk". (see the Ten Commandments below)
"How gracious He will be when you cry for help! As soon as He hears, He will answer you. Although Yahuah gives you the bread of adversity and the water of affliction, your teachers will be hidden no more; with your own eyes you will see them. Whether you turn to the right or to the left, your ears will hear a voice behind you, saying, 'This is the way ; walk in it.'"
Isa/YeshaYahu: 30:19-21 (Our "teachers" are His Commandments, which define SIN - the Torah of Yahuah. See also 1 Jn./Yoch 3:4).
So, Yahusha, have a wonderful anniversary, and thank you for allowing us to be the BRIDE You formed for yourself. Help us to become everything you expect in the perfect wife you so richly deserve, You Who are the King of kings!
The Natsarim are a special group within Israel; with Yahusha, they are the first-fruits. Yahusha is the Head, the Natsarim are His body. He is the Root, and "Natsarim" literally means "branches" (also guardians, watchmen). Israel's primary objective is to obey the Covenant (Brith), or 10 Declarations, and teachthese instructions to the rest of mankind, so there will be knowledge of the true Creator (Yahuah). Israel is the "wife" or "bride" of Yahuah, and the 10 Declarations represent the Covenant between Yahuah and Israel; this makes the relationship a marriage between them. This Covenant is referred to as the "TORAH", a Hebrew word meaning instruction.
No other nation but Israel has any Covenant relationship with Yahuah, so in order to enter into one, the outsider or foreigner must obey the same Covenant, and join or "engraft" into Israel. The Mediator of the re-newed Covenant with Israel is Yahusha ha'Mashiak.
"And I will give you shepherds according to My heart, which shall feed you with knowledge and understanding. And it shall come to pass, when you have multiplied and increased in the land, in those days, says Yahuah, they shall say no more, 'the Ark of the Covenant of Yahuah: neither shall it come to mind: neither shall they remember it; neither shall they visit it; neither shall that be done any more. At that time they shall call Jerusalem the throne of Yahuah; and all the nations shall be gathered to it, to the Name of Yahuah, to Jerusalem: neither shall they walk any more after the imagination of their evil heart. In those days the house of Yahudah shall walk with the house of Israel, and they shall come together out of the land of the north to the land that I have given for an inheritance to your fathers."
YirmeYahu/Jer 3:15-18
Israel is the bride or wife of Yahuah -
And a nation of priests. Those that observe the Torah, or Covenant, determine who is Israel, and those who do not observe the Torah of Yahuah are not Israel. If you stop observing Torah, you are no longer Israel. But if a stranger down the street begins to observe the Torah, then they become Israel, even if they were formerly a circumambulating snake-tail-rattling moon-dancing witch doctor.
The 10 Declarations of Yahuah are to be taught to all the nations through the priesthood of Israel. We who keep that Covenant (a marriage) are those priests, and we are all on level ground - only Yahusha is above us all, our High Priest, the Kohen Gadol.
TORAH OF YAHUAH (The Eternal Covenant)
Look at each one as a way to LOVE Yahuah, and LOVE your neighbor:
1. I AM Yahuah YOUR ALAHIM. HAVE NO OTHER BEFORE MY FACE. [NO FOREIGN NAMES, RITUALS, CUSTOMS OF PAGANS]
2. YOU DO NOT BOW TO IMAGES.
3. YOU DO NOT CAST THE NAME OF Yahuah YOUR ALAHIM TO RUIN. ["SHOAH" = RUIN - WE ARE NOT TO DESTROY HIS NAME]
4. REMEMBER SHABATH, TO KEEP IT QODESH. (QODESH = SET APART)
[SABBATH IS THE SIGN OF EVERLASTING COVENANT OF LOVE, EX. 31:13, EZ. 20:16-20. IT WAS CHANGED (DAN. 7:25) BY CONSTANTINE TO HIS "DAY OF THE SUN" IN 321 CE FOR CHRISTIANS, CHANGED BY MUHAMMAD TO 6TH DAY, CIRCA 622 CE.
SHABATH ACKNOWLEDGES YAHUAH AS CREATOR. (HEB. 4. IN THE WORLD BEFORE SIN CAME, AND REMAINS FOR ALL ETERNITY, IS. 66:23, PS. 119:152, EX. 31:13).
5. YOU RESPECT YOUR FATHER AND YOUR MOTHER.
6. YOU DO NOT MURDER.
7. YOU DO NOT BREAK WEDLOCK.
8. YOU DO NOT STEAL.
9. YOU DO NOT BEAR FALSE WITNESS AGAINST YOUR NEIGHBOR.
10. YOU DO NOT COVET YOUR NEIGHBOR'S WIFE, HOUSE, FIELD, SERVANTS, OR ANYTHING THAT BELONGS TO YOUR NEIGHBOR.
THESE ARE TO BE DILIGENTLY TAUGHT TO YOUR CHILDREN, AND POSTED ON THE DOORPOSTS OF YOUR HOME. (Dt. 6).
"Blessed are those doing His Commands, so that the authority shall be theirs unto the tree of life and to enter through the gates into the city." REV. 22:14
"Great shalom have they which love thy TORAH: and nothing shall offend them." Psalm 119:165
"Then the dragon was enraged at the woman and went off to make war against the rest of her offspring
-those who obey Yahuah our Alahim's Commandments (TORAH) and hold to the testimony of Yahusha." REV. 12:17
"Let no man therefore judge you in meat, or in drink, or in respect of a festival, or of the new moon, or of the Sabbath days
which are a shadow of things to come for the body of (Mashiak)." Col 2:16-17
Ecc 12:13, 14: "Let us hear the conclusion of the entire matter: Fear Alahim and guard His commands, for this applies to all mankind!

For Alahim shall bring every work into right-ruling, including all that is hidden, whether good or whether evil."
FORWARD, REPRINT & SHARE PROFUSELY WITH NATIONS
ENGRAFT TO THE COVENANT BETWEEN YAHUAH & YISRAEL (Eph. 2, Rom. 11)
"If you love Me, keep My commandments." John / Yahukanon 14:15
BESORAH (message, report, news)
The Covenant between Yahuah and Yisrael
It's a MARRIAGE
Most people read their favorite translation of Yahuah's Word for years, and never see the most glaring facts staring right at them. The Truth is, Yahuah has never forsaken His Covenant with Yisrael, but has renewed it in the precious blood of Yahusha. Gentiles have been misled to think that He has given up on the people He Covenanted with, or that He made a "new" Covenant with a different people. This is the core of what is called "replacement theology", and it is a profound error. The Everlasting Covenant is with all who partake in it, and they become "Yisrael" through this Covenant. They are "cut-off" from Yisrael the moment they depart from it. It is the renewal of this Covenant that is significant because it is sealed, not with the imperfect blood of rams and goats, but with the infinitely superior blood of the Son of Yahuah, Yahusha ha'Mashiach.
Yahusha is the Mediator of the renewed Covenant, Who writes it upon hearts of flesh, and causes us to receive a love for the Truth.
We can now love His instructions!
Gentiles become fellow citizens with Yisrael through this Covenant, and are referred to as being "formerly Gentiles in the flesh". They are no longer Gentiles, but Yisrael, through the workmanship of Yahusha. If they accept the Mashiach of Yisrael, but do not accept the Covenant He brings with Him, they are without hope, because of their disobedience.
(Heb. 4:6)
"For we are His workmanship, created in Messiah Yahusha unto good works, which Alahim prepared beforehand that we should walk in them.
Therefore remember that you, once Gentiles in the flesh, who are called 'the uncircumcision' by what is called 'the circumcision' made in the flesh by hands, that at that time you were without Messiah, excluded from the citizenship of Yisrael and strangers from the covenants of promise, having no expectation and without Alahim in the world.
But now in Messiah Yahusha you who once were far off have been brought near by the blood of the Messiah. For He is our peace, who has made both one, and having broken down the partition of the barrier, having abolished in His flesh the enmity – the Torah of the commands in dogma – so as to create in Himself one renewed man from the two, thus making peace, and to completely restore to favor both of them unto Alahim in one body through the stake, having destroyed the enmity by it.
And having come, He brought as Good News (Besorah) peace to you who were far off, and peace to those near, because through Him we both have access to the Father by one Spirit.
So then you are no longer strangers and foreigners, but fellow citizens with the set-apart ones and members of the household of Alahim, having been built upon the foundation of the emissaries and prophets, Yahusha Messiah Himself being chief corner-stone, in whom all the building, being joined together, grows into a set-apart Dwelling Place in Yahuah, in Whom you also are being built together into a dwelling of Alahim in the Spirit." Eph. 2:10-22
Yisrael is now the living Hekel (Temple) of Yahuah, indwelled by Yahusha's Spiritual presence in us. It has always been Yahuah's will for Yisrael to teach His Torah to the nations. The story of Yonah portrays Yisrael's unwillingness to perform this duty willingly, but now we in the last days realize our duty. We are commissioned to teach the Gentiles, and engraft them into the Torah/Covenant,
"teaching them to obey everything I have commanded you".
We are one body, and we have a name He calls us by: Yisrael.
Lew White
See more on Passover, First-fruits and the Resurrection as it relates to the "sign of Yonah":
www.fossilizedcustoms.com/firstfruits.html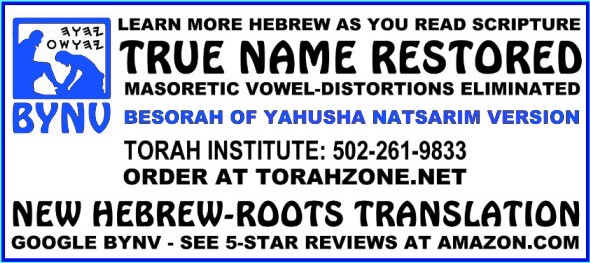 Order BYNV at: http://www.torahzone.net/ TAKE TIME TO VISIT THE BLOG, YOUR COMMENTS WELCOME
Amazon Kindle, BYNV:
You can review the text without purchasing it.
To review, or download the BYNV Kindle (and save shipping):
http://www.amazon.com/Besorah-Yahusha-Natsarim-Version-ebook/dp/B00EAB3U9I/ref=sr_1_1?ie=UTF8&qid=1381765397&sr=8-1&keywords=bynv
Joke line seen on Internet: "Marriage is a relationship in which one person is always right, and the other is a husband."
HAVE YOU BEEN PROGRAMMED BY SOUND-BYTES?
WORDS NOT FOUND IN SCRIPTURE:
CHRISTIANITY, BIBLE, HOLY WATER, SACRAMENTS, POPES, MONKS, NUNS, LAST SUPPER, EASTER, CHRISTMAS, HALLOWEEN, SUN-DAY, CATHOLIC, PROTESTANT, KIPPAH/YARMULKE, TRANSUBSTANTIATION, WEDDING RING, GOOD FRIDAY, TRINITY, CROSS, LORD (EVEN AS A NAME), GOD, OR JESUS.
Visit the Torah Institute YouTube Channel:
http://www.youtube.com/user/TorahInstitute?ob=0&feature=results_main
WHO IS LEW WHITE?
www.fossilizedcustoms.com/Lew_White.html
Contact Information Click Here
MESSIANIC BOOKS THAT WILL TAKE YOU TO THE FOUNDATION OF THE TRUE "WAY"
Da Vinci Code; What's true, and what's not Myths of Knights Templar retold
IF YOU ARE CONSIDERING BEING IMMERSED INTO Yahusha'S NAME, SEE THIS LINK: CIRCUMCISION and IMMERSION
THE WORD "CHRISTIAN" What were they REALLY called?
LUNAR SABBATH SYSTEM Appointed times and the Sabbath
WHAT IS THE "GOSPEL"? The true message is a SECRET
Q: Where did we get the form "JESUS" from? "JESUS" ISN'T IN SCRIPTURE!
Is the author of Revelation still alive?
WHAT ABOUT THAT DOME - KIPA or YARMULKE
CHRISTIANITY & NATSARIM COMPARED SYNAGOGUE OF SATAN
SHORT ARTICLES: CLICK HERE TO VIEW TITLES
www.fossilizedcustoms.com/kipa.html