Please read Psalm 35, it will prepare your heart for when you are persecuted.
There is a great deal one can learn through persecution, for doing what you were created to do.
Forgiving those who are doing you harm takes the indwelling of Yahusha, our gentle Shepherd.
"YOU ARE THE LIGHT OF THE WORLD." (MT. 5:14)
We take the Light into the dark places of this world. Some of us are SENT to the "outsiders". We are in the world, but not of the world (system). The whole Earth is corrupt before Yahuah, there are none clean, except those covered by Yahusha's blood.
The Natsarim MUST work among the lost who do not yet know Yahuah.
Pro 30:10: "Do not slander a servant to his master, lest he curse you, and you be found guilty."
SEE ALSO: UPDATED REPORT ON THESE ATTACKS (link)
FELLOW BROTHER SHARES HIS HEART ABOUT HIS OWN WORK (link)
Luk 15:1-7: "Now all the tax collectors and the sinners were coming to Him to hear Him.
And the Pharisees and scribes grumbled, saying, 'This One receives sinners and eats with them.'
And He spoke this parable to them, saying,
What man among you, having a hundred sheep, and having lost one of them, does not leave the ninety-nine in the wilderness and go after the one which is lost until he finds it?
And having found it, he lays it on his shoulders, rejoicing.
And having come home, he calls together his friends and neighbors, saying to them, 'Rejoice with me, for I have found my sheep which was lost!'
I say to you that in the same way there shall be more joy in the heaven over one sinner repenting, than over ninety-nine righteous ones who need no repentance."
Mat &:1-5: "

Do not judge

, lest you be judged. For with what judgment you judge, you shall be judged. And with the same measure you use, it shall be measured to you. And why do you look at the splinter in your brother's eye, but do not notice the plank in your own eye? Or how is it that you say to your brother, 'Let me remove the splinter out of your eye,' and see, a plank is in your own eye? Hypocrite! First remove the plank from your own eye, and then you shall see clearly to remove the splinter out of your brother's eye."

2Th 3:14, 15: "And if anyone does not obey our word in this letter, note that one, and do not keep company with him, so that he is put to shame. However, do not regard him as an enemy, but admonish him as a brother."

Rom 16:17-20: "Now I call upon you, brothers, watch out for those who cause divisions and stumbling, contrary to the teaching which you learned, and turn away from them. For such ones do not serve our Master יהושע Messiah, but their own stomach, and by smooth words and flattering speech they deceive the hearts of the innocent.

Your obedience, indeed, is reported to all. Therefore I rejoice concerning you, but I wish you to be wise indeed as to the good, and simple toward the evil. And the Elohim of peace shall crush Satan under your feet shortly. The favour of our Master
יהושע
Messiah be with you. Amĕn."
Luk 6:43-45: "'For a good tree does not yield rotten fruit, nor does a rotten tree yield good fruit. For each tree is known by its own fruit. For they do not gather figs from thorns, nor do they gather grapes from a bramble bush. The good man brings forth what is good out of the good treasure of his heart, and the wicked man brings forth what is wicked out of the wicked treasure of his heart. For out of the overflow of the heart his mouth speaks.'"

THERE ARE TARES AMONG THE WHEAT, and they hide their identity
RESPONSE TO "MESSIANIC HALL OF SHAME"
MALICE, ENVY, STRIFE, OVER PROMOTION OF
HALLELUYAH SCRIPTURES AND BOOK, VAIN TRADITIONS?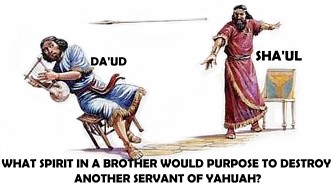 HALLELUYAH SCRIPTURES IS THE UNAUTHORIZED PUBLICATION OF ISR'S THE SCRIPTURES, WITH THE ADDITION OF THE PALAEO-HEBREW FONT; VAIN TRADITIONS IS THE CLONING (PLAGIARIZATION) OF FOSSILIZED CUSTOMS.
We love the redeemed as well as the lost, and grieve to see the stumbling caused by those who cause slander, divisions, factions, or dig pits for others to fall in - even as they hide their identities from those they spread their evil reports. We are to bless, and not curse.
We are to be known for

the love we have for one another

, yet even unbelieving acquaintances I know are talking about these attacks between each other, and even they perceive it to be the ugliest thing they have ever known to happen to someone they know. We are to be

fishers of men

, and

hunters

, sent out to find the lost in the holes and under the rocks, and yet when we do this, we are as some have described it, "guilty by association". May Yahusha use us as He wishes, and send us out with His skillful Right Arm in great power. We must remember to be strong and courageous, He is with us.



Something has caused a jealous rage to erupt, and it may be a spirit of competition.
Mt 24:10: "And then many shall stumble, and they shall deliver up one another, and shall hate one another."

We need to cooperate and love one another, not compete.

Paul warned us if we aren't careful we'll devour one another.

Gal 5:14, 15: "For the entire Torah is completed in one word, in this, 'You shall love your neighbour as yourself.'

And if you bite and devour one another, beware lest you be consumed by one another!"
This is a response to fierce, malicious lashon hara intended to due harm
We are not sending out email blasts to snipe at anyone,
and as we may learn of the names of those who do so
we will not reveal them to the public
Questions and Answers at bottom of this page
LINKAGE: SEE THIS LINK FOR REVEALING MOTIVES BEHIND ATTACK
FISHING IN STORMY SEAS (SHORTER RESPONSE LINK)
INTERVIEW WITH DANIEL MERRICK (AUDIO DISCUSSION)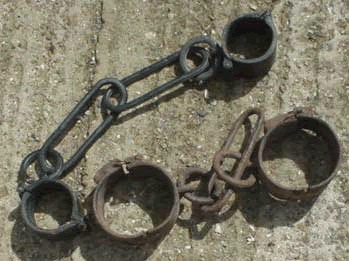 HOW DO YOU SERVE YAHUSHA? (LINK)
The accusers have been asked to answer this question: which Torah commandment am I personally violating, and what would you suggest I do to correct my walk? Also, in all 9 editions of FC I describe how I have to work in a place where the lost are all around me. The first several editions even provided the return address for Electric Ladyland; it's never been a secret of any kind. When we built Torah Institute, the return address changed in subsequent editions. The "Shame Hall" needs to recognize this.
NEW DEVELOPMENT: A PERSON ASSOCIATED WITH THE ATTACKS HAS PUBLICLY REVEALED HIS IDENTITY. We know the names of others, but will not reveal them without their coming forth voluntarily as (name withheld) has done. It is not righteous to conceal one's identity and ambush other believers!
Email sent to (name withheld) from Lew White (our first communication!)
From: Lew White order@fossilizedcustoms.com
Sent: Monday, April 25, 2011 1:05 PM
To: (name withheld) info@messianichallofshame.com

Subject: messianichallofshame
Hi (name withheld),
Through a forwarded email, we have been informed that you have bravely used the name "(name withheld)" on new updates being sent around in emails about me, Torah Institute, and the worldly occupation I have. I was not on your email list, but someone kindly forwarded your email to me. Please add my name to your list. I'm not surprised over the attacks, since it is a wonderful thing to be persecuted as Yahusha said we would be. You have accused me of leading people into sin, when that is not at all the case. People in the past would stone or burn those they had doctrinal disagreements with, but today we are much more about character assassination. Your name will not be maligned by any of my responses to your attacks, but I am encouraged that you are no longer hiding your identity. If you wouldn't mind doing so, please post this email on your webpage, and include some information about yourself for everyone. We'd like to know the doctrines you teach, what you have done and continue to do prominently for Yahusha and His body, and what sort of occupation you are engaged in to support yourself and your work for Him.
We would like you to list the doctrines I have been teaching that are leading people into sin against Torah; these somehow keep being referred to but left out of the information. Again, please post this email in its entirety for all to read, so all will be aware of our first communication.
We hope your service to Yahusha grows stronger each day out of your sincere love for the brothers and sisters. We also hope that those He is restoring to His Covenant see the love you have for the lost, as well as the love you have for those Yahusha has redeemed by His precious blood, so that all know we are truly His talmidim (disciples).
brother Lew
INTERNATIONAL NAZARENE BEIT DIN ruled on this matter: www.fossilizedcustoms.com/messianicbeitdin.html
Further misinformation is being presented from the malicious source claiming we are selling beer, and operating on the Sabbath day.
It's like a soap opera - one tells huge lies, then we respond to them. But, there's too many lies to handle them all.
MARIJUANA? Absolutely not, that's illegal (due to prohibition of men's laws)
My constant intention is to help others know Yahusha, and for me and them to learn to be like Him, and ultimately to love others as He loves them. The images, customs, idolatry, masks, and even the "marijuana people" are around all of us constantly. As for the "idolatry", I make fun of them, as you see me doing in the video, having fun, and making light of them. If you were to come into the store, you would see that it is filled with what the slanderers are not showing you: all the messages written everywhere explaining the idolatry of this world, including what they are looking at and practicing. There is no marijuana anywhere in my life, however Yahusha is the One you may need to take that issue up with, He created it. It has been used medicinally for thousands of years up until its relatively recent prohibition (so the government can make the price high and import / traffic it without competition). It was an ingredient (kaneh bosem) in the qodesh anointing oil. Exodus records Mosheh receiving the instructions for making and distributing the anointing oil as follows:
"Then Yahuah said to Moses, 'Take the following fine spices: 500 shekels of liquid myrrh, half as much of fragrant cinnamon, 250 shekels of kaneh bosm, 500 shekels of cassia - all according to the sanctuary shekel--and a hind of olive oil. Make these into a sacred anointing oil'" (Exodus 30: 22-33)
http://en.wikipedia.org/wiki/Sula_Benet
Encyclopedia Judaica. Volume 8. p. 323.
Our Guide in everything is Yahusha; He is with us in both calm times and troubled times. Most of the time we wrestle with the world's influences on how we have to live and survive in this fallen world of incredible darkness, but we can always have joy knowing that Yahusha is with us in everything, and He knows that we yearn for righteousness. Lot was living in a similar situation, remember?
What men think of us is of little importance, but always be kind to them, with a caring attitude.
I'm judged very harshly by many people over where I work for a living for my family. I also loathe being in such a place, but the critics hold nothing back in their attacks no matter what might be said. To them, I simply "excuse" everything. But, progress is being made in that lost people are hearing where they would never have another opportunity to hear. The staff at Torah Institute comes from a few of those rescued from the fires. Many others are being affected, so keep bearing up under the pressure. Yahusha will not allow you to endure more than you can endure. He wants us to be strengthened by our trials and endure to the end. The adversities we experience shape and mold us into humble servants, and they are tests to see if we will break under the pressure of men's opinions, or endure their harsh words and actions for the sake of building up Yahusha's kingdom.
Always love, it never fails. Without love, nothing else matters.
People are being led to believe that I operate a retail store on the Sabbath, and require employees to work on it. If they ever spoke to me, to my partner, or the one part-time employee we have, they would learn the truth. Lying is a Torah violation.
No doubt, Electric Ladyland is a "worldly" store. We are in the world, but not of it.
Now the accusers are attacking TORAH INSTITUTE, we are not returning attacks. Old photos are being used from years ago when the building now used by Torah Institute was leased to two other operations; one occupied the first level as a computer game operation. It was called "w00tz!", and they leased the space for about 3 years. Because they slowly began to promote themselves as a "gaming bar", we did not renew their lease, and they relocated. Yes, when they began to sell beer and promote themselves as more than a computer games facility, we wanted no more of it and did not renew their lease. W00tz! had a beer banner up for a couple of weeks, and soon after they were gone. Phase II of these attacks gives the impression that I put the beer banner up, but the accuser knows this to be a lie. Each bit of false information being "reported" has another TRUE story behind it. This attack is not only unkind, but untruthful, and behind every word there is a motive guided by some intense hatred. Most people realize this, while some are falling for the lies. Torah Institute operates on the first level of the building currently, and there are no banners showing beer ads, and we don't serve beer and ham sandwiches at the seminars.
How ridiculous would that be?
The Louisville School of Rock is a fine up-scale music school teaching keyboards, guitar, bass, & drums.
They are occupying the basement level, and the octagonal sign is currently used by them, and located on the building, not on the gate. The photos being shown by those on the attack are years out-of-date.
Torah Institute has a sign on the street level, as well as on the building.
WISDOM REVEALS ITSELF BY WHAT FRUIT IT PRODUCES
LOVE = GOOD; HATE = EVIL
Pro 18:21: "Death and life are in the power of the tongue, and those loving it eat its fruit."
Those who live righteously can expect to be attacked. Yahusha gave us good advice,
"But beware of the false prophets, who come to you in sheep's clothing, but inwardly they are savage wolves.
By their fruits you shall know them. Are grapes gathered from thornbushes or figs from thistles?
So every good tree yields good fruit, but a rotten tree yields wicked fruit.
A good tree is unable to yield wicked fruit, and a rotten tree to yield good fruit.
Every tree that does not bear good fruit is cut down and thrown into the fire.
So then, by their fruits you shall know them." ~ Mt. 7:15-20
Some among us are savage wolves.
Yahusha also affirmed this Scripture:
"Love your neighbor as yourself." ~ Mt. 19
OUR EXAMPLE:
1Pe 2:19-23: "For this is favor, if because of conscience toward Elohim anyone bears up under grief, suffering unrighteously. For what credit is there in enduring a beating when you sin? But if you suffer for doing good and you endure, this finds favor with Elohim. For to this you were called, because Messiah also suffered for us, leaving us an example, that you should follow His steps, Who committed no sin, nor was deceit found in His Mouth, Who, being reviled, did not revile in return; suffering, did not threaten, but committed Himself to Him Who judges righteously."
The "messianichallofshame" is maliciously attacking me, Lew White, and Institute for Scripture Research through a web site. This slanted, inaccurate, and misleading information is being picked up and carried by other believers through emails and newsletters.
Yahuah doesn't use us by isolating us, but rather we infiltrate the lost. Yahusha endured great shame for working among the lost, and He endured torture to the death for the sake of us all. Where He sends me, I will go. We are not to criticize another servant.
Rom 3:13-19: " 'Their throat is an open tomb, with their tongues they have deceived,' 'The poison of adders is under their lips,'
"Whose mouth is filled with cursing and bitterness. Their feet are swift to shed blood, ruin and wretchedness are in their ways, and the way of peace they have not known.' 'There is no fear of Elohim before their eyes.' And we know that whatever the Torah says, it says to those who are in the Torah, so that every mouth might be stopped, and all the world come under judgment before Elohim."
This is addressed to the persons responsible, however they will not be slandered or libeled as they are doing to me:
Dear messianichallofshame & 2Besaved:
Please send this response with your real name included to all those you have sent your emails to, and post it on the web page in its entirety, and then we will all know you are not against the proper method Yahusha taught us to handle offenses between ourselves.
Recently it has brought to our attention that there are about 30 people involved in this hateful libel and slander, and claims are being made that they have confronted me for YEARS over this issue. One name has been discovered, only because he had been interviewed by Joey G. Dauben at elliscountyobserver.com, and now I have a name I can pray for. I have had no direct contact with him or, to my knowledge, any of the other people who are claimed to have been diligently warning me for years.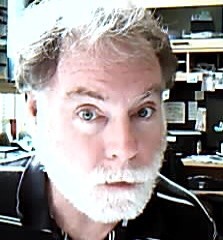 NO MASK! Wisdom reveals itself by what it produces . . . her children.

This is in response to a web page and circulating emails that seem to be in attack-mode against me personally (No personal violation or false teaching is ever cited, although we originally felt it may have been over the lunar-sabbath issue many are falling for lately). This is all the "back-lash" you will receive from me, and before Yahuah I forgive you; may He also forgive you as He has forgiven me for much more than I can forgive myself for.

As dirty nails were being driven into His flesh, Yahusha prayed and asked forgiveness for those killing Him. With such amazing forgiveness as our example, we have no place to stand in judgment against one another. I am not hiding, but talk daily to sorcerers, witches, atheists, drug dealers, murderers, thieves, fornicators, and liars; they are lost, and I told Yahuah I would go for Him. If I am judged for being wicked because I love the wicked, then Yahusha knows exactly how you have made me feel, because He was also judged in the same way. Without love, all our efforts are futility.

YeshaYahu/Isa 6:8: "And I heard the voice of Yahuah, saying, 'Whom do I send, and who would go for Us?' And I said, 'Here am I! Send me.'"

In the end, it may be better to need improvement than to have judged one another. The assembly of Natsarim is a hospital for sinners, and it is not paradise. I'm still in that hospital, and learning to love.

Further Response to persistent attacks

Subject: False Information on web site

Note: We are suddenly being attacked by a storm of emails, and this is overwhelming our ability to reply to each individually, so this is simply a quick response to a very insidious personal attack on a business I have a 50% interest in, but no controlling interest.

If the accuser of the brothers is citing Scripture, we can then pay heed; but there is no Scripture employed that bears any relation to the matters being addressed. There is a great deal of slanted and false information however.

The object of this false information is to disrupt Yahusha's work.

We will soon all be standing before our King, Yahusha, so we must always put on love.

Always keep in mind, the one who judges will be judged by the measure they judge others.

To listen to, or propagate gossip, makes a person a party to the evil (see Mt 15:19, 2Co 12:20, Php 1:15, ), and slander is akin to murder

(character-assassination of a brother).

This knowledge should still the heart of all Natsarim! If I were not in Yahuah's will, my end would have come long ago; but I am still here, and not willing to accuse or judge my brothers and sisters. Look at the outcome of those who devise wickedness, plotting evil:

Pro 6:14-19: "Perverseness is in his heart, plotting evil at all times, he sends out strife.

Therefore his calamity comes suddenly; instantly he is broken, and there is no healing.

These six matters Yahuah hates, and seven are an abomination to Him:

a proud look, a lying tongue, and hands shedding innocent blood,

a heart devising wicked schemes, feet quick to run to evil,

a false witness breathing out lies, and one who causes strife among brothers."

Put on love.

Origin of personal attack involves two linked web sites, and accompanying email address:

RE: www.messianichallofshame.com

Email: info@messianichallofshame.com

At least 11 other hosts point to this IP address -- computer source from which this disinformation is being generated:

(computer being used)

Ns1.lunarbreeze.com is a domain controlled by two name servers at lunarbreeze.com. Both are on different IP networks. The primary name server is ns1.lunarbreeze.com. Incoming mail for ns1.lunarbreeze.com is handled by one mail server also at lunarbreeze.com. ns1.lunarbreeze.com has one IP number (74.50.25.3) , which is the same as for lunarbreeze.com. Ns1.lunarbreeze.com also has a corresponding reverse pointer.

Lunarbreeze.com, headsman.net, defineisaretleri.net, www.lunarbreeze.com, ns1.ripoffreports.info and at least eleven other hosts point to the same IP.

Lew White responds to details:

The web page cited above contains a great deal of misinformation. It claims I do not deny any of the information on the page. I do deny many statements, one of which is the $940,000 revenue (Gross sales in one year before 9/11, year-ending 2000 CE). The total sales are currently about one-third of that high point, and that figure is not "profit", but total revenue. The owner profits are currently very low, after all the expenses (payroll, overhead, etc.,), taxes, and the merchandise cost is taken out. You are misleading people to believe I make a huge income. What income I have is used to prop-up Torah Institute, which is not my ministry, but Yahusha's ministry, serving the body of Yisrael in the way you all are very familiar. I am the same person whether speaking to the assembly, or to a witch that walks into the store and asks me how to be saved.

The partner I have shares in 50% of any profits after expenses and taxes. The public records once showed me as president, and the co-owner and I entered into a private agreement to keep ownership at 50% each, while showing me only as director with the state of Kentucky. For most of the existence of this corporation, the other partner was president, and I was vice president. As of 2011, I am once again vice president. The ownership (stock) in Electric Ladyland Inc is split 50/50 between me and the other working stock-holder/partner/manager, Bob Nord. I am not in total control over everything, since neither owner has controlling interest. In many instances, board directors and individual owners (stockholders) are not listed. Often, the directors are not even owners; the real owners are stock-holders. I am not in total control over this store. Why would I allow the store to operate on the Sabbath day if this were so? The other owner operates the store on the Sabbath. I appeal to him to stop this, and close the store. You can call 502-458-4259 and ask him if I work on the Sabbath, or if I am happy that we are open on the Sabbath. Ask for Bob Nord. I came to the faith AFTER being in this business relationship, and remain in it hoping the partner will eventually turn.

Like others who are "unequally-yoked", I fully realize this world is far from perfect. We must be in the world, not of it. We are not called to withdraw from unconverted people, but to infiltrate them.

We have no new-age, porn, wiccan, or naked women pictured as you have portrayed the situation, although it is true that the original English import version of the album by Jimi Hendrix titled Electric Ladyland had this photo. (UPDATE: A DVD of Demi Moore's movie, Striptease, rated R, is now pictured among the used movies, with scenes from the movie - on the attacking website; this webpage depiction is worse than the cover, which I just learned was in the inventory. I don't monitor or audit every piece of merchandise that comes through, because I'm not there every minute to do so. Someone came into the store and took these photos, and never bothered to speak to anyone, so if they really had intentions of talking me out of something, that was the time to do it. A person could go into any retail store and find movies, pictures, statues, logos, guns, and assorted other images that would cast an evil pall over the motives behind them). It was not kind of those who are attacking me to present such an image on their web site. I am an owner who is selling his interest in this store, but remain where I am as a light among people who are perishing. Objects don't contain sin in them; sin is in people's hearts. Concerning those who are attacking me:

Why are you hiding your names? Your computer IP address is the source of quite a bit of activity along these lines.

You did not post the email in its entirety as was requested, and there is not a single Torah command which you have accused me of having ignored.

I would like you to post the specific Torah command or commands being violated by me personally. Also, you state that I have been in contact with you over this previous to your sudden attack, but you know this is also false. Please present this response, and the full version of the previous one, and reveal who you are to everyone publicly.

More correct information on the "subject" of your interest:

Electric Ladyland Inc is a business in which I own 50% of the stock, and have had on the market for over 10 years. It has been on the market off-and-on since 1991. I would "repent" if I knew what to repent of; but neither can I simply walk away from it with hundreds of thousands of dollars of debt owed on this business. If I walked away from it as some have suggested, I would still be personally signed on the corporate loans, and obligated to repay them. Additionally, there is no income to hire anyone to replace me. I am at a loss as to what purpose it would be for a brother to send out misinformation about another brother, other than to assume that this attack is demonic, and so it is evident that Yahusha's work is having a serious effect on the demonic realm.

Persecution and demonizing others is not what Natsarim do, and I will not reveal your identity before others.

As for us, we will be vigilant to our primary mission, which is to teach the Name and Yahuah's Torah to the lost.

I've always been visible, and never "hidden" the fact that my secular income comes from Electric Ladyland Inc, and that it is used to support Yahusha's work. I've promoted Torah-observance in this store since 1985.

It is part of a work Yahusha involved me in about 26 years ago, and it has produced numerous converts to the true faith. Among them are Todd Effren, who translated MattithYahu, Chizayon, and Dani'el, Hadassah, & Rut; Lou Angelwolf (Dieter), a traveling professional comedian; and many more. Books and articles concerning the message of salvation have been given out, loaned, and sold at this location since 1993.

All I know is, like YeshaYahu, I'm a man of unclean lips, and I dwell in the midst of a people of unclean lips (as I identify with the text at YeshaYahu 6). I pray for all the Natsarim everyday, and especially lost Yisrael. When we keep our eyes on Yahusha Who is guiding us, we hear in our heart His Words, "you follow Me!". Others are also following Him, but their paths in serving Him do not go in the same places. When we watch each other, it is easy to be critical and misunderstand, not knowing the whole plan. Yahusha doesn't reveal all of His strategies to each of us, but keeps them to Himself and just directs each of us to do what we have been told to do.

Only the Shepherd knows why He places certain sheep where He does, but in the end it will turn out to be for the good of the whole flock.

Luk 7:32-35: "They are like children sitting in the market-place and calling to each other, saying, 'We played the flute for you and you did not dance, we lamented for you and you did not weep.' For Yahuchanan the Immerser came neither eating bread nor drinking wine, and you say, 'He has a demon.'

The Son of Adam has come eating and drinking, and you say, 'Look, a man, a glutton and a wine-drinker, a friend of tax collectors and sinners!'. And wisdom is declared right by all her children.

The final outcome will make it clear to all. What is being produced (saving the lost) will make all the persecution well-worth it.

Fishers Of Men, By All Means

Or: A Brief Insight As To Why Lew White Works Among Hippies

I work with those who are like I used to be before I became obedient to Yahusha's call. I am a hunter for the lost. We are not of the world any longer, and yet we are sent into the world to reach the lost. The sea of humanity contains all sorts of fish.

"From that time Yahusha began to proclaim and to say, 'Repent, for the reign of the heavens has drawn near.' And Yahusha, walking by the Sea of Galil , saw two brothers, Shimon called Kepha, and Andri his brother, casting a net into the sea, for they were fishermen. And He said to them, 'Follow Me, and I shall make you fishers of men.'" Mt 4:17-19

The two brothers, Kepha and Andri, supported their families by fishing. Yahusha related their occupation of fishing to what they (and we) would be doing among all mankind. To fish for mankind today, Yahusha's "fishers" and "hunters" use tools other than nets and boats. We "fish" and "hunt" in various ways, and it was prophesied that we would hunt for the lost from every mountain (nation), every hill (culture), and even the holes of the rocks (tough places where the lost are embedded):

"'See, I am sending for many fishermen,' declares Yahuah, 'and they shall fish them. And after that I shall send for many hunters, and they shall hunt them from every mountain and every hill, and out of the holes of the rocks.'" Jer/YirmeYahu 16:16

Would Yahusha leave any stone unturned to seek and save the lost? If there were a "drug-culture" where people needed to be hunted, could it be done without the hunter becoming "like" those he is hunting, in order that some might be saved? Except for Shabbath, I am around misguided Torah-breakers trapped in a "denomination", as well as thieves, fornicators, homosexuals, murderers, atheists, witches, drug-addicts, and prostitutes. He is using me to search-out that one lost sheep that wandered away, and I won't give up on His search.

"For though I am free from all, I made myself a servant to all, in order to win more, and to the Yahudim I became as a Yahudi, that I might win Yahudim; to those who are under Torah, as under Torah, so as to win those who are under Torah; to those without Torah, as without Torah – not being without Torah toward Elohim, but under Torah of Messiah – so as to win those who are without Torah. To the weak I became as weak, so as to win the weak. To all men I have become all, so as to save some, by all means." 1Co 9:19-22

After finishing college, I began a business with my closest friend, which I have known since childhood. He is a decent, honest person, whom I pray for daily to receive the Spirit of Yahusha. This business is a music outlet with a "hippie" decor, and it is a friendly, clean environment that whole families come to for shopping. The retail business we started in 1978 was engaged in selling records, tapes (now CD's & DVD's), incense, posters, jewelry, tapestries, clothing, and a wide variety of young lifestyle gifts, including tobacco pipes (both traditional and contemporary). It was a "hippie store" from the beginning. After 3 or 4 years, we worked in the store less and less, but still owned it as equal shareholders. With my extra time, I was able to study whatever I liked; my favorite passion involved the sciences (especially physics, biology, and cosmology). After some time, I reached the point where I realized that "science" was full of theories, few facts, and was a belief system being promoted by elitists called "scientists", but they were primarily humanists who projected a superficial, philosophic "piety", and they demanded devotion and reverence. Having had my eyes opened to their agenda, I was now ready to receive the Truth.

At that point, my wife put a copy of the Word of Yahuah in my path. I was 35, and had never read a single sentence of Scripture in my life, although I had soaked-up the traditional "sound-byte" spirituality from the surrounding culture. Up until then, I absorbed whatever scientific and technological journals I could put my hands on. I cracked the "Bible" book open in the middle, and read "Isaiah" chapter 53; the first chapter I'd ever laid eyes on personally. Yahusha had my attention from that point on, and soon afterward, my heart. I turned my life over to Him when I learned His true Name, which occurred as soon as I read the "Preface", and went to the library the next day. I read the Scriptures from the beginning, equipped with the Key of Knowledge, His precious Name. I knew He had me, created me, and had purchased me with the most precious commodity the world has ever known: His own blood.

Needless to say, I was still learning Yahusha's will, and at first I wanted to run away from everything and everyone that was in my life at the time. My understanding of "evil" was still being molded, but several texts of Scripture held me in place, a few of which I've quoted above. I had to help others see that the whole world was upside down, so I put together some articles and made copies of them. The "hippie store" was the primary outlet for them. People began to come to the store to learn more, and as I was learning more, I printed more articles, which then grew into books. Yahusha could not have picked a more appropriate place to reach the lost than the store we were operating from. It is open on the Sabbath, against my better judgment, but I don't have controlling interest to change that. Moreover, during some of my business associate's buying trips to Las Vegas (which I've never visited), he and his wife would occasionally purchase Pagan Egyptian idols to resell in the store (which never sell, they just sit around collecting dust). This draws quite a lot of criticism for me as well, as you can imagine.

At various times there are certain people who learn of this store we operate, and they gasp when they are told it is associated with "drug-sorcery" (like the whole world isn't). This idea has usually been shared with them from a source engaged in "lashon hara" (the evil tongue, Lev. 19:16). They don't contact me first about their concerns (as directed for us at Mt 18:15-17), but jump right up and make radical accusations and conclusions about me to others that are intended to injure me, never suspecting that I am a hunter doing Yahusha's work among the lost (you can detect the hatred in them when you listen to them). Their rationalization is that Lew White is directly engaged in promoting the use of "DRUG SORCERY". It is a real possibility that some of the customers of this store (as well as other stores) commit a civil misdemeanor by smoking a civilly-illegal herb (which Yahusha created) in a pipe purchased from the store, although signs are posted that declare they are intended only for use with tobacco or legal herbs (tobacco could become illegal at any time). There are Messianic Natsarim, even some who refer to themselves as "rabbis", that smoke tobacco, marijuana, and use other long-lived self-medications such as wine (the alcoholic kind). If we sold automobiles, any of our customers might exceed the speed limit, or run a stop sign; this too would be a misdemeanor, but completely out of the control of the seller. We also sell black-light posters, lighters, tie-die shirts, and incense. What if some of the customers are Hindu/New Agers that offer the incense we sell to an idol, along with a tray of doughnuts (we don't happen to sell doughnuts)? If someone runs stop signs, one cannot conclude that it is the fault of the one that sold them the automobile. If someone smokes illegal herbs, one cannot conclude that it is the fault of the one that sold them a lighter or pipe. If someone breaks the Sabbath, one cannot conclude that it is the fault of anyone else. Superficial piety, false associations, and the evil tongue were used by the Pharisees to tear down the reputation of Yahusha:

"And it came to be, as Yahusha sat at the table in the house, that see, many tax collectors and sinners came and sat down with Him and His taught ones. And when the Pharisees saw it, they said to His taught ones, 'Why does your Teacher eat with tax collectors and sinners?'

And Yahusha hearing this, said to them, 'Those who are strong have no need of a physician, but those who are sick. But go and learn what this means, 'I desire compassion and not offering.' For I did not come to call the righteous to repentance, but sinners.'" Mt 9:10-13

"The Son of Aḏam came eating and drinking, and they say, 'See, a man, a glutton and a winedrinker, a friend of tax collectors and sinners!' And wisdom was declared right by her works." Mt 11:19

Husha (Hoshea) the Prophet was told to marry a whore for Yahuah to make His point: that Israel was a whore to Him. If any person is without sin, or can control his tongue, he is a perfect man. Like the prophet Husha, I was specifically equipped for the mission given to me. Only a small part of the work involves the little hippie store, my interest in which has been for sale since 1991. The faltering income received from the retail store described in this letter supports about 50% of this ministry. For this, I'm thankful.

Many who attend the seminars we have monthly in Louisville learned about them from going into the store. My books and articles are there. Would anyone who stands in judgment of me want it to be otherwise? In this culture, perhaps 90% of young people engage in unsavory choices, but 100% of them are going to the lake of fire without Yahusha. I am one of the hunters, awakened and sent to seek out the lost in the holes of the rocks, so any "pious ones" who can't accept that must accept that they may not judge another man's servant. My commission to do the work I'm sent to do comes from far above any Earthly authority. The fact that I'm attacked for doing it from the household of faith is sad, but much of that may be from those who are spiritually darkened. This darkness is revealed to all in their method of attack and intent, as people hear their lashon hara (slanders).

"Who are you that judges another's servant? To his own master he stands or falls. But he shall be made to stand, for Elohim is able to make him stand." Rom 14:4

If you look at any of the first several editions of Fossilized Customs, you will find that the address, used for many years, was this store at 2325 Bardstown Road. This store was the original base from which this ministry of Yahusha was launched. We are still surrounded by witches in the community, as well as homosexuals, and many other lost souls. The "faithful Christians" who "go to church" right down the street from this store are headed for the same eternal destination as the witches and homosexuals, unless Yahusha can reach them through fishers and hunters. I have never stood in condemnation of another elder Natsari, nor conveyed lashon hara against a brother or sister. The papacy, dalai lama, Constantine, and the like are not brethren, and their lies I do expose while I am free to do so.

"Perverseness is in his heart, plotting evil at all times, he sends out strife.

Therefore his calamity comes suddenly; instantly he is broken, and there is no healing.

These six matters Yahuah hates, and seven are an abomination to Him:

a proud look, a lying tongue, and hands shedding innocent blood,

a heart devising wicked schemes, feet quick to run to evil,

a false witness breathing out lies, and one who causes strife among brothers."

Pro 6:16-19

What defiles us?

"But what comes out of the mouth comes from the heart, and these defile the man. For out of the heart come forth wicked reasonings, murders, adulteries, whorings, thefts, false witnessings, slanders." Mat 15:18-19

If we are critical of Yahusha's work in others, we should take care to remember to allow the brother's Master to judge him, not us:

"Do not judge, lest you be judged. For with what judgment you judge, you shall be judged. And with the same measure you use, it shall be measured to you." Mt 7:1,2

You may not comprehend another's work, nor their gifts (spiritual abilities, equipping), but consider the fruit that is on their tree. Those who curse and condemn others' work attack what they don't know:

"But these blaspheme that which they do not know. And that which they know naturally, like unreasoning beasts, in these they corrupt themselves. Woe to them! Because they have gone in the way of Qayin, and gave themselves to the delusion of Bil'am for a reward, and perished in the rebellion of Qoraḥ.

These are rocky reefs in your love feasts, feasting with you, feeding themselves without fear, waterless clouds borne about by the winds, late autumn trees without fruit, twice dead, pulled up by the roots, wild waves of the sea foaming up their own shame, straying stars for whom blackness of darkness is kept forever." Jude/Yahudah 1:10-13

The "way of Qayin" (Cain) involves a brother rising up against his brother. Standing in resistance to Yahusha's work in another is also direct rebellion. Take care in all your ways, for every idle word will be accounted for:

"And I say to you that for every idle word men speak, they shall give an account of it in the day of judgment. For by your words you shall be declared righteous, and by your words you shall be declared unrighteous." Mt 12:36, 37

If I am personally committing a transgression of Torah, inform me of the specific transgression (don't generalize). At one time, people would gasp at the idea of anyone taking a bite out of a tomato because it was assumed to be deadly poison; please don't use human criteria to judge. If someone buys a motor vehicle and runs a stop sign, they commit a misdemeanor, and can be fined or even jailed. You don't see such crimes being put on the seller of the vehicle. If someone buys a DVD, CD, poster, pipe, tapestry, incense, T-shirt, or whatever from Electric Ladyland or Walmart, and they violate laws of the state or Yahuah with it (such as using illegal drugs, or falling down on their knees to worship it), how can this possibly be blamed on the store exactly? Walmart sells shotguns because it is legal to do so, both in the eyes of Yahuah as well as the state. The United Nations may change that soon, and then Walmart will no longer sell shotguns. Some have accused me of selling illegal drugs; I neither sell, use, or condone such things. If I did, I would be violating state sanctions against such behavior, and therefore by not obeying the government placed over me, I would be violating the will of Yahuah. It is possible that this situation is being used to test everyone's heart, to see who will judge their brother; if so, it is vital to the whole body of Mashiach to be separated into the correct camp. The prophet Hosea (Husha) was told to join in marriage with a prostitute for Yahuah to make His point clear to the body of Yisrael (Hos 1:2). The Earth swallowed-up those in rebellion against Mosheh, so this is likely a test to separate-out those who are the real followers of Yahusha, the Object of our faith.

In fact, don't judge -- get to work finding the lost.

Become a hunter, using whatever hunting tools you have been given.

Be strong and courageous -- when you work for Yahusha, you will be attacked from every possible vantage point;

wounded even by the members of your own household.

Galations 5:13-15: "For you brothers have been called to freedom, only do not use freedom as an occasion for the flesh, but through LOVE serve one another. For the entire TORAH is completed in one WORD, in this 'You shall love your neighbor as yourself.' And if you bite and devour one another, beware lest you be consumed by one another."


Mikah 7:2-8: "The lovingly-committed one has perished from the earth, and there is no one straight among men. All of them lie in wait for blood, everyone hunts his brother with a net. (Internet) Both hands are on the evil, to do it well. The prince asks for gifts, the judge seeks a bribe, and the great man speaks the desire of his being (heart). And they weave it together. The best of them is a like a prickly plant, the most straight is sharper than a thorn hedge. The day of your watchmen and your punishment has come, now is there confusion. Trust no friend, rely on no companion, and guard the doors of your mouth from her who lies in your bosom. For son is despising father, daughter rises us against her mother, daughter-in-law against her mother-in-law, the enemies of a man are the men of his own house.

As for me, I look to Yahuah, I wait for the Elohim of my deliverance, my Elohim does hear me. Do not rejoice over me, O my enemy. When I have fallen I have risen, when I sit in darkness Yahuah is a light to me."

Eph 4:29-32:

"Let no corrupt word come out of your mouth, but only such as is good for the use of building up, so as

to impart what is pleasant to the hearers

. And do not grieve the Set-apart Spirit of Elohim, by whom you were sealed for the day of redemption. Let all bitterness, and wrath, and displeasure, and uproar, and slander be put away from you, along with all evil. And be kind towards one another, tenderhearted, forgiving one another, as Elohim also forgave you in Messiah."

Under the most precious blood of Yahusha,

And your brother servant,

Lew White

and the staff at

phone: 502-365-2285

HOSTILITY AGAINST THIS WORK IN AUSTRALIA!

(reported 11-14-10):

(simultaneous to these Internet attacks)

Reported by email from Mark Davidson, producer of TORAH INSTITUTE videos on youtube.com:

"I had a client this morning (1st day, sometimes get the occasional one even though its the weekend) and came down to find our whole shop front had been the victim of a drive-by egging. The whole front is covered with eggs. I'll get the girls (apprentices) to help me clean it tomorrow. Not really the same caliber as what's coming at you, but considering every Torah Institute Production comes out of the little back room of this shop........Satan's pretty furious with all of us I'd say.

We must be doing something right........we haven't had this kind of (admittingly small) attack before.

"

We wrestle not against flesh and blood!

Dear brothers & sisters,

A Red Herring is:

"A misleading clue; an attention-grabber, bait, commotion, curve ball, deviation, distraction, distractor, disturbance, diversion, diversionary tactic, false clue, false face, false trail, fool's errand, gimmick, interruption, maneuver, ploy, smoke screen, wild-goose chase."

This is a test, a trial; unity and love are being manifested to both those inside and outside the faith.

Division and hate are also being displayed. This "stoning" is a red herring, a mere diversion, and being at the center of it gives me a unique perspective of the fierce storm being brought into the deepest parts of each of our hearts.

When we simplify a mathematic equation, the clarity is so easy to comprehend.

Good = Love; Love = Good

Evil = Hate; Hate = Evil

Condemnation, boycotts, and disfellowshipping are the symptoms of the gangrene spoken of at 2 Ti 2:17.

True, if one of us falls away from the belief or personally lives in open sin, we have to appeal to the person several times privately, and if there is no repentance sufficient to achieve restoration to the body, the disease must be cut-out of it.

I am not at all like what is being said of me, and even the "world" can see this is true. The Natsarim are being separated between those who are truly dedicated to Yahusha's thoughts, with the goal being love. The love and the hate is on display for all to see, and that is the real controversy, not marijuana (again, I don't sell it or use it, or hang-out with anyone who does).

Slanders (and the written form, libel) are very serious offenses, as we see this from reading Eph 4:31, 2Co 12:20, 1Ti 6:4, 2Ti 3:3, Tit 3:2, and spoken of directly by Yahusha at Mt 15:19. As I explained to one accuser, I own nothing, but am myself owned by Yahusha and used as His ambassador for His Kingdom, not quite yet of this world. Yahusha owns the store, and I am able to mingle among those who are burdened down with sin, until He removes me; at which time the darkness will fold completely over the place. If my hands appear dirty, it is from the close contact and associations with the planting and watering in the field of lost humanity, where I was sent as a harvest worker. That is where we would find Yahusha; He would not be among those who see themselves as better than those of us working among society's "dregs".

I never give up on anyone, but trust Yahusha might change their hearts, and they might act on what light is revealed to them through a living example of how to live. Yahusha is greater than he who is in "the world"; He is in His Natsarim, not only in this place, but many places in the world where the lost sheep have wandered. We are IN the world, but not OF the world.

Luk 15:2-7: "And the Pharisees and scribes grumbled, saying, 'This One receives sinners and eats with them.' And He spoke this parable to them, saying,

'What man among you, having a hundred sheep, and having lost one of them, does not leave the ninety-nine in the wilderness and go after the one which is lost until he finds it? And having found it, he lays it on his shoulders, rejoicing.

And having come home, he calls together his friends and neighbors, saying to them, 'Rejoice with me, for I have found my sheep which was lost!'

I say to you that in the same way there shall be more joy in the heaven over one sinner repenting, than over ninety-nine righteous ones who need no repentance.'"

Put on love, and go find the lost sheep; please don't grumble and persecute one another.

An ex-employee (manager) of this store, Joyce Henderson, sent the following message to all those arguing over this controversy on Facebook:

"As a former employee of Electric Ladyland I can attest that Lew was always an exemplary boss. He always spoke with me about the Torah's sayings and the phone rang off the hook with others wanting to talk with him. The store is not about drug use. It's about a love of music. Not only can he talk to you about his beliefs, he can also talk about Frank Zappa, The Beatles, and more. He NEVER worked on the Sabbath. He's a totally cool guy and I loved working for him. And he even FIRED me. So that's how much respect I have for him."

Since this Electric Ladyland controversy has grown magnitudes greater than in any of the previous years thanks to all the hate, I've been receiving messages from people who would love to come and work in the store. If the economy improves, we may need to hire some more help; so we'll have to wait and see. Remember, the store is for sale so we can pay-off the bank loans, and when that is accomplished all of this arguing will be only a distant memory, and I'll have sold my last Willie Nelson CD. In case you may be dropping by the store, we just received a shipment of posters, one of which is a cool black & white photo of the Great Wall Of China (approx. 23.5"W X 35"H). Remember, love one another!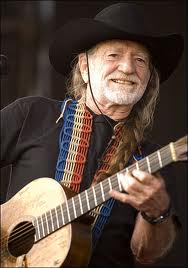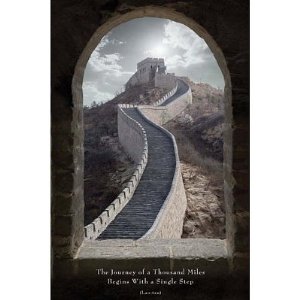 Willie Nelson may drop in and pick up a copy of Fossilized Customs and talk to Lew
TORAH INSTITUTE is dedicated to the mission of Yahusha in the restoring of all lost tribes of Yisrael to the Torah of Yahuah,
and the uniting of the House of Yahudah and the House of Yisrael,
and the teaching of Torah to all the nations, that we may serve Yahuah shoulder-to-shoulder.
Question about marketing the Reign through "Electric Ladyland":
"So you recognize that according to scripture you are not doing the right thing by owning such a business, but from your experience it is bearing good fruit by leading others to the truth? Is this what you are saying?"
No, but that's a logical conclusion one might reach at first glance. It was my first impression of the situation when I gave my life to Yahusha 26 years ago. As I prayed for His will in the matter, He showed me that I was to remain where He had planted me so as to use me to spread His seed in the fertile hearts of people who had never known about Him, nor would they ever enter a "religious" building in their lives (which would have filled their hearts with the poison we've been enabled to cleanse from our lives). If we had to identify what I do in the secular world, then the closest description of it would be a domestic "missionary". We are all ambassadors of the coming Reign of Yahusha, and I happen to work in an unusual form of marketing that coming Reign. If what I did was "usual", it wouldn't work to reach the particular sheep He's hunting for in the holes of the rocks.
brother Lew

OVERVIEW OF ALL UPLOADED VIDEOS:
http://www.youtube.com/user/TorahInstitute#g/p

1) What connection do you and your wife have to Electric Ladyland Inc in Louisville, Ky?
Most of the past several decades the President has been Bob Nord, with me as Vice President. For a couple of years, we switched titles, but currently Bob is the President and CEO of Electric Ladyland (as of 2011 and 2012).
I believe the Shame Hall has the data incorrect, but I don't really mind what they may think one way or the other about it. The last time I checked they had it wrong, and were showing data to make me look as bad as is humanly possible. I forgive them, and pray for them.
The store began as a partnership between myself and a close friend I've known from childhood, Bob Nord, germinating in the "Roman" year of 1978. From the beginning, we sold popular recorded music, musical artist posters, stickers, inexpensive jewelry, incense, and whatever we could find a demand for.
As I was an avid science buff, I devoured cosmology texts, and was fond of physics, biology, and geology -- I was seaching for answers. Then, I read Scripture for the first time in my life, and began to seek a way out of this pop-culture music business I was awakened in. Finding the Truth is a lot like waking up. But, escape was not what Yahuah had in mind however. He was training me and equipping me to be "in" the world, but not "of" the world. And I really mean "the world" when I say this. The people, and their culture, are this "world". The objects are not the residence of the evil, the people are the residence of the evil.
A director may have no stock ownership whatsoever, but in my case I own 50% of the dwindling stock (sales have fallen steadily by 6 to 10 percent each year over the last 10 years due to the economic climate). 50% of the stock is owned by Bob Nord, who is currently the president. We two are the only stockholders, and it has always been this way. Two pertinent Scriptures apply to this, and any other retail operation:
Exod. 20:9-10 - Six days you shall labor and do all your work,
10 but the seventh day is the Sabbath of Yahweh your Elohim. In it you shall do no work: you, nor your son, nor your daughter, nor your male servant, nor your female servant, nor your cattle, nor your stranger who is within your gates.
2 Co. 6:14-15 - Do not be unequally yoked together with unbelievers. For what fellowship has righteousness with lawlessness? And what communion has light with darkness?
15 And what accord has Messiah with Belial? Or what part has a believer with an unbeliever?
The 7th day is not observed by the partner, Bob, and he opens the music store on Shabbath from 11am to 6 pm. I often tell him he should just close it and take the day off. This situation is related to the next part, about my being "unequally yoked".
Being unequally yoked with an unbeliever in a business is like that of a marriage. The music store (which some have called an occult shop) started 32 years ago, long before I came to faith. As in a marriage, the one partner who believes is not to abandon the unbeliever, because if the unbeliever is willing to remain, the believer is to also accept them (1 Co 7). Bob, my old friend since childhood, may one day give his life to Yahusha, and he has no ill feelings toward what I teach and believe, he is simply not interested in following Torah. He seems to be influenced greatly by secular television, which promotes evolution, a long-age Earth, and he leans toward the idea that life migrated to this planet from elsewhere in the universe. He was raised Catholic like myself, and even attended the same schools. We've always been close, but so far he has not been called. I pray for him daily to respond to Yahusha, and perhaps he will one day when he realizes this isn't a "religion". He listens to everything I tell him, so perhaps it will sink into his heart. This is but one aspect of the many incredible things being tossed about in emails, and you can see that it would be impossible for me to address each person on every point they want to know about. An ex-employee of mine mentioned "Frank Zappa" in her response, and now it's being said that I promote Zappa. The Internet is truly an "echo-chamber" that distorts things thoroughly, so I hope you will overlook what is being said and perceive the motives behind those making the statements instead. We hold no hard feelings toward those maligning us, but forgive them as we have been forgiven.
Two more Scriptures have been brought up to me before, since this controversy is not "news" by any means. I've been attacked by the household of faith for many years:
Deut. 23:18 - "You shall not bring the wages of a harlot or the price of a dog to the house of Yahweh your Elohim for any vowed offering, for both of these are an abomination to Yahweh your Elohim.
Rom. 3:8 - And why not say, "Let us do evil that good may come "?-- as we are slanderously reported and as some affirm that we say. Their condemnation is just.
Yahuah owns everything, even if people don't know He does. I'm sure that whatever I "earn" (all provided by Yahuah) from the secular world and turn over to Yahusha's work is fine, because in my heart I give not only that, but also my life itself. All belongs to Yahuah, we own nothing. I cannot give to Him what is not mine to begin with, but His.
Also, I'm not paid wages of a harlot, nor do I pay harlots, but I talk to them all the time. I was not sent to only teach other "Messianics", but to the outsiders that Yahusha is calling to the Covenant. This is our main service to Yahusha, to allow Him to seek the lost through us. When we do so, we often get attacked by our own who are not doing their part, and so they are serving the Dragon by impeding the progress others are making.
No evil is being done, you can count on that, other than the music store being open on Shabbath. Bob is an incredibly honest person, and essentially would make a very good Natsari if he would only repent. I've often thought that the reason the store has not yet sold is because Yahusha is waiting on him. He is so patient.
2) What are the items that are for sale at Electric Ladyland Inc?
3) Is there New Age items being sold at Electric Ladyland Inc as well as is it a head shop, and if so, why?
These two questions can be answered together. Again, items are not "evil", evil is in men's hearts
Mar 7:21-23: "For from within, out of the heart of men, proceed evil reasonings, adulteries, whorings, murders, thefts, greedy desires, wickednesses, deceit, indecency, an evil eye, blasphemy, pride, foolishness. All these wicked matters come from within and defile a man."
If popular "mood rings" are new age, then perhaps we may have something "new-age", because they are in the store. We also have a lot of lifestyle jewelry that appeals to the younger set. There are no "horoscope" symbols however. Mostly, the store stocks music CD's (Rock, Jazz, R&B, Classical, soundtracks), Movies on DVD & VHS (no porn, just popular movies!), cassette tapes, musical artists and special interest posters (such as Albert Einstein, guitar chord charts), buttons (musical artists), incense & incense burners, lighters, classic and contempory pipes (smoking), rolling papers & rolling machines, disco balls & lights, musical artist T-shirts, bajas, hats, blacklights, window stickers (mostly musical artists), general gift items, scented candles, and so on . . . (Total inventory was valued at $13,000. as of last tax filing, so the only real value in the store is the real estate, which we owe hundreds of thousands of dollars on). . any business is usually in debt of some kind. We've dropped from 6 employees to one part-time, so that might put things into perspective also.
4) What kind of house do you live in currently, and what part of the offerings of people used to cover the residence? It is being asserted that you live in a million dollar mansion and that the entire cost of the property comes from online donations, offerings, profits, and tithes.
Our home is valued at $430,000, and we owe over 80% of this amount to the bank. The building from which the Torah Institute operates cost us 1,500,000 over 3 years to build, and now we owe a little over $500,000 to the bank on it. The original building cost was huge, borrowed money from the bank, with the equity of home and the value of the building put up as collateral. We've been paying everything we can each month for the last 10 years to get it to this point, and the bank currently values this building at $600,000, due to the economic decline in value on commercial properties. The total monthly expenses to pay the mortgage, insurance, electricity, and property taxes on the Torah Institute building is $6,779.00. On top of that is the small wage paid to Shelby to work there answering phone calls, processing the orders, and answering many questions from new people about the Natsarim.
We pay over $8000 each year in property taxes on this building alone, because we cannot morally justify becoming a 501(c)3 tax exempt, since this would require the government to control what is taught, and would put them in control of it. We would have to equally hire witches, homosexuals, and humanists, and we could not have an open opinion regarding political topics. Only a few faithful donors hold us up with the loan payments, electricity, water, and office supplies. My income has fallen drastically from 10 years ago, and we use it all to keep the many bills paid. We never get to take any time off except for Shabbath, and have NEVER written ourselves a check to "pay" ourselves personally. Every week we put IN money, calling it "owners investment", because we've never made enough from the books sales to cover everything. We pay Shelby a small amount each week so she can buy food for her family.
5) Were you ever in a Christian denomination and if so, which one or ones?
I was raised in a Roman Catholic home, schooled by Jesuits for my first formal years of education through High School.
I then went into the U.S. Air Force active duty for 4 years, and came out to attend the University of Louisville for the next 7.5 years. Upon graduating in 1978, I went into business with my current partner, Bob Nord, in a music store that people are suddenly calling all sorts of names (occult shop, headshop). It is a bit "hippie" in style, because the decor is intentionally focused on the 70's & 80's. We do have "disco balls" and lights,
6) It is being alleged that you did not write hardly any of Fossilized Customs; that you in fact ripped everything off the web. How did you come up with Fossilized Customs.
The Internet comfirms much of my research now, but I began my research before the Internet existed in the form we see it today. In 1985, I began to attend a Christian "ch-rch", and study the Scriptures (I was 35 at that time, and had never before read a single verse before, but only studied the sciences). The first day of reading Scripture, I opened the book randomly in the middle, and my eyes fell upon "Isaiah" chapter 53 -- and my head almost exploded. Life came into me from all over, and I closed the book. I made the commitment in my heart to read EVERY WORD of this book! I flipped open the front cover, and read the Preface. The third paragraph down declared the translators removed the Name from the text, and inserted what they called the "device", LORD, in all-caps. This sent me to the U of L library where I had studied before, and I copied the Hebrew alef-beths (two of them, old and new), and began to research the topics as I was led to them by Yahusha. I learned the true Name, and put together a small booklet I called "BOLD MUD". About a year or so later, my first edition of "FOSSILIZED CUSTOMS" came out in the form of a "fascicle", and in all there were four "fascicles". I then combined these four into one book, FOSSILIZED CUSTOMS, THE PAGAN SOURCES OF POPULAR CUSTOMS. Still, I had never met anyone from near or far that had ever taught any of the discoveries I had been led to find. Then, in the late 80's, I heard about the "Assemblies of Yahweh", at Bethel, PA. I wrote them, sending them some of my research, and a donation. They sent me critical letters back, but I still sent donations to them in spite of their critical, rigid attitude and tone.
7) Why do you think that this person or group is attacking you as such (ie Messianic Hall of Shame)?
(updated answer since more information about the attackers has been revealed):
At first, I had believed it to be over the lunar Sabbath issue. We now know the name of one man who is involved, but it would be improper to drag that name into the open, and against Torah. The motive behind the attacks seems to be hatred. The attackers (2besaved.com) were once generous supporters of my work, and kept us from going under many years ago. Over time their understanding of when a day begins changed, as well as several other details. I remained unchanged on my understandings, and they became cold, then turned hostile. I never judge people, and accept them, but not the strange doctrines many may believe. The HalleluYah Scriptures, and now the book Vain Traditions, are promotions of theirs. I hope they both do Yahusha's will, and help many people. I would help promote them, but have not been asked to. It seems the attacks against me and ISR are being conducted with the intention of making the public PERCEIVE our lives and motives are unclean, and theirs are more pure. They offer their materials "free" (but ask for large donations from all). Because ISR and Torah Institute are established, reputable organizations with people not hiding behind anonymity, we are easy targets for great harm. Everyone needs to look up "Internet Trolls" at Wikipedia, and take note of what is really happening here. Mass email blasts are being sent out regularly to smear our reputations, swaying public PERCEPTION about us. They are also using youtube and facebook to slander, and have removed the "Like" buttons, and control the comments posted. We do nothing of the kind, and only pray for those causing harm to Yahusha's work through us. He is our Defender, and commanded us to love one another. That's what we intend to do, so that the world will know we are His talmidim.
8) It is being alleged that you are either using drugs or are at least around others while they are using drugs. Is this true, and if so, how does that fit with the Torah?
I cannot imagine that anyone that knows me closely would be able to even think such a thing. If you can ever manage to interview my wife, sons, or any close associations I have, they would tell you that I am not a user of any drugs, especially illegal ones. I don't even take aspirin but once in several years. The employees I've had would also be able to tell you the situation. I cannot remember the last time I laid eyes on illegal drugs, but if I strain to, I believe it was about 1983 or 1984. Prior to my immersion and repentance, I took a drag on a rolled joint with some employees after work. That was it, and it wasn't my "stuff". Younger and stupid, ignorant of Scripture, I fell for the "pressure". That was another person however, I'm immersed and a new creation. The accuser has no power here.
9) It is also alleged that you are still partially in the world doing things according to paganism, of which to talk against in Fossilized Customs. How much are we to reject all things pagan and come out of the Babylonian system, and have you come completely out?
Completely. People who know me would tell you that while I'm kind toward them, I am not a person that even attends a birthday celebration. To most people, I'm extreme; I won't drive on Shabbath, but remain in my place - unless there is an emergency where life or property is in immediate danger.
10) What is the connection both you and your wife have with ISR?
In the United States, up to 2011, I have been president of the corporation, and Phyllis the vice-president. We are in the process of dissolution currently, so that the good name of ISR will not be associated in any way with the accusations being brought against me. Torah Institute is growing stronger and demanding more of our time, so hopefully the accusers of our work here will divert their attentions toward it instead of ISR.
11) How does copywriting and selling The Scriptures fit with Chris Kostner's revelation to not copywrite or sell The Scriptures? (The correct spelling is "copyright", and Chris' last name is Koster)
Personally, I'm not a fan of "copyrighting" Yahuah's Word; but, ISR did so, and that's someone else's call. According to the definition of plagiarism, all translations of Scripture are illegitimately copyrighted. I consider the "board" of ISR entitled to make decisions, and I make recommendations; whatever is decided, I comply with.
As to Chris Koster's wishes to give-away all the books for free, that is possible if one wants to use the finite amount of books in existence, then run out of them and have no more funds to reprint them. Also, shipping has magnified since Chris' death, and just today Phyllis had to order over $800 worth of shipping boxes. If book printers, post offices, packing materials, and people to pack them were all willing to be made free, then there would still be the problem of standing out in the open world without a building, getting rained on, with no security, computer, printer, desk, chair, table, or electricity. I'm fairly sure that Chris had a vision that came from a good heart, but in the real world things cost a great deal to keep going, even when most of us working receive no pay for the time and effort we go to. We do it as a labor of love, and yet we are sometimes attacked for being around the lost, the very mission-field we are sent to.
This need to understand others is natural, but we can go too far also. Yahusha was walking along with Kepha, with Yahuchanon (who was also known as Elazar, the brother of Miryam and Martha whom Yahusha resurrected from the tomb), following behind them. Kepha was learning from Yahusha about his own death, and on that topic he inquired of Yahusha about another brother, walking behind them. Yahusha's response was basically, "don't mind him, YOU follow Me!"
Joh 21:21, 22: "Seeing him, Kepha said to Yahusha, '
But Master, what about this one?'
Yahusha said to him, 'If I wish him to remain till I come, what is that to you? You follow Me.'"
That talmid following behind them is still alive today. He will witness again from among us Natsarim, to the nations.
I'm glad to cooperate if it means others may understand better. But let it be known that the effect of slander is a very serious matter to Yahuah - He equates it with MURDER. It is the assassination of a brother's character.
Psa 140:11-13: "Let not a slanderer be established in the earth; Let evil hunt the man of violence speedily."

I have known that Yahuah maintains The cause of the afflicted, The right-ruling of the poor.
Only, let the righteous give thanks to Your Name, Let the straight ones dwell in Your presence."
Pro 26:20: "For lack of wood, the fire goes out. And without a slanderer, strife ceases."
WHY NOT SIMPLY WALK AWAY?
Here's the dilemma:

Each person is responsible for their own actions; if two people are married, or work together, one of them can do things improperly while the other does not participate, under the same roof.

Take today for example; as Shabbath approached, my associate Bob and I were both in the store. I told him it was growing near to sunset, and I needed to be home before it arrived, to rest. He stayed for another hour or so (as far as I know, I wasn't there). He sees the example of obedience to Yahuah's Torah, but up to now has not been led to imitate that obedience, as consistent as it is. We talk about Torah all the time. It's easy to be outside and think of alternate ways to "get away", but that has not been the plan (of Yahusha) even though it would be my preference also, to escape. Even if I were to "turn" my 50% ownership of the stock over to Bob or another person, I am still personally signed to the application and bank notes for the obligations to repay hundreds of thousands of dollars the bank. The bank also has my written assurance on the bank note that everything reported at the time of the application and bank note would remain intact, and unchanged. Such a change in ownership and management would be an unauthorized maneuver, and the bank would then have the right to "call" the loan due in full. It would be catastrophic, and dishonest, to do such a thing.

Any earnings that may occur from operating the store on Shabbath would be accomplished by the efforts put forth by Bob, without any participation from me. This is because Bob is the one working on that day, not me. I'm willing to sell my interests, but Bob is unable to buy my stock (I am legally bound by the corporate by-laws to offer it to the other stockholders before selling to anyone outside the corporation). If they are unwilling or unable to buy them, then an outsider may purchase the stock. At the time of such a partial sale, the bank loans would have to be paid in full, otherwise I cannot leave even if he were to buy my stock. The best solution is for the store to be sold in its entirety. But, as I've said before, it has not yet sold because I must be in that store for some reason controlled by Yahusha, and if He has work to be done there, I've already told Him I would go for Him. As painful as it is for me to drag myself into that place six days of the week (as my wife will tell you), I will die daily in service to what Yahusha has called me to do for Him.

Pray you are never attacked maliciously by other brothers for what you have to do. It isn't very pleasant, but makes a bad situation magnitudes worse.

Pray for the lost to be found; they are the ones we're hunting.

We're not hunting the brethren.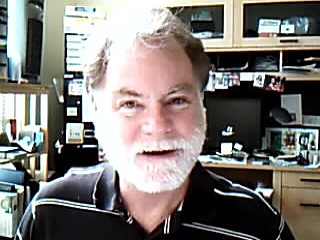 brother Lew White, assistant director of Torah Institute
(Yahusha is the Director)
PHOTOS OF STORE INTERIOR (click on name below):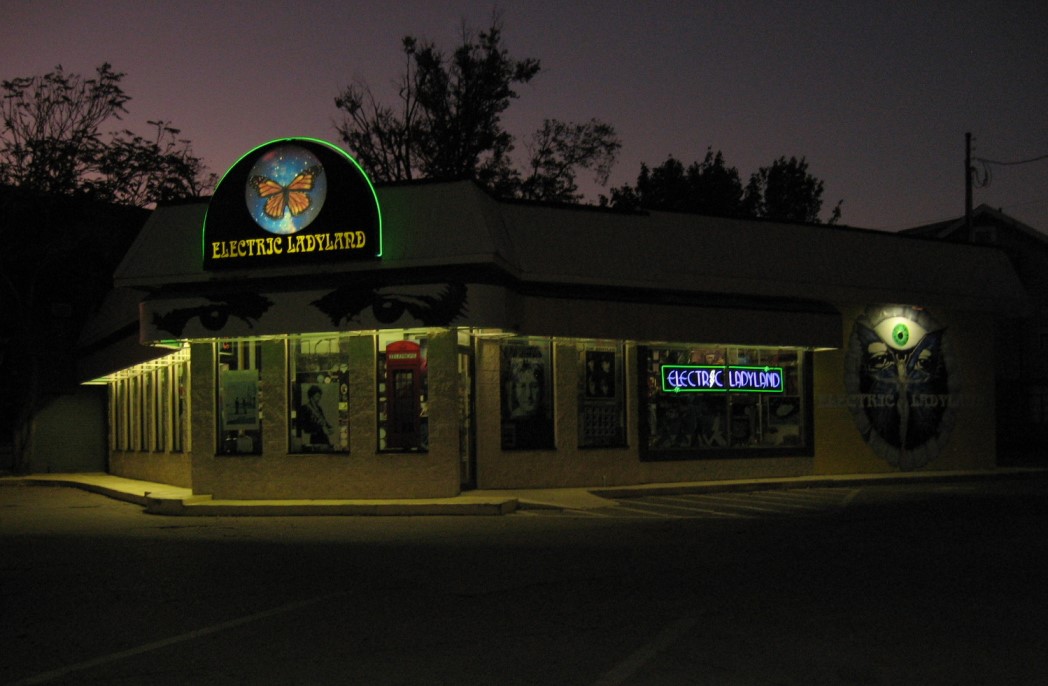 "Love one another" is a command, not a suggestion.
Pro 10:18: "He who hides hatred has lying lips, and he who sends out a slander is a fool."
OVERVIEW OF ALL UPLOADED VIDEOS:
http://www.youtube.com/user/TorahInstitute#g/p
IF YOU WOULD LIKE TO KNOW WHO IS BEHIND
THESE ATTACKS, AT LEAST ONE PERSON TO CONTACT IS:
Rick's email: a777smith@gmail.com
The identities of the people behind these attacks is carefully hidden, but here is one person 
behind "fossilizedcustoms.org" . . . . . associated with the same people 
doing the 

Hall of Shame

, from data in their website registration. 
Please write and share how you feel about the work they have dedicated their time to.
The work is currently dedicated to the destruction of other brothers, which we pray they repent of.  
We are all many members of one body, so please be 

respectful and loving toward all you may find 
disrespectful toward you.  Without love, there's no other point to make.





Domain ID: 

D161737806-LROR
Domain Name: FOSSILIZEDCUSTOMS.ORG
This is an adversarial website opposing
www.fossilizedcustoms.com
Created On:11-Mar-2011 05:17:14 UTC
Last Updated On:11-May-2011 03:49:53 UTC
Expiration Date:11-Mar-2012 05:17:14 UTC
Sponsoring Registrar: Tucows Inc. (R11-LROR)
Status: CLIENT TRANSFER PROHIBITED
Status: CLIENT UPDATE PROHIBITED
Registrant ID:tuL0gC9ZG2qcGfFv
Registrant Name: Rick Burton
Registrant Organization: Rick Burton
Registrant Street1:119 Burnbrae Place
Registrant Street2:East Kilbride
Registrant City: Glasgow
Registrant State/Province:
Registrant Postal Code:G741ES
Registrant Country:GB
Registrant Phone: +044.1416321862
Registrant Email: a777smith@gmail.com
Admin ID: tup6mWYwiPwDTa8D
Admin Name:UK2.NET http://www.uk2.net/
Admin Organization:UK2.NET
http://www.uk2.net/
Admin Street1: One Canada Square
Admin Street2:Canary Wharf
Admin City: London
Admin State/Province:
Admin Postal Code:E145DY
Admin Country: GB
Admin Phone: +044.2079871200
Admin Email: hostmaster@uk2.net
Tech ID: tu29ogQSQYX84Jdt
Tech Name: UK2.NET http://www.uk2.net/
Tech Organization:UK2.NET http://www.uk2.net/
Tech Street1: One Canada Square
Tech Street2: Canary Wharf
Tech City: London
Tech Postal Code:E145DY
Tech Country: GB
Tech Email: hostmaster@uk2.net
Name Server: NS1.LUNARBREEZE.COM
Name Server:
NS2.LUNARBREEZE.COM