ABORTION - A CHILD'S VIEWPOINT:
Dear Mommy,
I see you smile down there below...are those tears of joy you show?
I'm glad you are happy, although you lied.
I'd love to be right by your side.
But by your choice, I view from above.
Tell my Grandparents I send my love.
It's Beautiful here, is all I can say.
Your life will go on...without me in your way.
Love your child XOXO (AUTHOR UNKNOWN)

"Love one another" is a command, not a suggestion.
Pro 10:18: "He who hides hatred has lying lips, and he who sends out a slander is a fool."
OVERVIEW OF ALL UPLOADED VIDEOS:
http://www.youtube.com/user/TorahInstitute#g/p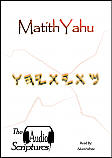 AUDIO SCRIPTURES - MATITHYAHU
AUDIO SCRIPTURES - MatithYahu (Matthew)
3 CD Audio Set - MatithYahu (Matthew) Read by Adam White
A new audio version of the book of MatithYahu is now available. Adam brings a fresh realistic presence to the reading. He prayed before each recording session, allowing Yahusha to use him to convey the message to the listener.
A faithfull, un-altered reading of Scripture. Names of Yahuah and Yahusha have been restored, as well as all other proper names. This collection is intended to help spread our Father's true name, and to give further study of the Torah.

This reading makes the words of Yahusha come alive!
---