YAHWEH OFTEN SEEN AS YHWH
HEBREW LETTERS: Yod Hay Uau Hay - YHUH
MORE ACCURATELY: YAHUAH (ya-HOO-ah)
You've searched for Him, but only because He's called YOU.
THE NAME OF THE CREATOR OF THE UNIVERSE CLICK FOR DETAILS

"Seek (YAHUAH) while He may be found ; call on Him while He is near.
Let the wicked forsake his way and the evil man his thoughts.
Let him turn to (YAHUAH), and He will have mercy on him, and to our (ALAHIM), for He will freely pardon.

'For My thoughts are not your thoughts, neither are your ways My ways,'
declares (YAHUAH). 'As the heavens are higher than the Earth,
so are My ways higher than your ways and My thoughts than your thoughts.'
Isa 55:6-9
THE NAME KNOWN AS YAHWEH: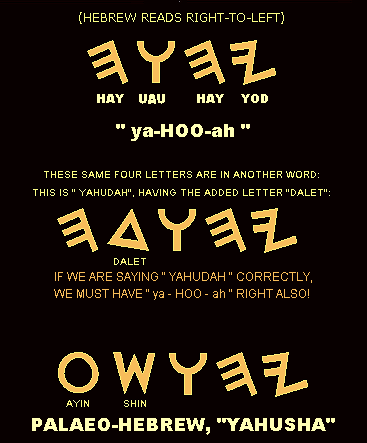 EARLIEST FORM OF THE NAME (ABOVE)


The Hebrew word BAAL is translated into English as "LORD," a little trick from tradition.
False teachers are in abundance.
They are imprisoned in their own teachings of error (strongholds).
Read Malaki 3:16,17 and you'll see that Yahuah is listening to certain
people who meditate upon His Name and speak to one another. He even has a "special scroll" with our names written in it. He gave us the precious gift of knowing and loving His Name, and we cherish it.
It's for His Name's sake that He guides us into "ways of righteousness" (tsedekah).
We cannot have guile (falsehood) in our mouths with the continued use of the names
of "ba'al". He told us He would remove the ba'als (lords) from our mouths.
"'In that day,' declares (Yahuah),
'you will call Me 'my husband';
you will no longer call Me 'my master.'
I will remove the names of the baals from her lips;
no longer will their names be invoked.'"
Hos 2:16-17
HEBREW ROOTS TRANSLATION BY NATSARIM FOR THE NEXT GENERATION: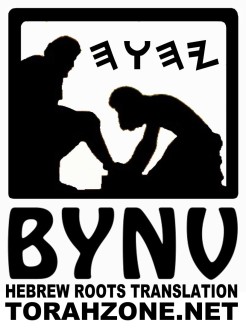 CLICK TO VIEW TEXT AT AMAZON KINDLE

TORAH INSTITUTE
PO BOX 436044
Louisville, KY 40253-6044
phone: 502-261-9833
google: BYNV