TORAHPHOBIA
THE FEAR OF INSTRUCTION
Ps 119:18: "Open my eyes, that I might see Wonders from Your Torah."
RETURNING TO THE FATHER'S HOUSEHOLD, THE PRODIGAL SON REPRESENTS THE LOST TRIBES OF YISHARAL (ISRAEL) REALIZING THEIR NEED TO RETURN TO TORAH. THIS PARABLE WAS GIVEN FOR US TO UNDERSTAND IN THE LAST DAYS.
WALKING WITHOUT TORAH, WE ARE UNREPENTANT; THEREFORE TO YAHUAH WE ARE DEAD:
Luk 15:32 "'And we had to rejoice and be glad, for your brother was dead, and is alive; and was LOST and is found.' "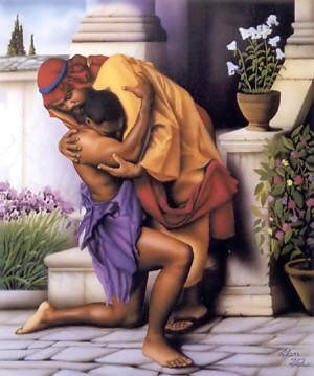 TORAHPHOBIA - the fear of instruction - keeps many from obeying the Covenant. Read Ephesians 2:8-13, and a light will suddenly come on concerning the "works" about which no man can "boast" about. Look at this verse, and try to guess what "works" Alahim prepared beforehand that we should walk in:
Eph 2:10: "For we are His workmanship, created in Messiah Yahusha unto good works, which Alahim prepared beforehand that we should walk in them." If you guessed the Torah, you are correct! IT IS THE WATER OF LIFE ~ Rev 22:1:
"And he showed me a river of water of life, clear as crystal, coming from the throne of Alahim and of the Lamb."
<![if !supportEmptyParas]> <![endif]>Psa 119:160: "The sum of Your Word is Truth, and all Your righteous right-rulings are forever." (Yahuah's TORAH is eternal)
Psa 119:162: "I rejoice at Your Word as one who finds great treasure."
Joh 17:17: "Set them apart in Your Truth – Your Word is Truth." Also, at Joh 18:37: "Then Pilate said to Him, 'You are a sovereign, then?' Yahusha answered, 'You say it, because I am a sovereign. For this I was born, and for this I have come into the world, that I should bear witness to the Truth. Everyone who is of the Truth hears My Voice.'"
THERE IS A WAR AGAINST THE TORAH
We wrestle against spiritual powers (Eph. 6:12).
The Truth, Word, Voice, Will, and Commands of Yahuah have been under attack from the beginning, and false teachers continually add to the momentum of rebellion. There exists a sophisticated religious architecture designed to promote a culture of rebellion. Unknowingly, the human combatants' energies have been harnessed to perform the will of their enemy - a classic Sun Tsu maneuver (Art Of War).
HOW ABOUT RABBINIC JUDAISM? Is this the faith once delivered to the saints?
No. It is a mixture of Torah plus Talmud. We must not mix anything with Torah.
Shaul tells us it was his "former" way of living:
Gal 1:13,14: "For you have heard of my former way of life in Yahudaism, how intensely I persecuted the assembly of Alahim, and ravaged it. And I progressed in Yahudaism beyond many of my age in my race, being more exceedingly ardent for the traditions of my fathers."
SHAUL WAS ARDENT FOR THE TRADITIONS OF THE "FATHERS"
Torah is a relationship, not a religion. Human religion seeks to "re-bind" the rift between our Creator and mankind with contrived efforts and rituals invented by men, often inherited from Pagan cultures (not ordained by Yahuah).
Torah is the foundation for the relationship, and the Creator consistently refers to Torah as a marriage Covenant between Himself and Israel. He will never break it, and changes not.
All mankind must engraft into Israel through observance of Torah, and Yahusha is the Mediator of the Covenant with Israel.
(see Eph. 3:8-13, Is. Chaps. 55 & 56, Jer. 3).
<![if !supportEmptyParas]> <![endif]>
Ps. 1:1-3: "Blessed is the man who shall not walk in the counsel of the wrong, and shall not stand in the path of sinners, and shall not sit in the seat of scoffers, but his delight is in the Torah of Yahuah and he meditates in His Torah day and night.
For he shall be as a tree planted by the rivers of water, that yields its fruit in its season, and whose leaf does not wither, and whatever he does prospers."
<![if !supportEmptyParas]> <![endif]>
THE GREAT COMMISSION
Mat 28:18-20: "And Yahusha came up and spoke to them, saying, 'All authority has been given to Me in Heaven and on Earth.
Therefore, go and make taught ones of all the nations, immersing them in the Name of the Father and of the Son and of the Set-apart Spirit, teaching them to guard all that I have commanded you. And see, I am with you always, until the end of the age.'" Amen. OUR JOB IS TEACHING TORAH TO THE NATIONS.
Not many people seem to get what these words mean, because they are Torah-phobic.
When they say "Gentiles don't have to obey, the Torah is for the 'Jews', they have been influenced by false teachings that keep them imprisoned in a stronghold (mental fortress of false belief, all of which stems from Replacement Theology, a foundational error seen in Christianity's teachings). Many believe all they have to obey are the "Noachide Laws". Others put their trust in "sacraments", believing they must receive "grace" through a false priesthood set up to dispense favor toward them.
<![if !supportEmptyParas]> <![endif]>
Shaul tells us that a person without belief (living solely in a perspective of the flesh) doesn't want anything to do with obeying. Our "mind" indicates our perspective or point-of-view:
"For those who live according to the flesh set their minds on the matters of the flesh, but those who live according to the Spirit, the matters of the Spirit. For the mind of the flesh is death, but the mind of the Spirit is life and peace. Because the mind of the flesh is hatred towards Alahim, for it does not subject itself to the Torah of Alahim, neither indeed is it able; those who are in the (mind of the) flesh are unable to please Alahim. But you are not in the flesh but in the Spirit, if indeed the Spirit of Alahim dwells in you. And if anyone does not have the Spirit of Messiah, this one is not His." Rom 8:5-9
<![if !supportEmptyParas]> <![endif]>
The "mind of the flesh" is hatred toward Yahuah, BECAUSE it does not subject itself to His Torah. There are plenty of preachers who do not want anyone to submit to the Torah of Yahuah, and they tell us this quite often. Their "eye" is darkness, searching Scripture for proof that the Torah is not for them, and yet they believe they are still to be delivered and to inherit eternal life. Seeing only from the perspective of the flesh (as opposed to the Spirit), they walk in darkness without Torah.
<![if !supportEmptyParas]> <![endif]>
Mat 5:16-19: "Let your light so shine before men, so that they see your good works and praise your Father who is in the heavens. Do not think that I came to destroy the Torah or the Prophets. I did not come to destroy but to complete.
For truly, I say to you, till the Heaven and the Earth pass away, one jot (YOD) or one tittle shall by no means pass from the Torah till all be done. Whoever, then, breaks one of the least of these commands, and teaches men so, shall be called least in the reign of the Heavens; but whoever does and teaches them, he shall be called great in the reign of the heavens."
<![if !supportEmptyParas]> <![endif]>
THE TORAH OBJECTIVE
The objective of Torah is to teach us LOVE for Yahuah, and LOVE for our neighbor. Torah is a relationship. Those of us who are teaching others to obey Torah are doing it out of love. If people ignore Torah, they reject what Yahusha would bring to them and write upon their hearts. Allowing Him to write the love for Torah upon our hearts is what the "Renewed Covenant" is. It is receiving a love for the Truth, and we are then circumcised in our hearts and want to obey. We are not only free from the penalty of our former sin, but free of it's power over us; our inner nature is changed by the indwelling of Yahusha, and His seed (Torah) grows within us. On the day of our redemption, we will be grateful that Yahusha gave us His Spirit so we could see His point of view, and we could walk before Him daily showing our love for Him through our obedience.
Rom 6:16: "Do you not know that to whom you present yourselves servants for obedience, you are servants of the one whom you obey, whether of sin to death, or of obedience to righteousness?" There is no middle-ground; either we are obedient, or we fail as our first parents did in Gan Eden. The final outcome for those who reject Torah will be catastrophic!
<![if !supportEmptyParas]> <![endif]>
Rom 2:12,13: "For as many as sinned without Torah shall also perish without Torah, and as many as sinned in the Torah shall be judged by the Torah. For not the hearers of the Torah are righteous in the sight of Alahim, but the doers of the law shall be declared right." (See also Mt. 7:21-27, James 2:14-24). Even the demons believe; but they won't OBEY.
On that note, consider this multiple choice snap-quiz:
<![if !supportEmptyParas]> <![endif]>
At Rev 12:17, the Dragon is enraged at those who hold to the Testimony of Yahusha, and:
1. Observe Valentine's Day 2. Obey Yahuah's Commandments 3. Obey 9 Commandments 4. Work on Sunday 5. Trust in the sacraments 6. Baptize babies 7. Erect Christmas trees
<![if !supportEmptyParas]> <![endif]>
This war is raging now, and those who are too drowsy (drunk on false teachings) need help to wake up. The question above might sober up a few to realize that something's wrong, that people could be obeying the wrong leadership. Being very religious only impresses men, not Yahuah. Meditating day and night upon the Torah, we possess a treasure greater than gold. Ex. 20 and Dt. 5 both declare the Covenant for us, and when we carefully read the whole context of Dt. Chapters 4, 5, & 6, we find the Ten Commandments given "again" for the scattered tribes of Israel in the last days. We are to teach them to our children and grandchildren. Notice how He knew we would turn aside, be scattered, then remember the Words of the Covenant in our captivity in the last days:
<![if !supportEmptyParas]> <![endif]>
Deu 4:27-31: "And Yahuah shall scatter you among the peoples, and you shall be left few in number among the Gentiles where Yahuah drives you. And there you shall serve mighty ones, the work of men's hands, wood and stone, which neither see nor hear nor eat nor smell. But from there you shall seek Yahuah your Alahim, and shall find, when you search for Him with all your heart and with all your being.
In your DISTRESS*, when all these Words shall come upon you in the latter (LAST) days, then you shall return to Yahuah your Alahim and shall obey His voice. For Yahuah your Alahim is a compassionate El, He does not forsake you, nor destroy you, nor forget the Covenant of your fathers which He swore to them."
*(REFERENCE TO THE GREAT TRIBULATION IN THE LAST DAYS)
<![if !supportEmptyParas]> <![endif]>
Deu 5:29 "'Oh, that they* had such a heart in them, to fear Me and to guard all My commands always, so that it might be well with them and with their children forever!'"
* (ISRAEL)
<![if !supportEmptyParas]> <![endif]>
THE MESSAGE OF ELIYAH: REMEMBER TORAH
Mal 4:4,5: "Remember the Torah of Mosheh, My servant, which I commanded him in Horeb for all Yisra'el – laws and right-rulings. See, I am sending you EliYah the prophet before the coming of the great and awesome day of Yahuah."
<![if !supportEmptyParas]> <![endif]>
Let's consider some specifics. The fact is, the Name of Yahuah is not well-known because the 3rd Commandment has been distorted. It declares we are not to "cast" His Name to ruin (Hebrew, "shoah", meaning destruction). If we lay-waste to His Name, we aren't using it. We have been programmed to replace it with other words, like LORD, HaShem, Adonai, and so on. This is the ultimate blasphemy; to never call upon the one true Name of the Creator, we transgress the Torah. His Name is revealed in the Hebrew text at least 6,823 times in the four letters, YOD-HAY-UAU-HAY. There is no letter "J", nor a letter "W" in Hebrew. Consequently, we have not been able to keep the Messiah's one true Name intact either: YAHUSHA. The Name of the Creator, YAHUAH, is contained within the Name YAHUSHA, which means "Yah is our Deliverer" (YOD-HAY-UAU-SHIN-AYIN).
Exodus 23:13 prohibits us from taking the names of Pagan deities on our lips. With that in mind, the origin of the term GOD will exempt it from our use. The 1945 Encyclopedia Americana has this to say under to topic "GOD":
"GOD (god) Common Teutonic word for personal object of religious worship, formerly applicable to super-human beings of heathen myth; on conversion of Teutonic races to Christianity, term was applied to Supreme Being."
The 4th Commandment is likewise ignored, and yet it is the SIGN of the Eternal Covenant (see Ez. 20). See if you can detect what the Everlasting Covenant is:
Exo 31:16, 17: "'And the children of Yisra'el shall guard the Sabbath, to observe the Sabbath throughout their generations as an everlasting Covenant. Between Me and the children of Yisra'el it is a sign forever. For in six days Yahuah made the Heavens and the Earth, and on the seventh day He rested and was refreshed.' "
The Torah (Covenant) is a SIGN (OR MARK) upon the seed of Israel forever:
Dt 28:46: "And they shall be upon you for a sign and for a wonder, and on your seed, forever." Gentiles must "engraft" into the Covenant, and join Israel. There is to be one flock, and one Shepherd. Israelites aren't to become "Christian Torah-breakers".
Yahuah has consistently said (on many occasions) the following:
Jer/YirmeYahu 9:13,14: "And Yahuah says, 'Because they have forsaken My Torah which I set before them, and have not obeyed My voice, nor walked according to it (see 7:23), but they have walked according to the stubbornness of their own heart and after the Ba'alim, which their fathers had taught them.'" He scattered the tribes of Israel, then over many generations increased their numbers among the Gentiles, and will ultimately re-gather them to have a wedding supper (for those wise maidens who awaken with sufficient oil in their lamps). Stumbling blocks, strongholds of thought, and false expectations are more the norm among people of faith. Understanding is hampered because Wisdom and Knowledge are kept from people. The whole of "Ezekiel" is about the scattering and ultimate re-gathering of Israel; it's not about Christianity. The letter to the Galatians is about circumcision, the matter of "law" that was settled for Gentiles by the council of elders (see Acts 15).
The Sabbath Day, blessed by Yahuah, is still the only day blessed now, and is set-apart for us to rest in our home: Ex. 16:29: "See, because Yahuah has given you the Sabbath, therefore He is giving you bread for two days on the sixth day. Let each one stay in his place, do not let anyone go out of his place on the seventh day." Notice there is a distance factor we have to keep in mind on the Sabbath: Act 1:12: "Then they went back to Yerushalayim from the Mount of Olives, which is near Yerushalayim, a Sabbath day's journey." (1000 CUBITS)
Shaul (Paul) also obeyed Torah: Act 25:8 ". . . while Sha'ul said in his own defense, 'Neither against the Torah of the Yahudim, nor against the Set-apart Place, nor against Caesar did I commit any sin.'"
Whatever you may have thought about Shaul, this settles the matter.
Rom 7:12: "So that the Torah truly is set-apart, and the command set-apart, and righteous, and good." OUR OBEDIENCE WILL BRING US PERSECUTION BY RELIGIOUS MEN.
If men call you a "legalist", then you must be "legal". If Yahuah calls you a "legalist", He will be saying "Well done, good and faithful servant!" (obedient ones are "servants" - we are the "servants" of the One whom we OBEY, Romans 6:16,17).
Either we choose to obey, or compromise.
THE SIMPLE CHOICE: REPENT, OR PERISH
TORAH TEACHES US HOW TO LOVE
REJECTING YAHUAH'S TORAH ONLY SHOWS OUR CONTEMPT FOR HIM
Choose wisely.
Do you pray to Yahuah, yet not obey His Commandments? Pro 28:9 informs us:
"He who turns away his ear from hearing the Torah,
Even his prayer is an abomination."
Proverbs 28:9
See also 15:29, Isa. 59:1-2, John 9:31, 1 John 3:22.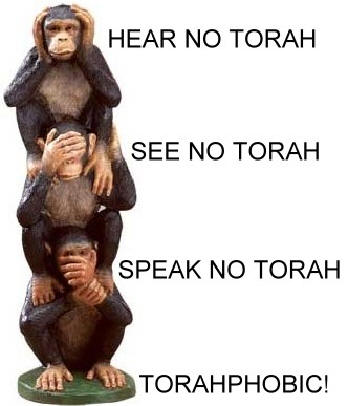 Check Ex. 16:4 to learn how Yahuah tests us to see if we will obey His Torah!
FOOL ME ONCE, SHAME ON YOU; FOOL ME TWICE, SHAME ON ME
The test is not new. The first Adam did not follow the instructions of Yahuah, and became subject to death as a direct result. The loss of eternal life (he could eat from the Tree of Life, remember) was enormous, but sovereignty over the Earth was also lost, and the adversary has been in charge since the Fall. Failure to obey Torah resulted in death, banishment, and loss of sovereignty; many tears have been shed by man because he is "wired" to disobey, but by choice he can overcome this. Yahusha won back the authority over the Earth for mankind, but it is still an open, personal choice to obey and inherit it to reign with Him, or disobey and be banished into the Lake of Fire, a second death. Please don't be fooled - deception is seen everywhere.
Our most important work during the time of Distress will be to help people be restored to the Covenant of Yahuah - His Torah - the message of AliYahu! (See Mal 4:1-6)
<![if !supportEmptyParas]> <![endif]>