Hebrew Roots research by Lew White
WHAT IS THE GREAT COMMISSION?
A LIGHT TO THOSE IN DARKNESS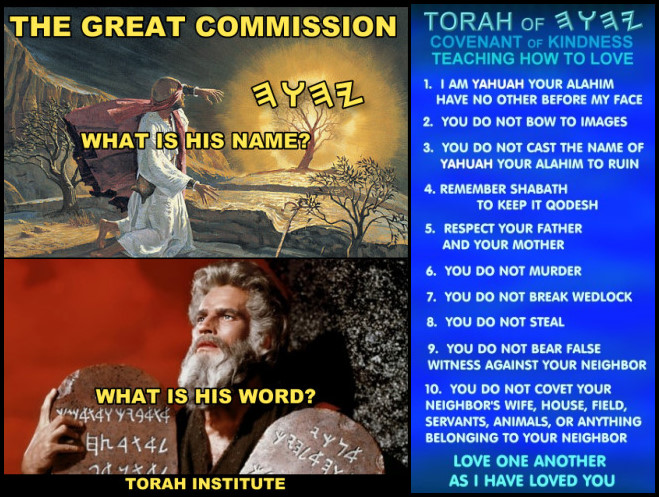 THE GREAT COMMISSION:

Witness Of Yahusha

WHAT IS OUR MAIN PURPOSE AS NATSARIM?

Our Mission Is About Our Message

Teaching all nations to obey everything He commanded us to obey sums up our mission, and the message to them.
How this became muddled quickly at the beginning is explained by a TAX imposed on the behavior of those obeying the Commandments. www.fossilizedcustoms.com/partingways.html

We are envoys spreading the word of restoration to favor.

Our highest purpose for being here is not sitting in a pew believing something. We are to be used as vessels to plead with the lost to be restored to favor. What does it involve, and what were we told to do?

We were commissioned as envoys to all men everywhere:

"And all matters are from Alahim, who has restored us to favor with Himself through Yahusha Mashiak, and has given us the service of restoration to favor, that is, that Alahim was in Mashiak restoring the world to favor to Himself, not reckoning their trespasses to them, and has committed to us the word of restoration to favor.

Therefore we are envoys on behalf of Mashiak, as though Alahim were pleading through us. We beg, on behalf of Mashiak:

Be restored to favour with Alahim." -2Cor 5:18-20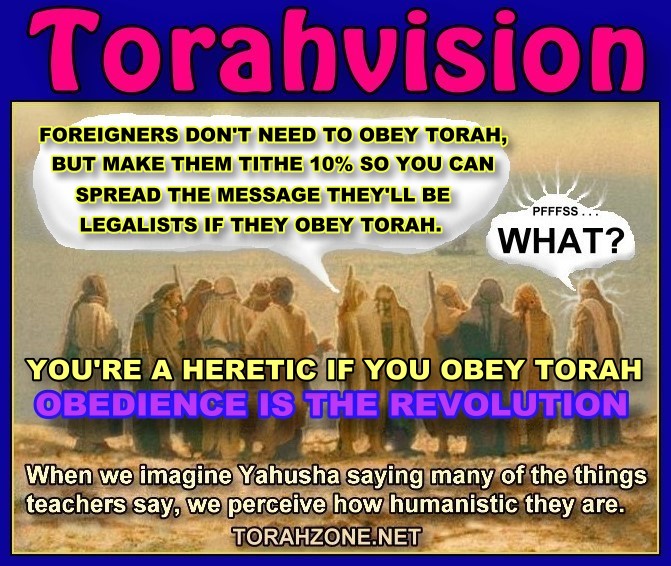 Yahusha gave His highest orders to His Natsarim as He left them.
These orders are what we call the Great Commission, and involve the two highest subjects of all; His Name and His Word (Ps 138:2).
"And Yahusha came up and spoke to them, saying,
'All authority has been given to Me in shamayim and on arets. Therefore, go (make haste, run) and make taught ones of all the nations, immersing them in the Name of the Father and of the Son and of the Set-apart Spirit, teaching them to guard all that I have commanded you. And see, I am with you always, until the end of the age.'" Aman (truly). –Mt 28:18-20
As time passed, the original meaning of those orders became watered-down by traditions. We are not seeing "everything" He commanded them being taught. This is because Constantine made sure Christians would have "nothing in common with the hostile rabble of the Yahudim." Yahusha intended the nations to be taught to guard "every Word that proceeds from the mouth of Yahuah" in order to live.
Does the context at Mt. 28 imply that this message was only for His Natsarim of that time, or did Yahusha intend for all of us to be found doing what He said when He comes? After giving the orders Yahusha said, "And see, I am with you always, until the end of the age." v 20
If the orders He gave were only for the Natsarim He was speaking with, and not to be continued to be taught to all nations throughout the time He is away, many parables would lose their meaning for us, such as the parable of the mina, the sowing of the seed, and others.
If Yahusha was intending the orders to be only for those first followers and not us, then His comment "I am with you always" was also only for those first followers.
But context will not allow this interpretation, since He is with us, and will be to the "end of the age."
KEFA (Peter) ASKS IF IT WAS FOR THEM, OR ALL:
"And Kefa said to Him, 'Master, do You speak this parable to us, or also to all?' And the Master said, 'Who then is the trustworthy and wise manager, whom his master shall appoint over his household, to give the portion of food in due season? Blessed is that servant whom his master shall find so doing when he comes.'" – Luke 12:41-43
Yahusha's followers are to perform His orders to "the end of the age."
Teaching the Name and the Word is our purpose for being Natsarim in the end of days.
We are to sow the nations with the Name of their Deliverer, Yahusha, and teach them the Commandments of Yahuah.
This is the witness, or testimony of Yahusha given to His Natsarim.
We herald the message of Yahusha:
"Repent, for the reign of Yahuah draws near!"
www.fossilizedcustoms.com/transliteration.html
New books at Amazon & torahzone.net: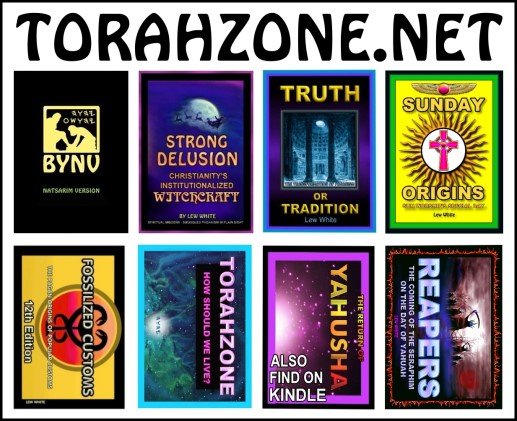 STRONG DELUSION
CHRISTIANITY'S INSTITUTIONALIZED WITCHCRAFT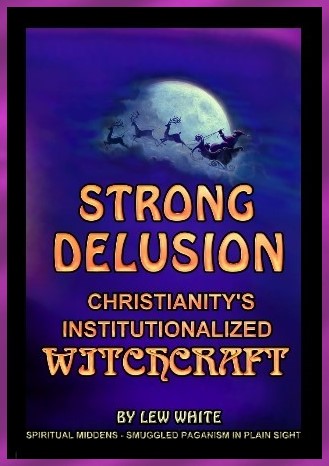 http://www.amazon.com/Strong-Delusion-Christianitys-Institutionalized-Witchcraft-ebook/dp/B00QOLCS8Q/ref=sr_1_1?s=digital-text&ie=UTF8&qid=1418064833&sr=1-1&keywords=strong+delusion

Powerful tools to challenge pastors to teach Truth:

Amazon Kindle, for any pc, tablet, phone, or android, download in seconds:
http://www.amazon.com/Truth-Tradition-Transformation-Yahusha-haMashiak-ebook/dp/B00NOC0UWO/ref=sr_1_8?ie=UTF8&qid=1411136823&sr=8-8&keywords=truth+or+tradition
Please love one another.
Soft Cover Edition BYNV: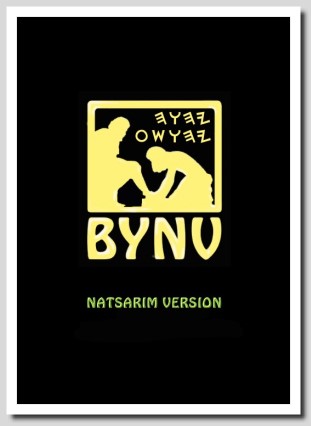 Order BYNV at: http://www.torahzone.net/
VISIT THE BLOG, YOUR COMMENTS WELCOME
Amazon Kindle BYNV:
You can review the text without purchasing it.
To review, or download the BYNV Kindle instantly:
http://www.amazon.com/Besorah-Yahusha-Natsarim-Version-ebook/dp/B00EAB3U9I/ref=sr_1_1?ie=UTF8&qid=1381765397&sr=8-1&keywords=bynv
BYNV – Learn Hebrew words as you read Scripture
A new translation of Genesis through Revelation for the next generation is now released: the BYNV.
It's the opposite of the New Age translations being produced, since it pursues the original "Hebrew Roots" of the faith.
The personal Name of the Creator is shown in the original Hebrew script, as He inscribed it in the tablets of stone with His finger.
The reader sees other original Hebrew words "transliterated" as they were pronounced by the men that wrote them down for us.
A person interested in learning and understanding Hebrew will find over 30 original words used throughout this fresh translation.
The context of the words will sufficiently allow a person to understand the meaning of them, and a glossary is included in the back for more detail. (See a photo of a page in the KJV and BYNV side-by-side at the bottom of this email).
Why the BYNV?
Seminary students (as well as new followers, or even children) will be able to overcome the language barriers as they study the source document of their faith.
The prophets' names are transliterated, and defined.
They are not brought through Greek and Latin translations, but directly from Hebrew into English.
Many clearer English words are also used to aid in comprehension; for example:
Instead of the word "firmament", the proper word "space" is employed.
<![if !vml]>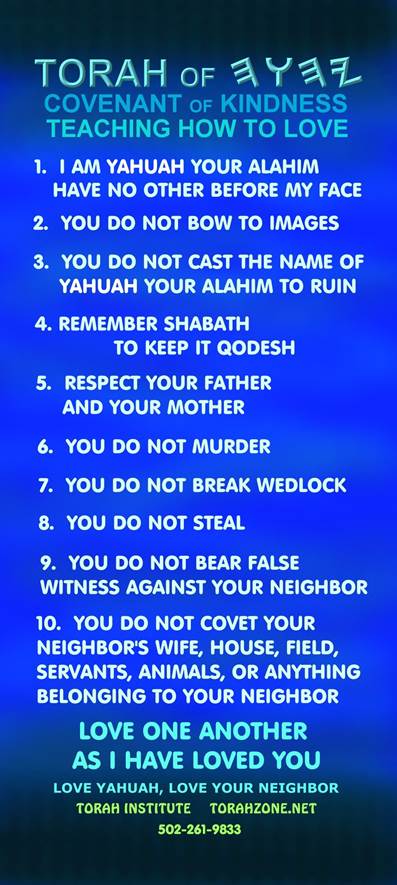 <![endif]>
This translation has a 5-star rating at Amazon.com.
To look over the text of the BYNV online, visit the Kindle site at Amazon and click "Look Inside."
http://www.amazon.com/Besorah-Yahusha-Natsarim-Version-BYNV-ebook/dp/B00EAB3U9I/ref=sr_1_1?ie=UTF8&qid=1403652235&sr=8-1&keywords=kindle+bynv
NEWS: A new book now available on Kindle:
http://www.amazon.com/Strong-Delusion-Christianitys-Institutionalized-Witchcraft-ebook/dp/B00QOLCS8Q/ref=sr_1_2?ie=UTF8&qid=1417966161&sr=8-2&keywords=Strong+Delusion+kindle+book
502-261-9833
www.torahzone.net