Bursting Into Flames On The Day Of Yahuah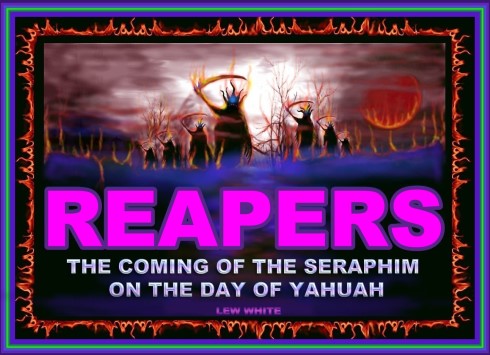 (This article might light a fire under you)
We can choose to enter into the Covenant with the Creator of the Universe, Yahuah, or burst into flames.
Not choosing is a choice.
If we walk in repentance (turn back) in obedience to the Torah, believing in Yahusha's atoning death and being immersed, calling upon His Name for the forgiveness of their sins, we will be delivered. It is impossible to be delivered while remaining in disobedience.
INHERITED FUTILITY: TRADITIONS
The sacraments, organizations, traditions, and other people's good report on how we are fine human beings is of no value toward preventing us from bursting into flames. Not just believing, but obeying and believing is the true walk. We must know Yahusha, and be known by Him. If we claim to know Him, but do not obey His Commandments, we are liars:
"We know that we have come to know Him if we obey His Commands. The man who says, 'I know him,' but does not do what He commands is a liar, and the Truth is not in him. But if anyone obeys His Word, (Alahim)'s love is truly made complete in him. This is how we know we are in Him: Whoever claims to live in Him must walk as Yahusha did." 1 John/Yahukanan 2:3-6
The next time someone tells you that observing "the Shabath" is not necessary for you, right away you know that Yahusha would not tell you that.
A person thinking this is not walking as Yahusha walked, and if they continue down that road, they will burst into flames. What Scripture states we will perish for obeying any of the Commandments? Will it be "legalism" or "illegalism" that will cause us to perish?
If we obey Him, would Yahusha be able to say,
"I never knew you: depart from Me, you that work lawlessness. Therefore whosoever hears these sayings of Mine, and does them, I will liken him to a wise man, which built his house upon a rock: And the rain descended, and the floods came, and the winds blew, and beat upon that house; and it fell not: for it was founded upon a rock. And every one that hears these sayings of Mine, and does them not, shall be likened to a foolish man, which built his house upon the sand: And the rain descended, and the floods came, and the winds blew, and beat upon that house; and it fell: and great was the fall of it." Matt 7:23-27

"The Son of man shall send forth His angels, and they shall gather out of His kingdom all things that offend, and them which do lawlessness; And shall cast them into a furnace of fire: there shall be wailing and gnashing of teeth." Matt 13:41-42
Those making the choice to ignore the warnings are heading down a broad road, galloping and exploding as they go, and will ultimately meet their end by bursting into flames. What fun is there in that?

"Wail, for the day of Yahuah is near; it will come like destruction from the Almighty. Because of this, all hands will go limp, every man's heart will melt. Terror will seize them, pain and anguish will grip them; they will writhe like a woman in labor. They will look aghast at each other, their faces aflame.
See, the day of Yahuah is coming --a cruel day, with wrath and fierce anger--to make the land desolate and destroy the sinners within it. The stars of heaven and their constellations will not show their light.
The rising sun will be darkened and the moon will not give its light. I will punish the world for its evil, the wicked for their sins." YashaYahu / Isa 13:6-11

"But the day of Yahuah will come like a thief.
The heavens will disappear with a roar; the elements will be destroyed by fire, and the earth and everything in it will be laid bare. Since everything will be destroyed in this way, what kind of people ought you to be? You ought to live set-apart and pious lives as you look forward to the day of Yahuah and speed its coming. That day will bring about the destruction of the heavens by fire, and the elements will melt in the heat." 2 Peter 3:10-12
"For the time will come when men will not put up with sound doctrine (teaching). Instead, to suit their own desires, they will gather around them a great number of teachers to say what their itching ears want to hear. They will turn their ears away from the Truth (Torah, teaching) and turn aside to myths." 2 Tim 4:3-4
And, it will get them roasted alive.
For those in His Covenant protection will be provided:
"When you walk through the fire, you will not be burned; the flames will not set you ablaze."
YashaYahu / Isa 43:2

THE DAY OF YAHUAH IS APPROACHING
"When you see this, your heart will rejoice and you will flourish like grass; the hand of YAHUAH will be made known to His servants, but His fury will be shown to His foes. See, YAHUAH is coming with fire, and His chariots are like a whirlwind; He will bring down His anger with fury, and His rebuke with flames of fire. For with fire and with His sword YAHUAH will execute judgment upon all men, and many will be those slain by YAHUAH.
'Those who consecrate and purify themselves to go into the gardens, following the one in the midst of those who eat the flesh of pigs and rats and other abominable things--they will meet their end together,' declares YAHUAH.
'And I, because of their actions and their imaginations, am about to come and gather all nations and tongues, and they will come and see My Chabod.'" YashaYahu / Isa 66:14-18

"Then the kings of the earth, the princes, the generals, the rich, the mighty, and every slave and every free man hid in caves and among the rocks of the mountains. They called to the mountains and the rocks,
'Fall on us and hide us from the face of Him who sits on the throne and from the wrath of the Lamb!
For the great day of His wrath has come, and who can stand?'" Rev 6:15-17

"I saw heaven standing open and there before me was a white horse, whose rider is called Faithful and True. With justice He judges and makes war. His eyes are like blazing fire, and on His head are many crowns. He has a name written on him that no one knows but he himself. He is dressed in a robe dipped in blood, and His Name is the Word of Alahim. The armies of heaven were following Him, riding on white horses and dressed in fine linen, white and clean. Out of His mouth comes a sharp sword with which to strike down the nations. He will rule them with an iron scepter. He treads the winepress of the fury of the wrath of Al Shaddai. On His robe and on His thigh He has this name written:
Melek of Melekim and Sovereign of sovereigns."
Rev 19:11-16
Tickling the ears with the concept of "unconditional love" is part of the lie, a strong delusion sent because people have refused to receive a love for the Truth.
The false teacher will teach that Yahuah loves unconditionally, right up to the point He tosses them into the lake of fire.
There are conditions, and Scripture is a long record of those conditions.
Wrath and love are mutually exclusive.
PREPARING FOR THE DAY OF WRATH
The times ahead appear to be like a gathering storm, and many people are growing fearful and hoping to store food, water, and various supplies - even weapons - so they can survive the horrors that may soon come upon the world.
REAPERS: www.fossilizedcustoms.com/reapers.html
Psa 27:5: "For in the day of evil He hides me in His booth; In the covering of His Tent He hides me; On a rock He raises me up."
Pro 22:3: "A clever one foresees evil and hides himself, But the simple go on and are punished."
Some balance has to be found between these two verses. Our priority is to be fruitful. If we are killed, we are those found under the altar at Rev. 6:9-11:
"And when He opened the fifth seal, I saw under the altar the beings of those having been slain for the Word of Alahim and for the witness which they held,

and they cried with a loud voice, saying, 'How long, O Master, set-apart and true, until You judge and avenge our blood on those who dwell on the earth?'
And there was given to each one a white robe, and they were told that they should rest a little while longer, until both the number of their fellow servants and their brothers, who would be killed as they were, was completed." Rev. 6:9-11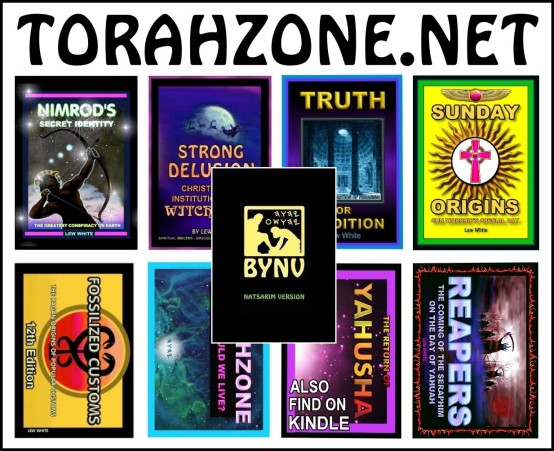 Google: BYNV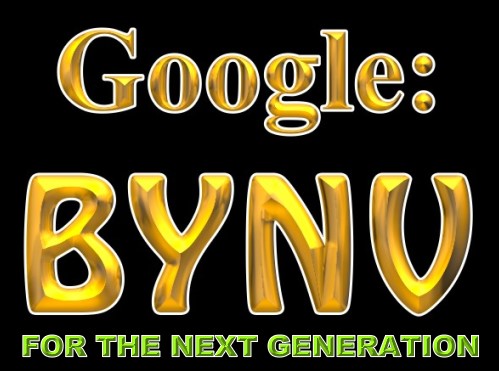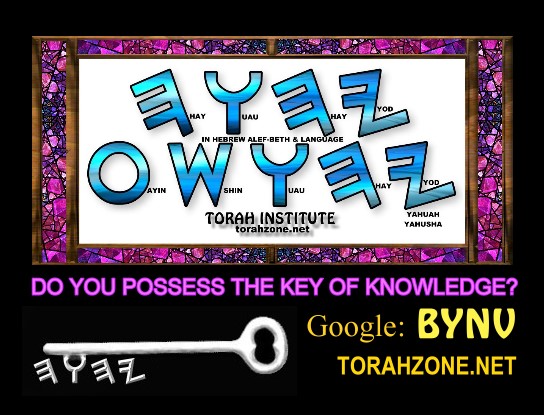 TORAH INSTITUTE
PO BOX 436044
Louisville, KY 40253-6044
phone: 502-261-9833