TEN COMMANDMENTS
It's a MARRIAGE, and Shabuoth is the Wedding Anniversary
The core message (besorah) of our Creator Yahuah to all mankind is this Covenant, which Yahusha ha'Mashiach declared is the path to walk on to acquire eternal life (Mt. 19:17). He is the Mediator (Heb. 8:6), and writes it upon our hearts, so that we can love it and obey. His talmidim were instructed to go and teach "all nations" everything He had instructed Israel to obey (Mt. 28:19,20), and this Covenant is for all mankind (Ecc. 12:13).
The Ten Words of Yahuah (Aseret ha'Dabarim L'Yahuah
) literal English translation:
Ex./Shemoth 20

Aseret ha'Dabarim (Ten Words)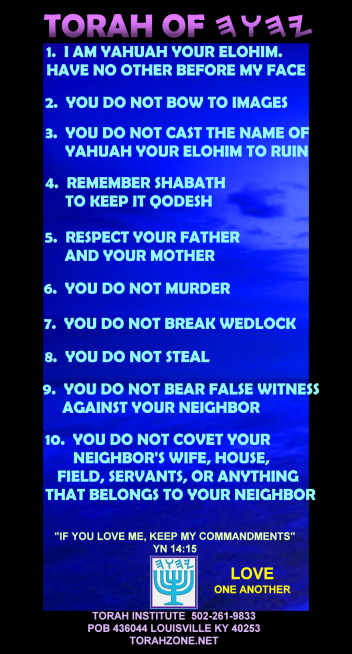 TORAH OF YAHUAH (The Eternal Covenant):
1. I AM Yahuah YOUR ELOHIM. HAVE NO OTHER BEFORE MY FACE. [NO FOREIGN NAMES, RITUALS, CUSTOMS OF PAGANS]
2. YOU DO NOT BOW TO IMAGES.
3. YOU DO NOT CAST THE NAME OF Yahuah YOUR ELOHIM TO RUIN. ["SHOAH" = RUIN - WE ARE NOT TO DESTROY HIS NAME]
4. REMEMBER SHABBATH, TO KEEP IT QODESH. (QODESH = SET APART)
[SABBATH IS THE SIGN OF EVERLASTING COVENANT OF LOVE, EX. 31:13, EZ. 20:16-20. IT WAS CHANGED (DAN. 7:25) BY CONSTANTINE TO HIS "DAY OF THE SUN" IN 321 CE FOR CHRISTIANS, CHANGED BY MUHAMMAD TO 6TH DAY, CIRCA 622 CE.
SHABBATH ACKNOWLEDGES YAHUAH AS CREATOR. (HEB. 4. IN THE WORLD BEFORE SIN CAME, AND REMAINS FOR ALL ETERNITY, IS. 66:23, PS. 119:152, EX. 31:13).
5. YOU RESPECT YOUR FATHER AND YOUR MOTHER.
6. YOU DO NOT MURDER.
7. YOU DO NOT BREAK WEDLOCK.
8. YOU DO NOT STEAL.
9. YOU DO NOT BEAR FALSE WITNESS AGAINST YOUR NEIGHBOR.
10. YOU DO NOT COVET YOUR NEIGHBOR'S WIFE, HOUSE, FIELD, SERVANTS, OR ANYTHING THAT BELONGS TO YOUR NEIGHBOR.
THESE ARE TO BE DILIGENTLY TAUGHT TO YOUR CHILDREN, AND POSTED ON THE DOORPOSTS OF YOUR HOME. (Dt. 6).
"Blessed are those doing His Commands, so that the authority shall be theirs unto the tree of life and to enter through the gates into the city." REV. 22:14
"Great shalom have they which love thy TORAH: and nothing shall offend them." Psalm 119:165
"Then the dragon was enraged at the woman and went off to make war against the rest of her offspring
-those who obey Elohim's Commandments (TORAH) and hold to the testimony of Yahushua." REV. 12:17
"Let no man therefore judge you in meat, or in drink, or in respect of a festival, or of the new moon, or of the Sabbath days
which are a shadow of things to come for the body of (Mashiach)." Col 2:16-17
FORWARD, REPRINT & SHARE PROFUSELY WITH NATIONS
ENGRAFT TO THE COVENANT BETWEEN YAHUAH & YISRAEL (Eph. 2, Rom. 11)
"If you love Me, keep My commandments." John / Yahuchanon 14:15
BESORAH (message, report, news)
The Covenant between Yahuah and Yisrael
It's a MARRIAGE
Most people read their favorite translation of Yahuah's Word for years, and never see the most glaring facts staring right at them. The Truth is, Yahuah has never forsaken His Covenant with Yisrael, but has renewed it in the precious blood of Yahusha. Gentiles have been misled to think that He has given up on the people He Covenanted with, or that He made a "new" Covenant with a different people. This is the core of what is called "replacement theology", and it is a profound error. The Everlasting Covenant is with all who partake in it, and they become "Yisrael" through this Covenant. They are "cut-off" from Yisrael the moment they depart from it. It is the renewal of this Covenant that is significant because it is sealed, not with the imperfect blood of rams and goats, but with the infinitely superior blood of the Son of Yahuah, Yahusha ha'Mashiach.
Yahusha is the Mediator of the renewed Covenant, Who writes it upon hearts of flesh, and causes us to receive a love for the Truth.
We can now love His instructions!
Gentiles become "fellow citizens" with Yisrael through this Covenant, and are referred to as being "formerly Gentiles in the flesh". They are no longer Gentiles, but Yisrael, through the workmanship of Yahusha. If they accept the Mashiach of Yisrael, but do not accept the Covenant He brings with Him, they are without hope, because of their disobedience.
(Heb. 4:6)
"For we are His workmanship, created in Messiah Yahusha unto good works, which Elohim prepared beforehand that we should walk in them.
Therefore remember that you, once Gentiles in the flesh, who are called 'the uncircumcision' by what is called 'the circumcision' made in the flesh by hands, that at that time you were without Messiah, excluded from the citizenship of Yisrael and strangers from the covenants of promise, having no expectation and without Elohim in the world.
But now in Messiah Yahusha you who once were far off have been brought near by the blood of the Messiah. For He is our peace, who has made both one, and having broken down the partition of the barrier, having abolished in His flesh the enmity – the Torah of the commands in dogma – so as to create in Himself one renewed man from the two, thus making peace, and to completely restore to favor both of them unto Elohim in one body through the stake, having destroyed the enmity by it.
And having come, He brought as Good News (Besorah) peace to you who were far off, and peace to those near, because through Him we both have access to the Father by one Spirit.
So then you are no longer strangers and foreigners, but fellow citizens with the set-apart ones and members of the household of Elohim, having been built upon the foundation of the emissaries and prophets, Yahusha Messiah Himself being chief corner-stone, in whom all the building, being joined together, grows into a set-apart Dwelling Place in Yahuah, in Whom you also are being built together into a dwelling of Elohim in the Spirit." Eph. 2:10-22
Yisrael is now the living Hekel (Temple) of Yahuah, indwelled by Yahusha's Spiritual presence in us. It has always been Yahuah's will for Yisrael to teach His Torah to the nations. The story of Yonah portrays Yisrael's unwillingness to perform this duty willingly, but now we in the last days realize our duty. We are commissioned to teach the Gentiles, and engraft them into the Torah/Covenant,
"teaching them to obey everything I have commanded you".
We are one body, and we have a name He calls us by: Yisrael.
Lew White
See more on Passover, First-fruits and the Resurrection as it relates to the "sign of Yonah":
www.fossilizedcustoms.com/firstfruits.html