Study of Two House Restoration of Israel
by N.B. Parrish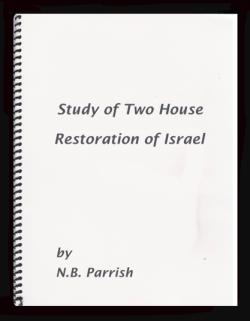 The secret of Elohim (to be ended in the last days) is revealed in the pages of this incredible work. This amazing 56-page study will be hard to put down once you begin reading it. It flows logically through Scripture, showing clearly that Israel was divided into two "houses", and the vast majority of Israel don't even know that they are. The end times -- which we are definitely seeing now -- is when Scripture indicates this monumental event will occur: The re-gathering of Israel! The "scattering" of Israel was intentional (Amos 9:9). "He Who scatters Israel will gather him" -- Jer. 31:10. Fishermen will be sent to gather them out of the nations where they were scattered (see Jer. 16:14-21). You will see that the "secret of Elohim" spoken of at Ephesians 3 and Revelation 10 are solved through an understanding of the Two Houses: the House of Israel, and the House of Yahudah. These are called "two sisters" at Jeremiah 3, but are also the "two brothers" referred to in the parable of the Prodigal Son. One brother went to PaganLand for a few thousand years, and the other brother stayed with the Torah, in the Father's House, keeping the Covenant (the sign of which is: Shabbat). Read Ezekiel 37, Jeremiah 3, Amos 9:9, Revelation 10, Ephesians 3, and then Acts 15. The Creator's Name is definitely involved in this ending of Elohim's secret, and this study deals with that issue as well.
To order: simply write the title into any order, and include $9.95 (minimum $6 shipping & handling, 10% of order above $60)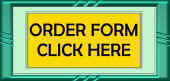 Pay by Paypal Securely to order@fossilizedcustoms.com
YELLOWSTONE SUPERVOLCANO - ARTICLE BY BRICK PARRISH
Strawberry Islands Messianic Publishing / Torah Institute
The following link deals with the 10 lost tribes, also known as the Samaritans:
BLESSING OF THE FIRSTBORN WHERE'S EPHRAIM?
Da Vinci Code; What's true, and what's not Myths of Knights Templar retold
Q: Where did we get the form "JESUS" from?
WHAT ABOUT THAT DOME - KIPA or YARMULKE
IS THE AUTHOR OF REVELATION STILL ALIVE?
Strawberry Islands Messianic Publishing, Louisville KY
The Torah is out there. I want to obey.
TORAH ZONE: FOSSILIZED CUSTOMS ARTICLES
PAGAN CHRISTIANITY THE ORIGINS OF OUR MODERN CHURCH PRACTICES Nazarene Israel
CHRISTIAN ~ IS THIS WORD A GOOD LABEL, CONSIDERING IT HAD A PREVIOUSLY PAGAN USAGE?
ISRAEL YAHWEH YHWH 144,000 WEBINAR