LEAVES OF AUTUMN
Pictured below: Rick, Paula, Bob, Lew, & Mark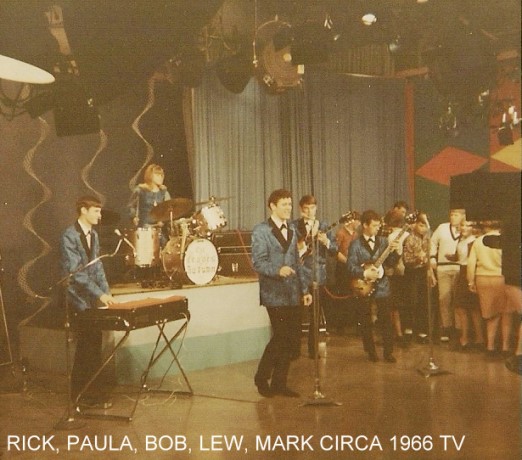 A History Of The Leaves Of Autumn
Article by Lew White, guitarist, co-founder 1962-1968
This page is presented to honor the memory of Vince and Mary Base, who both challenged a band of young people to face life with ambition, nobility, clarity, and a strong sense of purpose.
For this, they will both be remembered with fondness and appreciation for all they meant to us.
They were my aunt and uncle.
A NAMELESS DUO
To best explain the development of the group, several stepping-stones should be mentioned.
We started out in 1962 as a duo, Lew White and Bob Nord, performing for family gatherings over most of a year.
We had been taking guitar lessons for about a year and began to make use of them.
We had a gig in the cafeteria of our Catholic grade school, and thought we'd really made it.
We performed an instrumental version of the song, "Silver Bells."
We were Catholic; we had hoops to jump through at various points in the year, and Christmas was a very Catholic thing.
We were 12 years old, and trying to escape our day-job, delivering newspapers before and after school.
We were about the most ambitious young men in our neighborhood.
We were called-back to play a party in the same cafeteria, and the whole place was lit with black lights.
I seem to recall it was a Halloween party; we didn't know it was the Feast of the Dead.
People's underwear could be seen glowing through their pants, and we were traumatized.
The song "Monster Mash" was still very new, and the changes in the music scene were signaling
that the folk music we had been performing was on the way out.
Soon there was to be no more "Michael row the boat ashore," or "Puff, The Magic Dragon" for us!
We auditioned a few drummers, but none of them could keep a steady beat.
We discovered there was a bass player (Mark Leppert) living a few streets over, and he joined our group.
We limped along practicing in my family's garage.
THE SHADES
We booked some small parties to play for, and eventually succeeded in landing a gig at a nearby community club.
It was at this point we came to be known by the name "The Shades."
Yes, we wore black sunglasses on stage, long before the Blues Brothers, or SNL even existed.
We played tunes like Green Onions, Tequila, Walk Don't Run, and lots of other instrumentals.
Then we bought a microphone which took things to a new level;
Bob was an awesome lead vocalist.
Failing to find a drummer we liked, we gave Paula Base a call.
She was available, and joined The Shades.
She was almost 3 years younger than we were, but had a better musical foundation and tempo-sense than any drummer
we'd tried before. Her dad, Vince Base, had taught her well.
She used the cymbals tastefully, and could syncopate without losing tempo. Behind every good group is a driving drummer.
She was awesome (and still is), and the fact that she was a girl made our group really stand-out.
Paula's mother Mary found us gigs, and let us practice in the Base family's basement.
Mary Base was the older sister of Lew's mom, making Paula and Lew first-cousins. Paula's dad, Vince Base, was an awesome drummer, and a Renaissance man who had talents too numerous to describe here. He was a draftsman, repaired watches, and a professional photographer as well as a very good role model for all of us.
Vince Base took every picture you will see of our musical past.
(Vince, and Mary his wife, now sleep, waiting for Yahusha to call them forth).
Looking back, we should have called our group "The Basements."
Over our years together, we worked on material by Mitch Ryder and the Detroit Wheels, Sam & Dave, Righteous Brothers, James Brown, Young Rascals, Beatles, Paul Revere & The Raiders, The Outsiders, Johnny Rivers, Herman's Hermits, Troggs, and even Nancy Sinatra.
We played for parties, bowling alleys, wedding receptions, restaurant and store promotions, community centers, and country clubs.
A few times we had to play for some University of Louisville fraternity parties, but these we not too fun for us.
We were still in high school, and drunken young men would occasionally fall into the drum section - and drummers can't move out of the way very quickly! The drum kit is all metal, telescopic hardware, with cymbals on top. You could impale yourself on them.
THE SHADES BECAME THE LONDUHRS
A BIG WAVE HIT THE MUSIC SCENE, AND IT HIT US TOO
Then the British invasion kicked-in big-time, and we assessed the musical terrain with a larger perspective than
just our neighborhood and its competition. We changed our name to "The Swinging Londuhrs,"
and quickly shortened it to simply "The Londuhrs."
At 16 years of age, we were on TV. Cousin Paula was 13.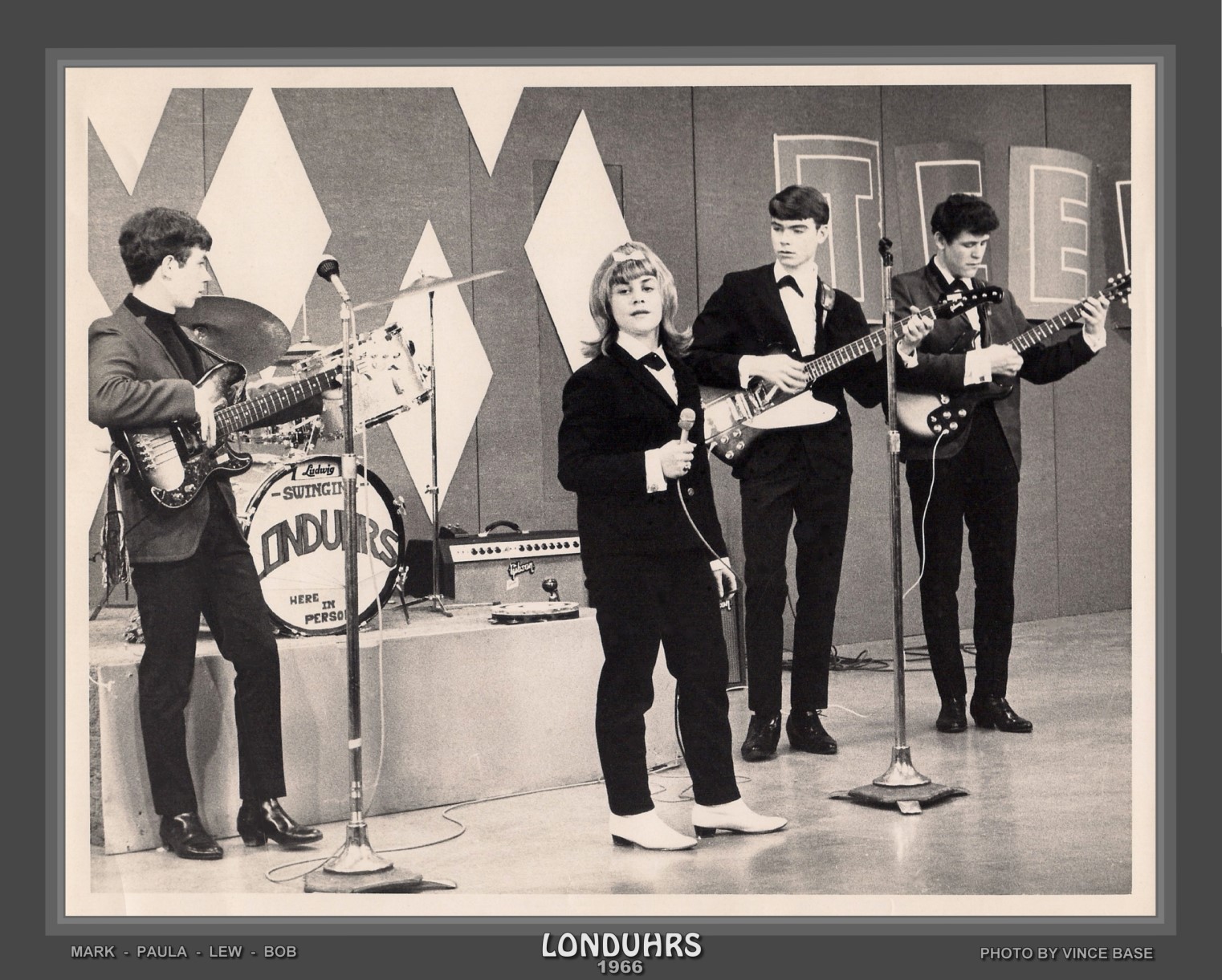 Pictured above: The Teen Beat television show at a local station.
All I remember was that the lights were really bright, and they felt like sunlamps.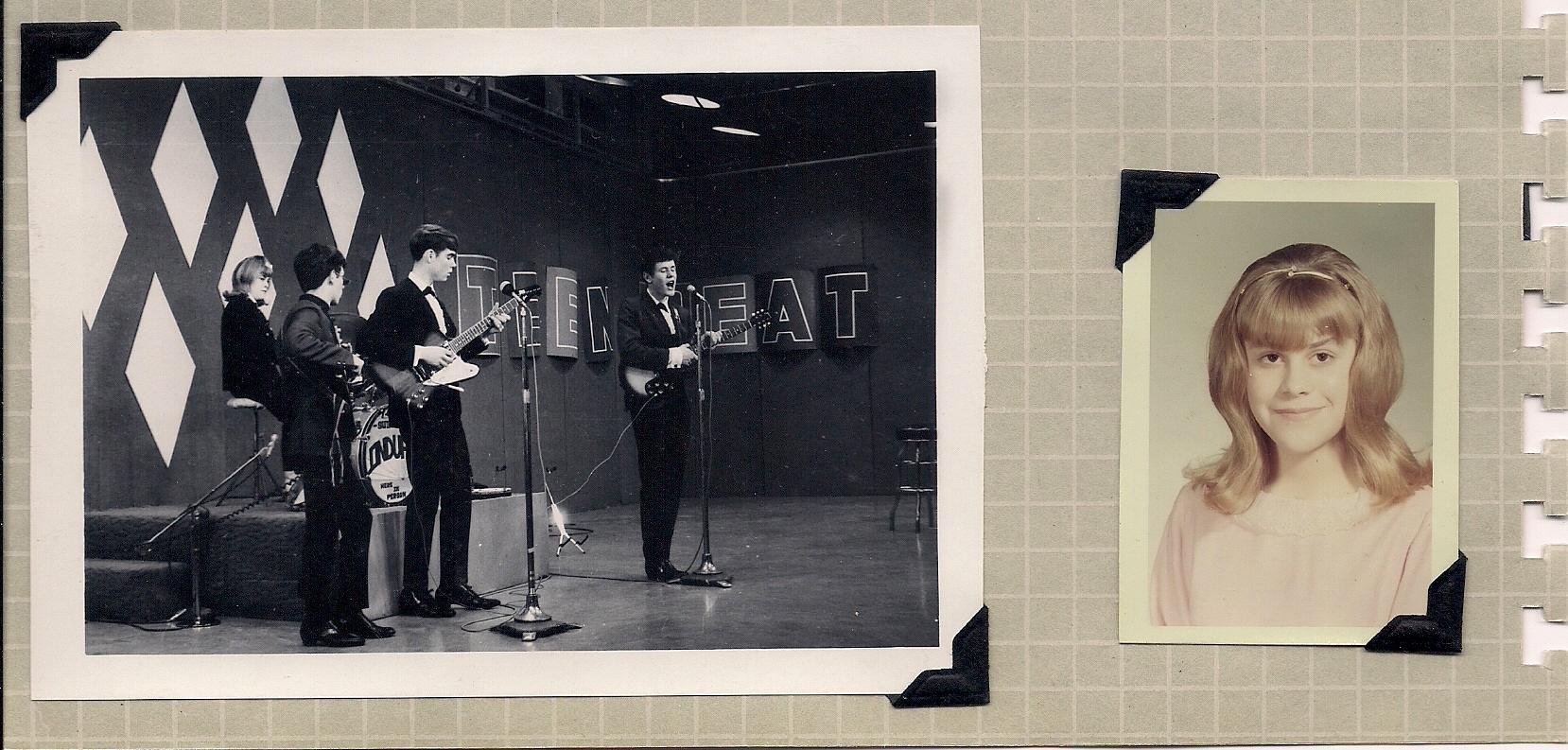 Rehearsals were conducted in Paula's family "base"-ment (below):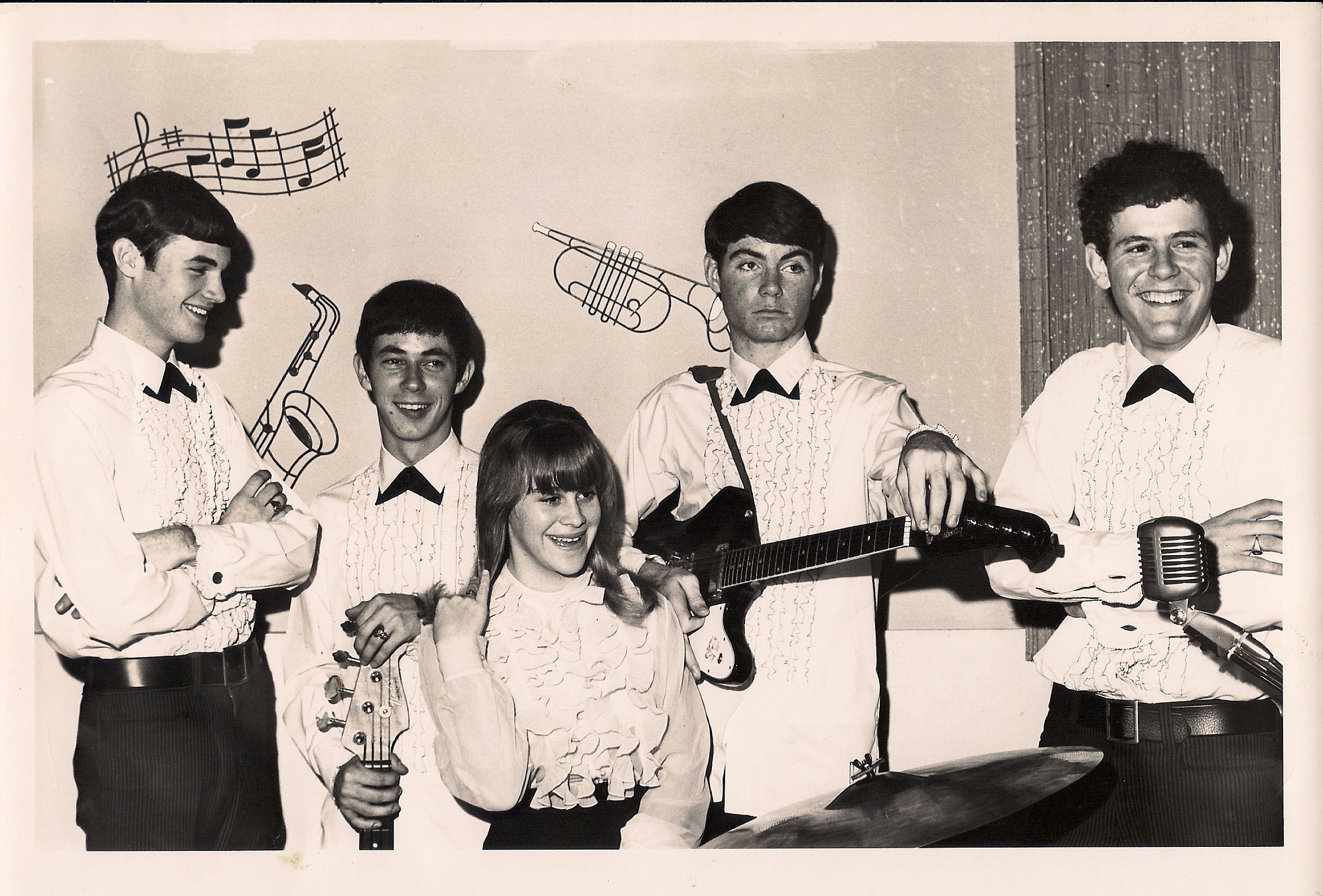 In the "autumn" of 1965, we changed our name to LEAVES OF AUTUMN.
The gigs were rolling along, and we added an organist, Rick U'Sellis.
(above left).
This added more musical possibilities, and rounded out the sound.
We could play Rinky Dink, and Hip-Hug Her, and everything sounded as good as the
professional recordings by the original artists. We could play any rock tune out there,
and we were stretching our wings into soul, jazz, and more sophisticated pieces as we grew
to become a close-knit musical unit. Bob and I played a trombone duet on one tune.
At some point, Mary Base arranged to have blue jackets made for us, accompanied by our signature ruffled shirts, cuff links, and black ties.
We landed better gigs, playing for venues with hundreds in the audiences. Still, we remained only a local group.
Out of necessity, Mark the bassist joined the US Air Force.
A year later I also joined the Force, so the group had personnel changes that brought about even greater shifts in its sound.
Bob left, and Sid Yates came in to sing lead vocals.
A friend I'd known from the Conservatory of Music took my place as lead guitarist: Steve Meyer, still here in the Louisville area doing gigs. Two horn players were added, and a record was recorded under the band's name, Leaves Of Autumn. Bob, Mark, and myself were not on that recording.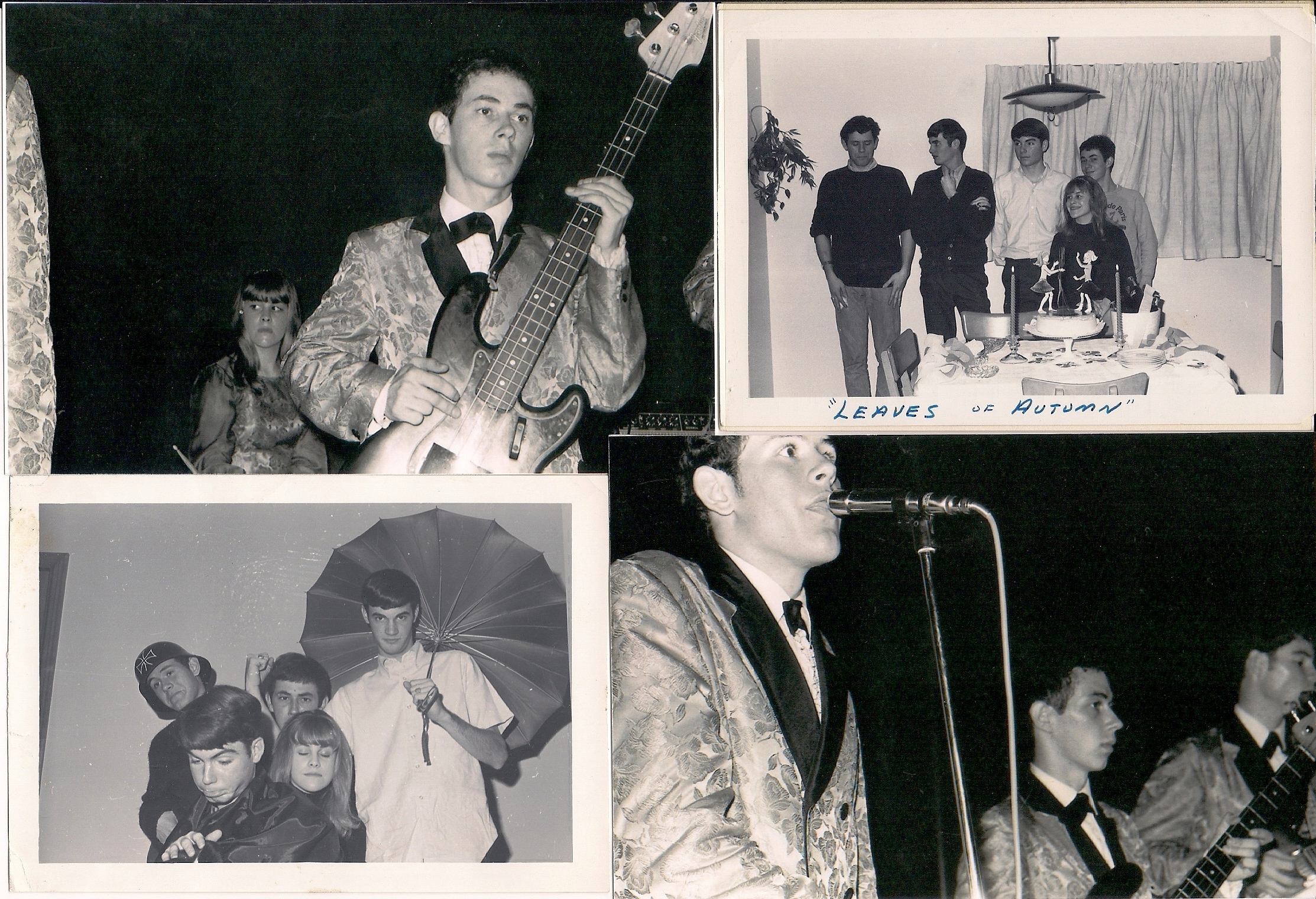 Band members:
Paula Base, drums & vocals
Bob Nord, lead vocals & guitar
Rick U'Sellis, organ & background vocals
Lew White, lead guitar, background vocals
Mark Leppert, bass guitar, background vocals
All of this occurred mainly during my high school years, 1964-1968.
The thought of using drugs or alcohol never crossed our minds; we were the cleanest Jesuit-trained bunch of people as you could ever find anywhere.
Even though Bob is wearing a Nazi helmet in the photo above, we had no idea what things meant at that time.
Mark, Bob, Rick, and myself attended the Jesuit St. Xavier High School in Louisville, and three of us (Lew, Bob, & Mark) comprised the trombone section of the high school's band for all 4 years.
Several times each year, we had paying gigs and a high school band engagements conflicting at the same time.
In those instances, the high school band had no trombone section.
The band conductor was not happy with us, but knew we were a unit. He may have wanted to flunk us, but his heart was in the right place, and didn't.
He taught us to play trombones, but we had expanded our horizons as a musical group outside academia.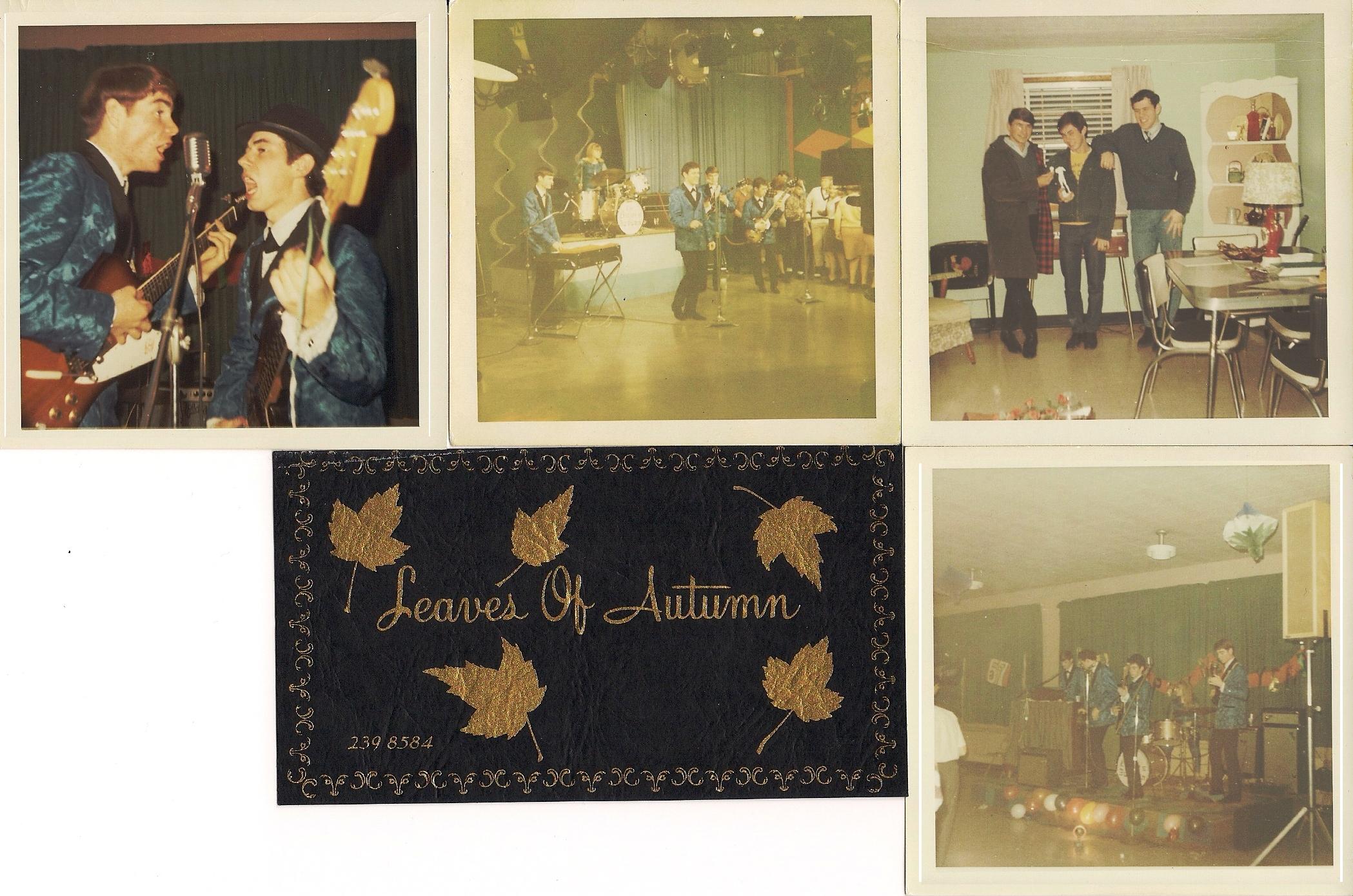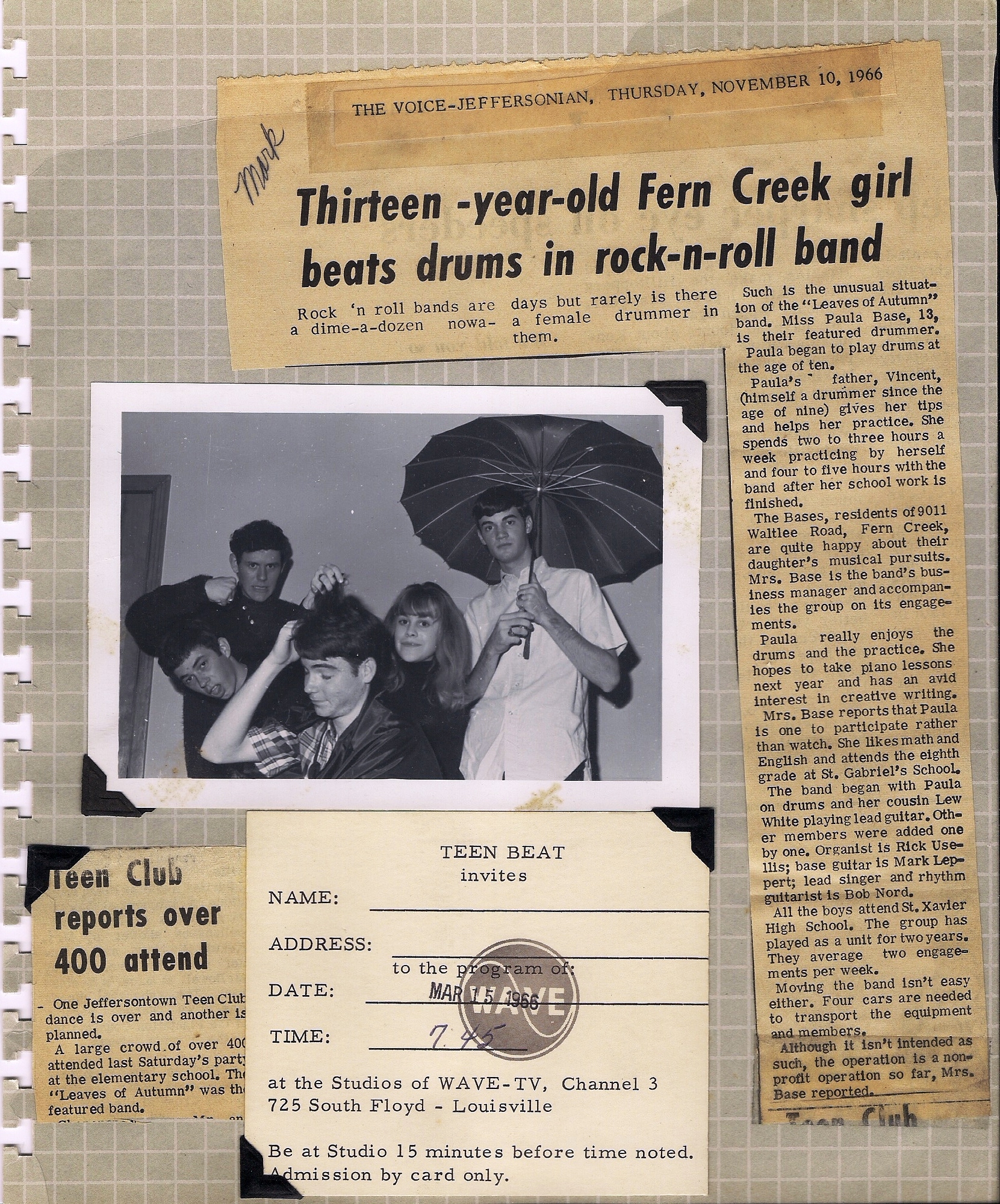 We didn't always go on Television playing through VOX SuperBeatle amplifiers, but when we did we had to use orange guitar cords.
Here we are tuning-up: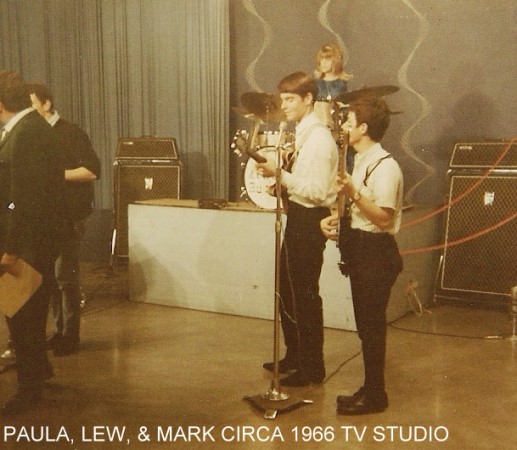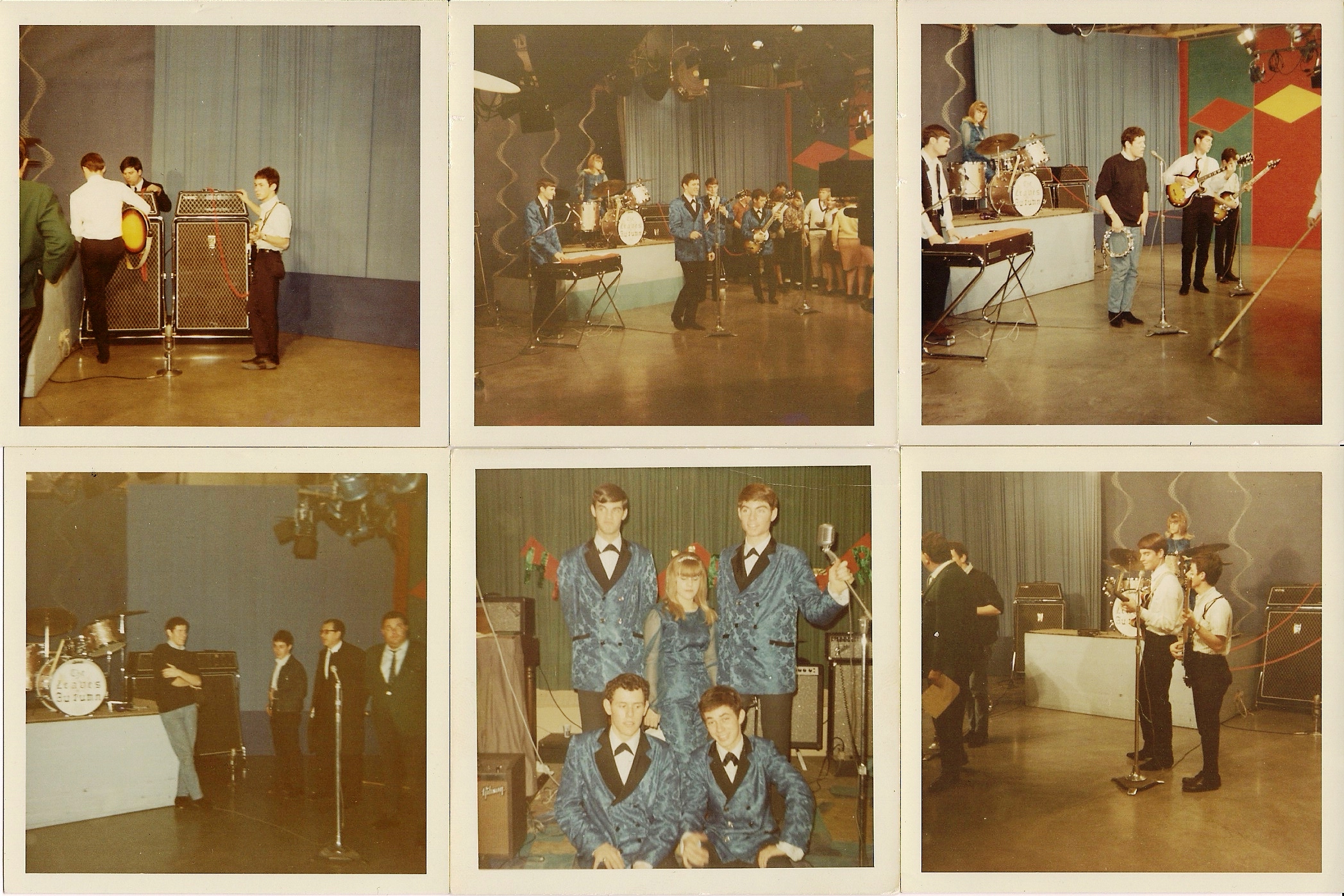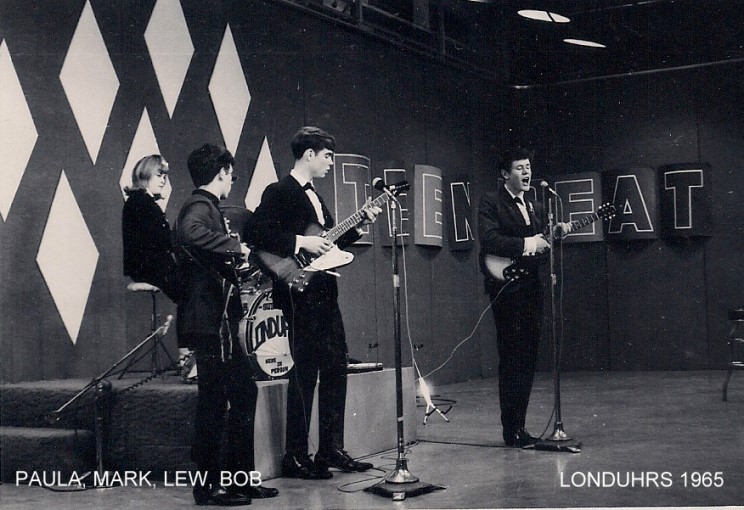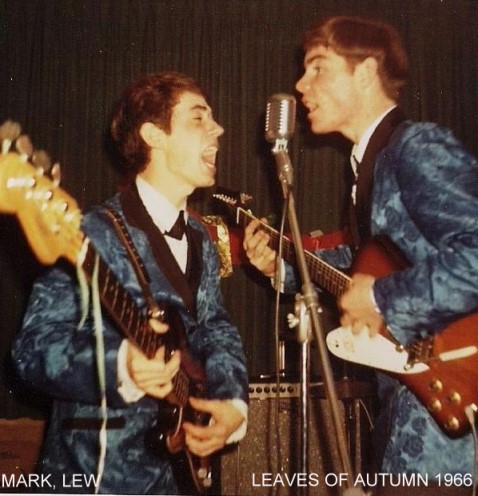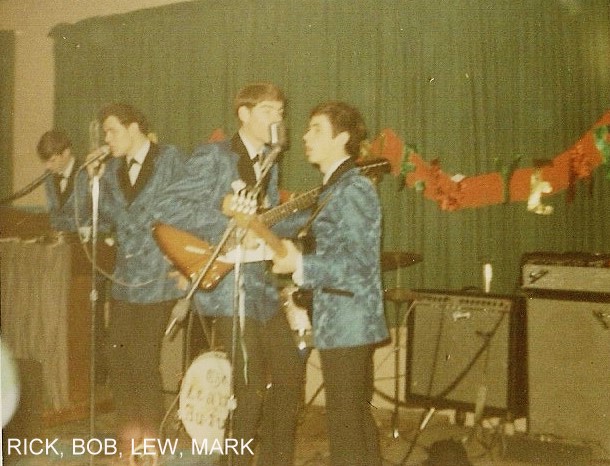 Paula rehearsing with us in her family's basement: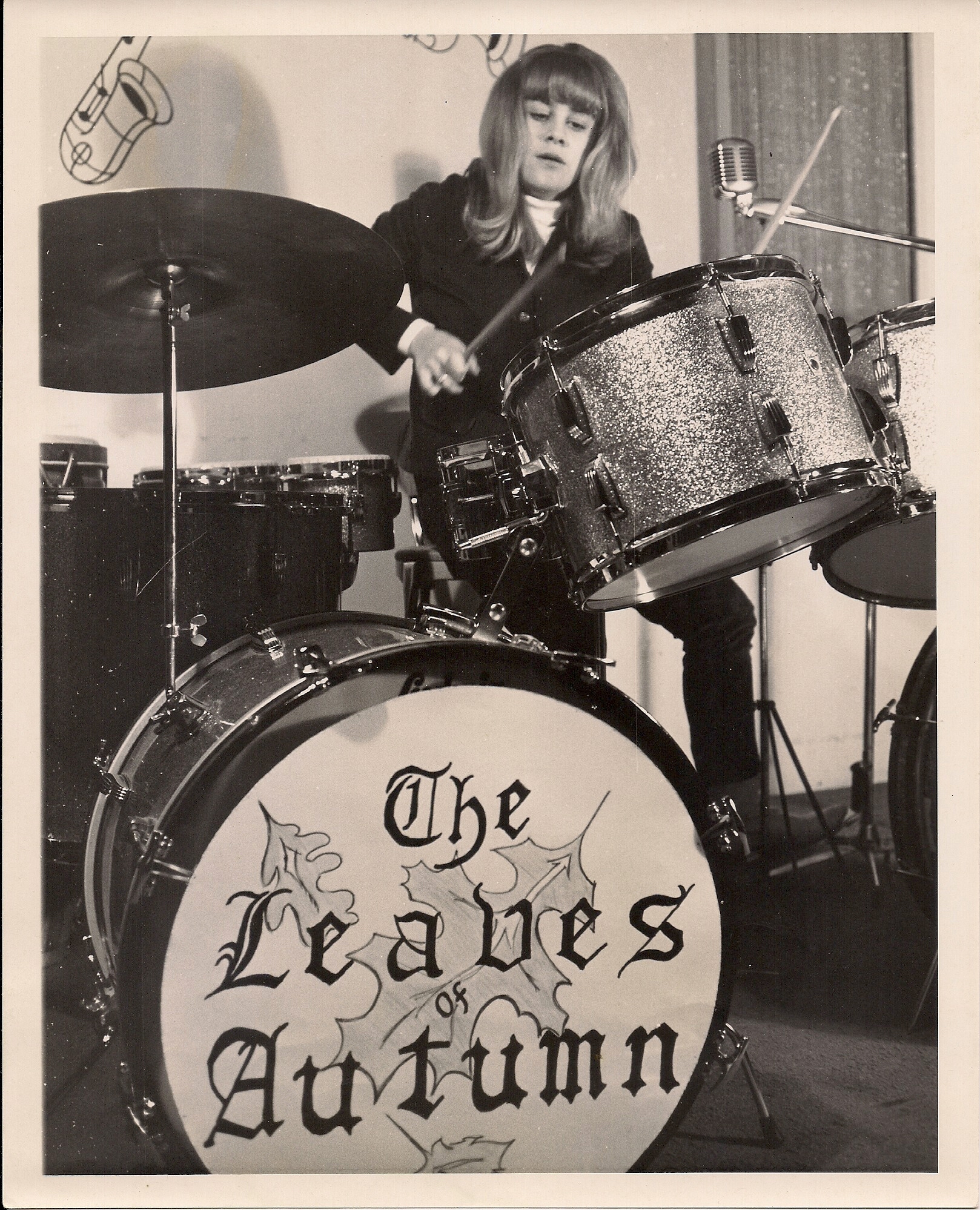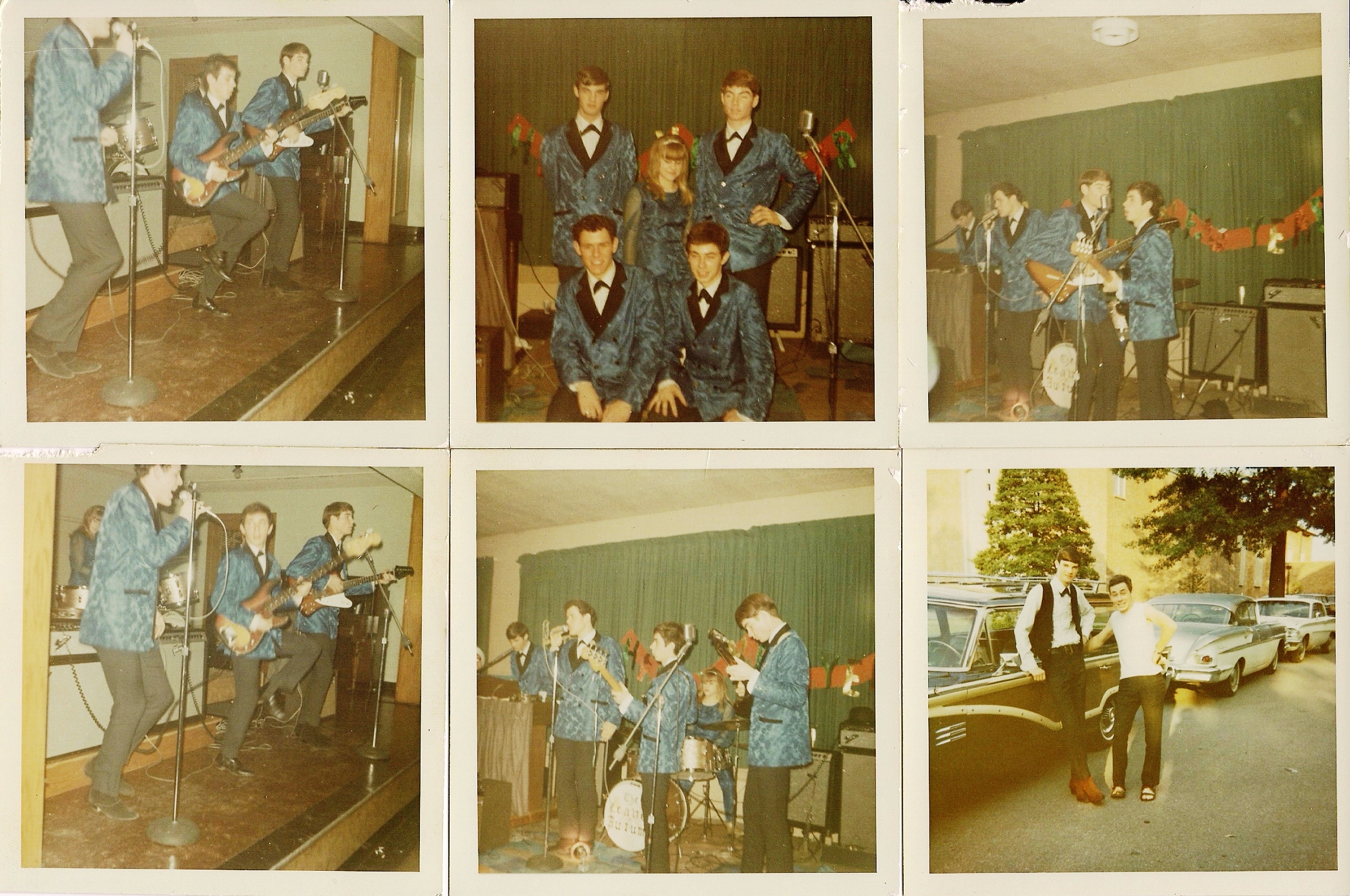 FURTHER ALONG DOWN THE PATH
I went into the US Air Force for four years, and played bass in several groups in my off time. Stationed near Nashville, I played regularly in Printer's Alley next to Boots Randolf, and watched him during our breaks.
After the Air Force, I returned to Louisville and married my bride, Phyllis. For the next 7 years we worked during the day and attended the University of Louisville in the evenings. During the years at the university I played in several jazz groups, one of which was Moonshadow. The older males sported more facial hair: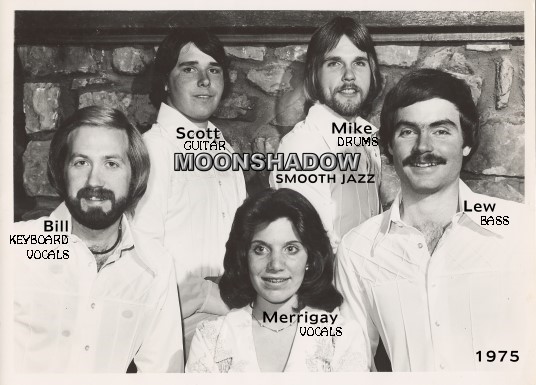 My old friend Bob was working in a Funk band, but I'd always wanted to get back together somehow. After finishing my bachelors' degree in 1978, Bob and I started a record shop together, specializing in jazz LP's. We also sold turntables & belts, cartridges, and needles.
We performed some repair work, and calibrated the systems.
We finally formed a new musical group, "Black Tie" when we were in our early 30's and still running our record shop. We played everything from the Eurhythmics to ZZ TOP. Black Tie personnel (left-to-right):
Larry, keyboards
Debbie, vocals, percussion
Don, drums
Bob, vocals, bass guitar
Lew, lead guitar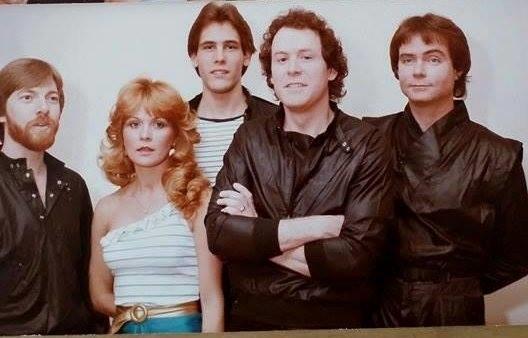 In my spare time, I continued to independently investigate history, biology, and cosmology. I was researching how and why I came to exist. Carl Sagan was my last disappointment, and by 1985, I'd become disillusioned with my study in the sciences.
Science had become more a set of theories and beliefs rather than a pursuit of Truth. They theorized how things work, but accepted unproved ideas as reality.
This tendency had made science a faith or religion rather than anything linked with the reality of the universe around us. Science could make guesses on the big questions, but in the pursuit of Truth, anything that challenged mankind's position was consistently avoided. I was done with it. I didn't know what to pursue next, so then a copy of the Scriptures came into my hands.
I pursued my Creator for the first time in 1985 when I began to read Scripture for the first time in my life.
By this time I'd sobered-up from the stupor I'd been living under from the Jesuit's mind-exercises, and I diligently studied the Hebrew roots of the Christian faith. I'd found the Name and the Word of the Creator, and Yahuah revealed His Covenant to me.
The Hebrew language was like a treasure chest of priceless jewels, and each word opened into deeper treasures (insights).
I could see who we really were in the sight of our Creator, Yahuah. Because I'd set out to find Him, He allowed me to find Him.
About 1987, I discovered a book called The Final Reformation by Dr. Chris Koster (South Africa). I contacted him and we became friends. Much of what I was researching he had already researched well, and we arrived at the same conclusions. He was the first man I'd found that Yahusha had revealed the same details I was uncovering myself, and it was amazing how wonderful it was to have found him. Brother Chris died in 1993, the year his Scriptures translation was finally released.
I became a distributor for ISR in 1999, and established the Institute for Scripture Research, INC for Wilhelm Wolfaardt here in the United States a few years later. I stepped down and dissolved the corporation in 2012 due to slander about my working at Electric Ladyland, a music shop I'd opened in 1978 with Bob Nord, my old band's lead vocalist.
I was able to reach many worldly people during the years I worked in that little shop. I no longer work there, being full-time at Torah Institute, distributing the books and articles that help people learn about the real Yahusha.
A BOOK ABOUT THE PAST: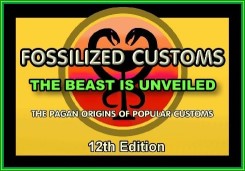 After 15 years of personal research, this endeavor produced the book, Fossilized Customs, The Pagan Origins Of Popular Customs.
It was first released in four fascicles, then combined into a book in 1997.
A BOOK ABOUT THE PRESENT: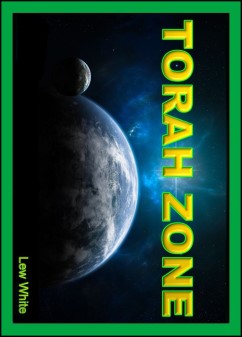 Next came the book Torah Zone - How Should We Live?
A BOOK ABOUT THE FUTURE: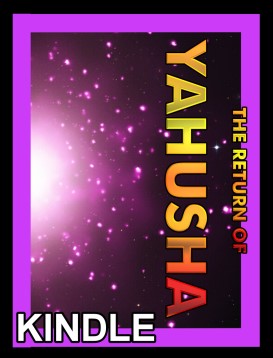 These books were followed by a book called End Of Days, later renamed The Return Of Yahusha (above).
A BOOK ABOUT SUN WORSHIP'S TRANSFORMATION: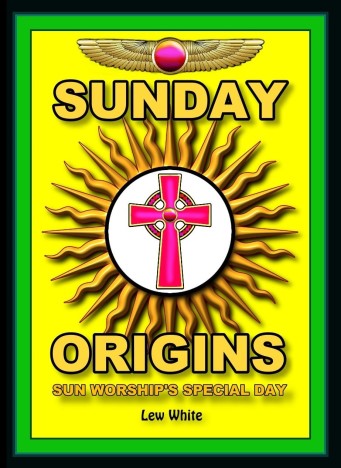 In 2014 The BYNV was released, a Hebrew-roots translation of Scripture restoring the Name "Yahuah" to the text. Many other improvements are mentioned about it at the link here:
www.fossilizedcustoms.com/bynv.html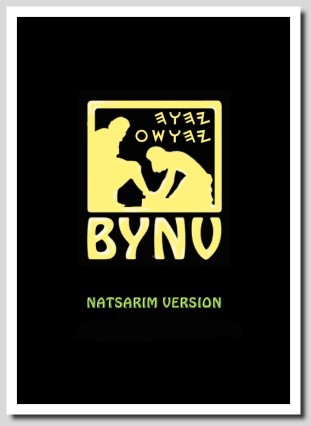 In 2015 four more books were released:
Truth Or Tradition - The Transformation Of Paganism
Strong Delusion - Christianity's Institutionalized Witchcraft
THE DREAM OF FOUNDING TORAH INSTITUTE
Torah Institute was conceived in 2001.
It was founded in order to train the next generation of elders with solid teachings, and to overcome strongholds of many centuries of false-reasonings. It began by distributing the ISR Scriptures, books, DVD's, Hebrew calendars, along with articles and witnessing tools.
Free online studies, and downloads on a wide variety of topic are at the website www.torahzone.net
In 2011, Mark Davidson in Australia began to work closely with us, and formed a branch of Torah Institute.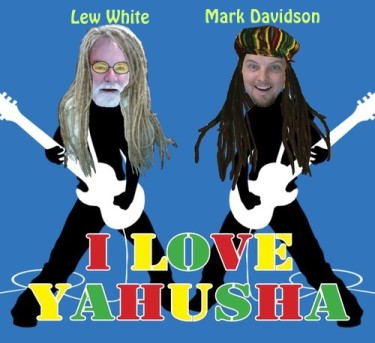 There are dozens of videos on Youtube which can be watched by those who are searching for their Creator, and His will for you.
Mark & Amy Davidson's other music is available on iTunes for those wanting to hear music using the true Name.
View all the videos on Youtube here:
www.fossilizedcustoms.com/topics.html
Now, anyone can find out Who Yahuah is, and what He expects of us in our behavior:
to love one another.
That's my story up to this point.
Lew White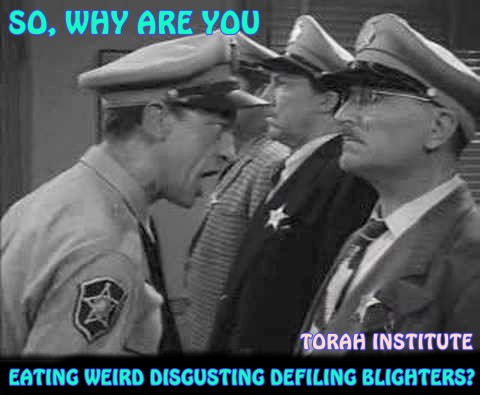 READ or LISTEN on Kindle (Yes, it will read the book to you now).
Seminary professors, students, pastors, and anyone searching for answers. Click on the BYNV at the author's page:
Having the Word of Yahuah at your fingertips need not be a heavy, paper book.
The BYNV is now on Amazon Kindle, and you can navigate quickly with the new updated features.
Each chapter number tells you what book you're in, so you never get lost.
You can jump to the Contents Page from the 1st chapter of each book.
Pastors, seminary students (or anyone) can learn Hebrew words much faster, and relate to them as they read.
There's a Glossary, map, and family-tree flow chart of the tribes.
The Kindle is like a tablet computer; sleek, modern, and can be taken anywhere.
You can search words or expand the text.
Read the first 3 books right now by clicking "Look inside" . . . also read the reviews.
The BYNV on Kindle is cheaper than the shipping expense to order the paper version.
Check it out now at Amazon Kindle:
http://www.amazon.com/Besorah-Yahusha-Natsarim-Version-BYNV-ebook/dp/B00EAB3U9I
Adjust the text size to suit you. If it's inconvenient to read, it will read it to you on a Kindle Fire HDX
or with Text-to-Speech software.
The Kindle App is FREE.
DOWNLOAD FREE KINDLE READING APP FOR PC, MAC, TABLETS, AND PHONES
TEXT TO SPEECH
You can also listen if you prefer, the feature is made available.
With the Kindle Fire HDX, or other text-to-speech software, y
ou can select the speech rate, male or female voice.
Adjust the text size to suit you, or listen on your earbuds or car speakers.
The Kindle App is FREE.
DOWNLOAD FREE KINDLE READING APP FOR PC, MAC, TABLETS, AND PHONES
Now it's easier to navigate the BYNV on Kindle.
You can jump to each book from the Contents Page, or jump back to the Contents Page from the beginning of each book.
Every chapter number now includes the title of the book you're in, so you will always know where you are.

It's worth purchasing a Kindle just to have this BYNV with you wherever you go.
With this version, seminary students (or anyone) can learn Hebrew words by reading Scripture.
The Glossary in the back explains the Hebrew words, and uses more accurate transliterations for them.
It's time the world moved out of the 1600's, and experience the snow-white purity of their Hebrew roots.
With the Key of knowledge (the True Name) restored, the meaning of Scripture is unlocked for everyone.
Lew White - Torah Institute
For more information from Scripture on food, see:
www.fossilizedcustoms.com/foodkosher.html
www.fossilizedcustoms.com/food.html

Google: YAHUSHA